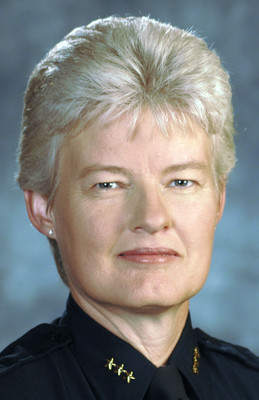 She has heard all about the glass ceiling and the thin blue line, but Jutta Chambers has never had much use for that sort of talk.
Though she is about to become the first female chief in the history of the Henderson Police Department, Chambers prefers to think of herself as a dedicated law enforcement officer who also happens to be a woman.
"I don't think the criminals care that I'm the first female police chief," she said on Wednesday, shortly after her promotion was announced.
The 25-year veteran of the department was picked to replace Chief Richard Perkins, who announced his retirement in June.
She will serve as acting chief for exactly one weekend, from Perkins' last day on Sept. 5 until Sept. 8, when she assumes the post on a permanent basis.
"Today, right now, it's pretty overwhelming. When I was hired as a police officer, I never dreamed I'd be given this opportunity some day," she said.
She was picked for the job by City Manager Mary Kay Peck, the first woman to hold that post in Henderson.
"I have seen firsthand her leadership abilities and am confident the Henderson Police Department is in very good hands," Peck said.
Chambers, whose first name is pronounced "You-ta," was born in Germany to a German mother and an American father stationed with an Army unit in Cold War Europe. The family moved to the United States when she was 5.
Chambers made history in Henderson in September 1983 when she became the city's first female police officer after a four-year stint in the U.S. Air Force.
More firsts would follow as she served as a patrol officer, a K-9 officer and a detective. She was promoted to sergeant in 1993, lieutenant in 1997 and captain in 2001 before being named deputy chief in 2005.
As the 11th police chief in the department's 55-year history, she will draw an annual salary of $167,235.
The City Council is expected to ratify her appointment on Sept. 15.
She takes over at a challenging time for the department, which has been involved in two high-profile police shootings in 2008.
Earlier this year, police in Nevada's second-largest city faced public criticism after ice cream truck driver Deshira Selimaj was gunned down in front of her children by 23-year-old Henderson officer Luke Morrison.
The second shooting took place early Sunday morning, when officers shot a man who was threatening to kill himself with a rifle.
According to the Clark County coroner's office, James Heitkotter was hit in the chest by one of the officers but his death came as a result of a self-inflicted gunshot wound to the head.
The two officers who fired at Heitkotter, Raymond Wilkens, 24, and Johnny Flewellen, 32, remain on routine paid administrative leave until an investigation of the incident is concluded.
Morrison has been cleared of any wrongdoing in Selimaj's death by a civilian jury in a coroner's inquest.
In both cases, Chambers said, officers responded appropriately.
She added that the city's growth and a surge in violence society-wide has made life more dangerous for the men and women who wear the badge.
"The job of a Henderson police officer is very different than it was in the Henderson I started working in," she said.
Back then, Chambers was one of just 30 officers patrolling in Henderson, and City Hall, police headquarters, the courts and the jail were all housed in the same building downtown.
"You would literally see the mayor in the hallway," she said.
Today, the department employs about 391 officers, more than 150 civilian employees and almost 50 corrections officers. It operates with a budget of about $70 million, and with Chambers as one of its senior-most members.
She said her gender has never been much of an issue on the job, though it did seem to help her when she was conducting "street-level drug buys" as an undercover narcotics officer.
Criminals were often "caught off guard" when they discovered the woman they just sold drugs to was actually a cop, Chambers said. "I think it made it a little bit easier for me."
Contact reporter Henry Brean at hbrean @reviewjournal.com or 702-383-0350.