New 'Madhouse' braces for Miley
December 23, 2013 - 7:08 am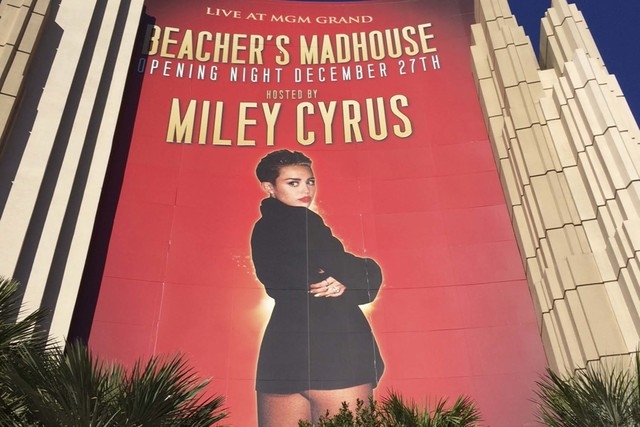 Jeff Beacher is making another big splash this week.
The first time was back in his club-promoting days in the New York area.
Then, 10 years ago, "when nobody knew who I was and didn't take my calls," he announced the arrival of Beacher's Madness in Las Vegas in similar fashion. He donned a Speedo and jumped in a massive fish tank at the MGM Grand's Rainforest Cafe.
His stunt didn't go over well considering his show was at the Hard Rock Hotel. MGM management responded by banning him from all their properties for about two years.
Now back in good graces, Beacher brings a bigger and bolder Madhouse back the MGM Grand on Friday, but this time, thankfully, he won't be the nearly naked attraction.
This time it will be featured star Miley Cyrus, who has been wearing next to nothing of late.
A new giant billboard on the Tropicana side of the MGM Grand shows Cyrus dressed in a trenchcoat. Hint, hint.
Expect her to be at her shocking best. She and Beacher are buds through his Madhouse in Hollywood, that he opened three years ago with actor David Arquette in the Roosevelt Hotel.
"We've become really good friends. A lot of her little people (performers) are good friends with ours," said Beacher, who will have 70 performers, including a mini-Miley and mini super heroes who will costumes in a phone booth. Some will be shot out of a cannon and a wooden elephant's butt.
An 8-year-old will serve as DJ and flying little people bartenders in aerial harnesses will deliver bottles in a room that once housed the topless Crazy Horse revue of Paris.
Another featured performer will be Amazon Ashley, a 6-foot-7 transvestite. Also on hand will be 6-foot-7 Leonid the Magnificent, a former featured act during Beacher's Madness run at the Hard Rock from 2003 to 2008.
Although they had a parting of way, Leonid was invited, said Beacher, "because he's family."
About 20 celebrities are coming to the New Year's Eve show, said Beacher, who declined to name any of them, citing competitive reasons.
This is what he's building for his whole life, he said. "We've spared no expenses for the theater or the show," he said.
It's a career he dreamed about back in high school on Long Island.
"My principal actually said I was either going to be a famous comedian or end up in jail," said Beacher. "That's when he suspended me for a week for passing gas in English class."
SANTANA, MALONE REUNION
Las Vegas headliner Carlos Santana and his former drummer Marcus "The Magnificent" Malone have been reunited in Oakland, Calif., after four decades.
The reunion took place Friday after a Bay Area radio reporter at KRON randomly met Malone, a homeless man, rummaging at a dump site.
After the radio report aired, Santana was contacted and a televised meeting was set up. It aired on CNN on Sunday.
It was the first time they met since 1968 when Malone was a member of Santana's original band. Malone left the band after being convicted of a crime and serving time in San Quentin prison.
"Man!" Malone said, when he saw Santana. "You don't know how hard I prayed to get to see you."
Santana replied, "It is an honor to be in your presence." During the reunion, Santana offered to provide a place for Malone to live.
SIGHTINGS
Former baseball slugger Jose Canseco, in the crowd at Vinnie Favorito's show at the Flamingo on Tuesday. … Mexican soccer star José Jonny Magallón Oliva, better known as Jonny Magallon, with friends at Eiffel Tower Restaurant (Paris Las Vegas). A member of Mexico's national soccer team and currently a defender with Club Leon, he was besieged by fans. … Nicolas Cage, dining Wednesday at Le Thai.
THE PUNCH LINE
"Mississippi finished 50th out of the 50 states, which isn't surprising. Healthy eating is not big in Mississippi. Their state bird is the fried chicken." — Jimmy Kimmel, on a survey of healthiest states.
Norm Clarke's column appears Sunday, Monday, Wednesday and Friday. Reach him at 702-383-0244 or norm@reviewjournal.com. Find more at normclarke.com. Follow @Norm_Clarke on Twitter. "Norm Clarke's Vegas" airs Thursdays on the "Morning Blend" on KTNV-TV, Channel 13.