New nuclear waste bill doesn't repeal Yucca Mountain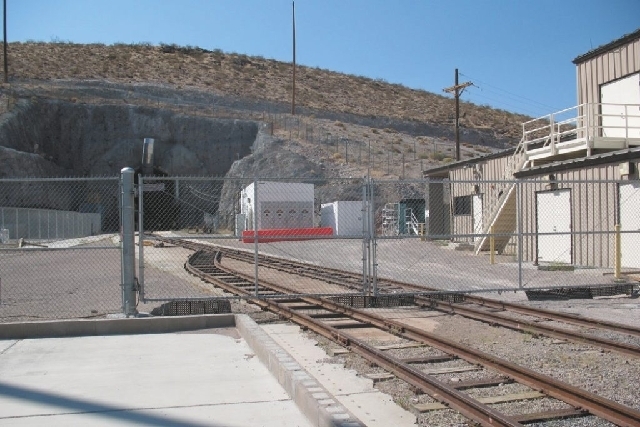 WASHINGTON — A long-awaited bill introduced in the U.S. Senate on Thursday charts a new path to dispose of the nation's nuclear waste. But to the chagrin of many Nevada leaders, it does not seal off the old path to Yucca Mountain.
Rather than repeal, the bill would grandfather in the licensing process for the once-planned Nevada nuclear waste site, a provision that is troubling to state officials and lawmakers on a first-blush reading.
And, they added, in several places the legislation appears to afford Nevada fewer protections than other states and communities that might be considered for temporary nuclear waste storage or a permanent repository.
Sen. Harry Reid, D-Nev., said he was pleased the Senate was moving forward on new strategies to dispose of thousands of tons of highly radioactive material.
"But everyone needs to understand the Yucca Mountain project is dead," Reid said. "More work needs to be done on this legislation to ensure that Nevada is treated fairly."
"If there is ever any legislation that would risk opening Yucca Mountain, Senator Heller would oppose it," added a spokeswoman for Sen. Dean Heller, R-Nev.
The bill was developed by four senior senators — Democrats Ron Wyden of Oregon and Dianne Feinstein of California and Republicans Lisa Murkowski of Alaska and Lamar Alexander of Tennessee — to enact recommendations from a nuclear waste blue ribbon commission formed after the Yucca project became stalled and eventually was defunded by President Barack Obama.
It would create a new federal agency to manage nuclear waste in place of the Department of Energy, to be headed by a Senate-confirmed administrator and a five-member Senate-confirmed review board.
One main feature is a "consent-based" approach to recruit states and communities to host temporary storage and eventually permanent disposal sites for used nuclear fuel from power plants, plus wastes from government nuclear weapons plants, that presently are scattered at sites around the country.
The commission said it was time to try such a cooperative approach after efforts to develop a repository in Nevada merely triggered a two-decade fight from the state that charged it was being unfairly singled out.
The new legislation increases the significance of a pending federal court ruling on Yucca Mountain licensing, which was suspended by the Nuclear Regulatory Commission as the Obama administration was withdrawing its support for the project.
The states of Washington and South Carolina argued the move was illegal, and have sued to force the NRC to resume its review.
While Obama has proposed no fresh funding for Yucca Mountain for three years, it remains a political flashpoint, especially in the House where Republican leaders have said they will not entertain nuclear waste legislation that does not include the project as an option.
Rep. Fred Upton, R-Mich., chairman of the House Energy and Commerce Committee, believes there is good reason to remain focused on Yucca Mountain.
"A repository at Yucca Mountain could be operational sooner than starting from scratch with interim storage," a committee spokeswoman said, citing the Government Accountability Office. "Given our current budget climate, permanent disposal should not be forced to compete with a temporary fix."
In talks with reporters, Wyden and Murkowski, who are chairman and ranking member respectively of the Senate Energy and Natural Resources Committee, have acknowledged Yucca Mountain remains a thorny issue and it will be a challenge to work around it.
"I understand completely how strongly the House feels about this issue," Wyden told reporters when a draft version of the bill was made public in April.
Murkowski said the bill aimed to be "agnostic" on Yucca Mountain.
"We are recognizing the reality of where we are right now," she told reporters in April. "We are saying let's not focus on what has hung us up for so long. Lets see if we can't do an alternative path and figure out how to move forward."
Contact Stephens Washington Bureau Chief Steve Tetreault at stetreault@stephensmedia.com or 202-783-1760. Follow him on Twitter @STetreaultDC.