New office building planned for Symphony Park
August 28, 2015 - 10:57 am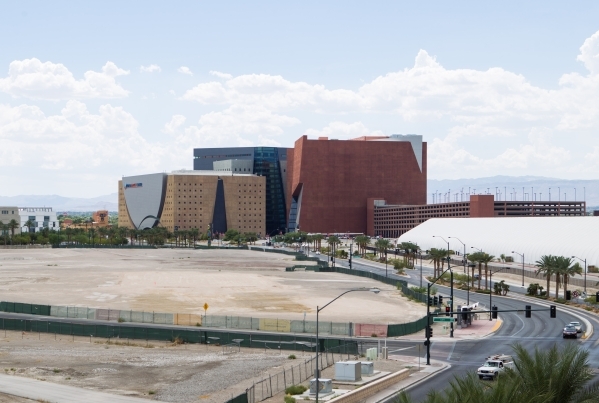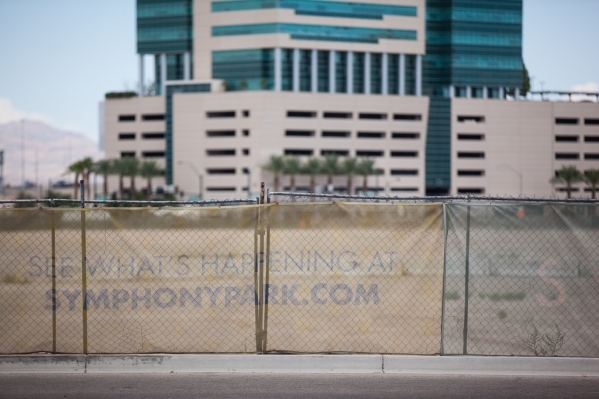 Symphony Park could soon see its first groundbreaking since 2010.
PH Symphony Park LLC — a company owned by Molasky Group Chairman and Las Vegas developer Irwin Molasky — hopes to build up to 300,000 square feet of office space on nearly 6 acres of park property right across the street from the Molasky Corporate Center.
Company President Richard Worthington on Friday confirmed the group was seeking a government tenant for the downtown property, provided it can sew up exclusive rights to negotiate development on the parcel. A deal to secure those rights goes up for City Council approval on Wednesday. The city owns the land.
Worthington said the building's tenant "could be" the Nevada Department of Business and Industry, which first put out a bid for new office space in August 2014.
The company — which is chaired by the man credited with building Las Vegas' first master-planned community, first modern private hospital and first high-rise office building — plans to pay taxes on the building regardless of which government entity moves in, potentially making Molasky Symphony Park's first taxpaying tenant.
Business and Industry Department Director Bruce Breslow said his agency had not yet received bids from Molasky or any other developer. The window for accepting those offers — which must include around 126,000 square feet of office space and enough parking for 500 employees — closes Sept. 15.
Mayor Carolyn Goodman last week confirmed there were "real discussions" taking place to lure a major state agency to Symphony Park, but wouldn't say which one.
The nonprofit Smith Center for the Performing Arts and Lou Ruvo Center for Brain Health count as the only two projects to land at the park since it was opened for business in 2005.
Three casinos, 1,800 residential units and 257,000 square feet of retail space were promised by developers before the city decided to pour around $100 million worth of infrastructure improvements and environmental remediation into the 61-acre former Union Pacific railroad yard.
Conservative city leaders have long feared taxpayers could be left on the hook for those hefty investments should officials fail to attract promised tax productive development.
One such skeptic, accountant and City Councilman Bob Beers, said the proposed Molasky project, while a "step in the right direction," would not save the park from itself.
"Ultimately, taxpayers are going to take a bath," Beers said. "Quite likely, we'll never get out what we put into it.
"The best thing to do is move on with development."
City Councilman Ricki Barlow — who has supported some controversial publicly subsidized, non tax-productive park projects — sounded more bullish about the effort.
But Barlow said he, like Beers, didn't want to allow any new developments in the park if they weren't going to pay taxes.
Molasky is in talks with three or four potential state and federal government tenants, along with a couple of major private office space seekers, Barlow added.
He expects the newly proposed building to be about the size of Molasky's 17-story, 285,000-square-foot corporate center just up the block.
A development agreement up for the City Council's consideration next week would allow the city and Molasky to start negotiating "due diligence investigations" to be conducted ahead of the site's potential sale.
It also would require Molasky to put down a $100,000 good faith deposit on the proposed building parcel.
City Manager Betsy Fretwell said the site, once planned for upscale condominiums and a 2 million-square-foot World Jewelry Center, is not encumbered by another development deal.
If approved, the agreement would require Molasky to come up with a "feasibility analysis" — to include site renderings, an environmental report and a financial plan — by March 2016.
Contact James DeHaven at jdehaven@reviewjournal.com or 702-477-3839. Find him on Twitter: @JamesDeHaven