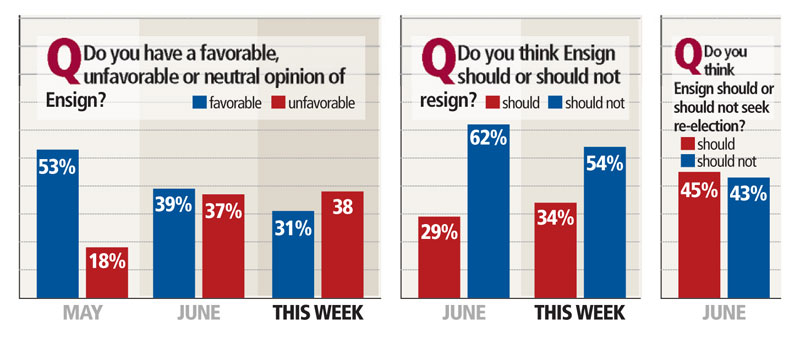 Sen. John Ensign's status in the eyes of his constituents has further eroded in the last month, as revelations about his extramarital affair with a former staffer have continued to trickle out, according to a new poll by the Las Vegas Review-Journal.
A majority of Nevada voters still think Ensign should not resign, though fewer feel that way than did a month ago, according to the poll conducted last week.
But voters are divided about whether the Nevada Republican should seek re-election. And they are troubled by the scandal's many complications, especially the fact that Ensign's mistress was his wife's best friend and that Ensign publicly espoused the importance of family values.
The proportion of Nevadans who had a favorable view of Ensign stood at 31 percent in the poll, down 8 percentage points in the last month and 22 points from before the scandal.
The new poll of 400 Nevadans who vote in state elections was conducted Tuesday and Wednesday by Washington, D.C.-based Mason-Dixon Polling & Research Inc. It carries a margin of error of plus or minus 5 percentage points.
Ensign called a news conference June 16 to disclose that he had had a nine-month extramarital affair, ending in August 2008, with a woman who worked on his campaign staff while her husband worked in Ensign's Senate office.
That admission was enough to send Ensign's favorable rating plummeting from 53 percent to 39 percent. But in the June 18-19 poll, conducted immediately after the scandal came to light, 62 percent said Ensign shouldn't resign.
Since then, things have become more complicated for Ensign. Earlier this month, Doug Hampton, whose wife, Cindy, was Ensign's mistress, went public, accusing the senator of relentlessly pursuing the relationship despite warnings from colleagues and friends of the potential damage to his family and career.
Doug Hampton produced a handwritten letter in which Ensign, citing his Christian faith, expressed remorse for his actions. Yet the affair continued for several more months.
Hampton charged that Ensign had dismissed both employees as a result of the affair and that the senator gave Cindy Hampton a sizable "severance."
Through an attorney, Ensign acknowledged that his parents paid the Hampton family $96,000, but portrayed the payment as a gift to multiple Hampton family members, calibrated to avoid tax reporting minimums.
Pollster Brad Coker said the trickling out of new, ugly details of the Ensign story has clearly taken a toll on his image.
"Ensign took about a 10-point hit with this latest round of revelations," Coker said. "I think if another shoe drops, and he takes another 10 points' damage, that's probably the end of the line."
For now, Ensign's decision to stay in office still has the support of public opinion — 54 percent in the new poll say he should not resign — but the number has gone from a robust majority to a narrow one, Coker said.
"He's kind of hovering right now," Coker said.
The biggest factor in Ensign's favor, he said, is that he's not up for re-election for three more years.
"If he were up in 2010, I would be fairly skeptical of his ability to get re-elected," Coker said. "Given the fact that he has three years, I wouldn't shut the door completely; but the fact that his numbers dropped right after the affair (became known), and dropped even more since some of the details have started to emerge, is not a good sign."
Just over a third of Nevadans, 34 percent, say Ensign should resign. That sentiment is highest among Democrats (43 percent) and lowest among Republicans, but a quarter of his own party believes Ensign should step down.
On the question of whether Ensign should seek re-election, 45 percent said he should, while 43 percent said he shouldn't. The other 12 percent weren't sure.
Poll respondents were asked to rate the seriousness of various aspects of the scandal, an exercise that showed that the perception of hypocrisy and personal betrayal bothered people far more than the fact of a man cheating on his wife.
Those surveyed were presented, one at a time, with the issues surrounding the scandal, such as "that Sen. Ensign had an affair," then asked, "Do you consider that to be a very serious matter, somewhat serious, not too serious or not serious at all?"
The factor rated as "very serious" by the largest number, 60 percent, was that Ensign had an affair with his wife's best friend.
A close second at 58 percent was that Ensign had an affair despite being a member of Promise Keepers, the Christian men's group that promotes marital fidelity and other family values.
Ranking at around 50 percent apiece were that Ensign had an affair with the wife of the head of his Senate office; that his parents gave his mistress's family $96,000; that he had an affair with a campaign staffer; and that the senator fired his mistress and her husband.
Just 30 percent thought it was very serious that Ensign had an affair, or that he has refused to answer questions about the matter.
David Damore, a political science professor at the University of Nevada, Las Vegas, said erstwhile supporters appeared to be peeling away from Ensign as more damaging information came out.
"With the first round of the story, he had done a nice job handling it if the money angle had not come out," Damore said. "After that, it became harder to defend him, and you saw people starting to run away from him instead."
The big question for Ensign, Damore said, is whether there will be further developments to the story, or whether he can wait for it to fade.
"It's been an effective strategy for him to keep his mouth shut and his head down," Damore said. "Nothing he can say is going to make the situation any better for him. But is there more money out there? Will the Hamptons push this into court? Do other women come forward? He's weathered it about as well as he's going to weather it, but we'll have to see what else is out there."
Contact reporter Molly Ball at mball @reviewjournal.com or 702-387-2919.