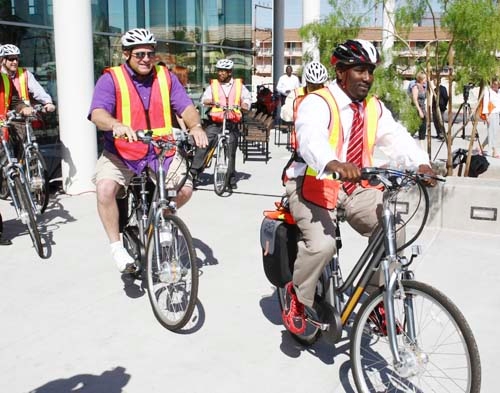 Let's say you've got an appointment to get to, so you go to the car, pull out of your parking space into traffic, drive, deal with traffic, drive some more and then find another parking space — but it's all for a destination just a mile or two away.
It's a situation downtown workers face a lot, but a new program gives some public-sector employees an option: electric bicycles.
Las Vegas, the Southern Nevada Water Authority and Clark County's Air Quality Division have joined the Regional Transportation Commission of Southern Nevada for a program that promotes the use of pedal-assisted bicycles instead of cars.
"We want to avoid getting into a car and driving a mile to go to a meeting," said Jacob Snow, general manager of the Regional Transportation Commission of Southern Nevada, which is in charge of the E-Bike effort.
Las Vegas officials noted the city's participation in the E-Bike program Monday with a short bike ride from the Bonneville Transit Center to City Hall. The RTC has been using its bikes since November, while the other entities joined within the past few weeks. There are 25 bicycles in the E-Bike fleet.
They were bought as part of a $400,000 federal grant from the Federal Highway Administration to reduce traffic congestion and improve air quality. Most of the funding went to bike-friendly road improvements.
New construction on downtown streets has added wider sidewalks, bus-only lanes and bike lanes.
"A complete street is a street that is friendly to all modes of transportation," Snow said.
The new Bonneville Transit Station also has resources to make bicycle commuting more practical. There's a bike shop with storage racks, locker rooms and showers so that people can ride to work and then make themselves presentable.
"That is the issue" that keeps people from taking the final step to bike commuting, said Snow, who regularly rides a bike for his 19-mile commute from Henderson. The RTC has shower facilities.
For Monday's ride, Snow was joined by Las Vegas Councilmen Steve Ross and Ricki Barlow, Steven Brooks and Tyrone Cooper from Barlow's office, and Chief Sustainability Officer Tom Perrigo and Ron Floth from the RTC.
Councilwoman Lois Tarkanian attended as well.
The bikes are stored and recharged in lockers at various locations and are intended for use in a three-mile radius around downtown Las Vegas.
They have a top speed of about 25 mph and can be pedaled or run completely off a battery. The battery's charge lasts four to six hours.
"We want to push this so it's a big program with big participation," Tarkanian said, although there are no firm plans to broaden the program, and there are practical concerns to expanding such a program to the public.
Bike-sharing programs are common in many cities around the world, but using electric bikes introduces another element: the battery.
If someone brings back a bike with a drained battery, the unit is out of commission until it recharges, said Christopher Cherry, a professor at the University of Tennessee, Knoxville. And if the user is responsible for ensuring the bike is plugged in, "it just takes a couple of absentminded users to really screw up your system," he said.
His university is opening a 20-bike electric bike pilot program on Thursday that initially will be open to 60 to 80 people.
They would be able to swipe an identification card at a station and check out a bike and battery, then return them and plug the battery into a vending machine-type kiosk for recharging. Eventually, there will be two storage-and-charging stations, possibly powered by solar panels.
"There's been a lot of questions about how viable electric bikes are in a shared system," Cherry said. "How many people will use it? How much will people pay?"
Snow said the Transportation Commission expects to save $100,000 on fuel and automotive costs from workers using the bicycles instead of pool vehicles. The bicycles cost about $2,200 each.
The RTC's bikes have logged about 1,000 miles since the program started in November. Charging a battery from empty to full will cost between 10 cents and 20 cents in electricity, according to estimates from NYCeWheels, a retailer that specializes in electric bicycles and scooters.
That's $3 to $6 a month if that much charging is needed every day.
Contact reporter Alan Choate at achoate@reviewjournal.com or 702-229-6435.