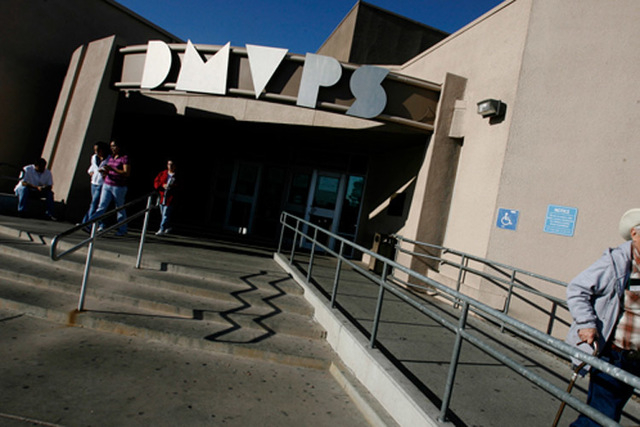 You don't need a tank of gas and a map to drive to the nearest local Department of Motor Vehicles office. There are plenty of them in Southern Nevada.
And if you don't have an address directory handy, just follow the frustrated crowds.
Frustration is something DMV front-line employees and their customers have in common these days as they try to adjust in real time. Technological changes intended to speed the process of registering vehicles and renewing licenses continue to bog it down, DMV insiders report.
In a job in which you'd think employees couldn't wait for the end of each day of business, DMV workers lament the late afternoon rush. They know some customers will be turned away.
Some blame the department's use of the "Dash Pass" computer and phone app reservation system for throwing an otherwise pretty orderly system into a panic.
Others report big increases in immigrant identification and license requests.
The collision of causes has created a pileup that has plenty of customers reporting daylong waits. Bob Romans of Las Vegas is just one of many examples I've received since tracking this story.
In mid-February he says he spent 90 minutes in line at the Decatur DMV just to reach the point of signing onto a waiting list. He kept a record of the texts he received starting at 11:13 a.m. and stopping at 5:48 p.m. when his number finally reached the front of the line.
"Too late," he said in an email. "There was no way I could be there as I had other commitments that evening. So I will have to start over and do this again. The website would not allow me to sign up for the phone text option. So I had to go in person to get added to the list."
Some customers report waiting from before 10 a.m. to nearly the end of the day for license renewals and duplicate IDs. Three hours is about the average wait time lately, DMV employees say, with the Henderson office obviously running off the rails. There have been multiple reports of Nevada Highway Patrol troopers adding their security presence to the building at the end of the business day.
A surveillance check on the Henderson office on Saturday showed it bursting at the seams. A DMV spokesman recently called it an unofficial record. He also noted to a local television news station that the department is understaffed by 75 employees.
With the Legislature in session, and budgets on chopping blocks, it's difficult to tell how closely officials are listening. No DMV employee I've spoken with expects a crush of new hires to ride to the rescue any time soon.
Some would be satisfied if the bugs were worked out of the department's much-touted but troublesome Dash Pass system.
One frustrated DMV employee says he's disappointed in the tone of department director Troy Dillard, who didn't go far enough in championing the difficult job workers accomplish under a crush of new customers and changing regulations.
Dillard told a legislative committee, "Each time we roll out a new process our technicians are having to learn new things."
Chief among those things they're learning is patience with a phone app that is in the process of being tuned to fit the heavy schedules at Southern Nevada DMV offices.
"Making the director's words even more stinging is the fact that he has yet … communicated anything to the hundreds of DMV techs," one department insider says. "No updates, no words of encouragement, no acknowledgment of the problems and challenges resulting from this ill-conceived endeavor."
If that working stiff sounds frustrated, there's plenty of it going around the DMV these days.
John L. Smith's column appears Sunday, Tuesday, Wednesday, Friday and Saturday. Email him at Smith@reviewjournal.com or call 702-383-0295. Follow him on Twitter @jlnevadasmith.