New voters embrace online registration
September 25, 2012 - 5:08 pm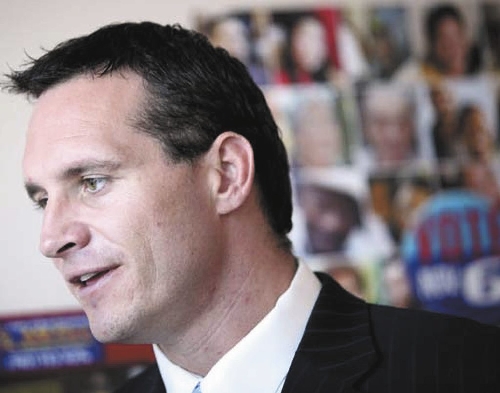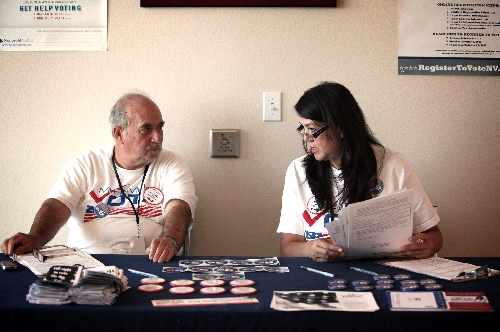 If you gathered up all the Nevadans who are eligible to vote but haven't bothered to register, you could fill the six largest football stadiums in the country.
Once those people left the stadiums, they could populate a city the size of Baltimore.
But the number – about 623,000 – is shrinking fast.
Like everything else that's changing, this, too, is because of the Internet.
The secretary of state's office said Tuesday that since they started promoting a new online voter registration system, people are registering at double the previous rate.
"We have far too many eligible, unregistered voters in Nevada," Secretary of State Ross Miller said.
Tuesday was national Voter Registration Day. To that end, Miller visited several voter registration drives in Las Vegas.
He was touting the new online registration system.
Nevada is one of 12 states where voters can register online and one of only two where voters can register on Facebook. Two more states have OK'd online systems but have yet to implement them, according to the National Conference of State Legislatures.
Nevada officials began promoting the system Sept. 17 with a splashy ad campaign that includes Holly Madison, the former Playboy model and popular Strip entertainer.
Election officials said that in the week after the launch, the state averaged 550 new registrations a day, twice what they saw in the first two weeks of September.
Miller said he is aggressively pushing the new system because it's easier for voters and cheaper for taxpayers.
Visiting a registration drive location at UNLV, Miller said the online system is more secure than the old paper system.
He said many voters who were supposed to be registered by third parties – often partisan groups that gather forms to turn them in later – eventually discover no one ever registered them.
"It takes a lot of the third-party groups who may have a political bent completely out of the picture," he said.
To register online, voters need their driver's license or official ID issued by the Department of Motor Vehicles and the last four digits of their Social Security Number.
The system verifies that the address they've listed is real, and it pulls the voter's signature from DMV files.
When it's over, the voter gets instant confirmation that the registration was successful.
"You don't have to worry about whether or not your form got turned in," Miller said.
Arizona was the first state to introduce online registering, in 2002.
A study by the University of Washington and the University of California, Berkeley, found that online registrants were more likely to vote and that the online process saved taxpayers 80 cents per voter.
Thomas McAllister, a UNLV student and president of the university's College Republicans, said his group has a booth on campus every day and tries to get students involved.
On Tuesday, they held a barbecue and offering to help students register to vote.
He noted that Nevada is one of several states where the presidential contest is supposed to be close this year, so the phrase "every vote counts" actually means something here.
Joe Heck beat Dina Titus by fewer than 2,000 votes in the 2010 congressional race, after all.
And last year, Wade Wagner ousted incumbent North Las Vegas City Councilman Richard Cherchio by a single vote.
Sometimes, that really does happen.
And now that registering to vote is so easy, there's really no excuse not to do it.
Contact reporter Richard Lake at rlake@reviewjournal.com or 702-383-0307.
REGISTER TO VOTE
The deadline to register to vote for the Nov. 6 election is Oct. 6 online or by mail, or Oct. 16 in person.
Nevada residents can register to vote online at
RegisterToVoteNV.gov
or on Facebook at
apps.facebook.com/ nvsosnova/