Another November event had lasting impact in Las Vegas
November 23, 2013 - 9:41 am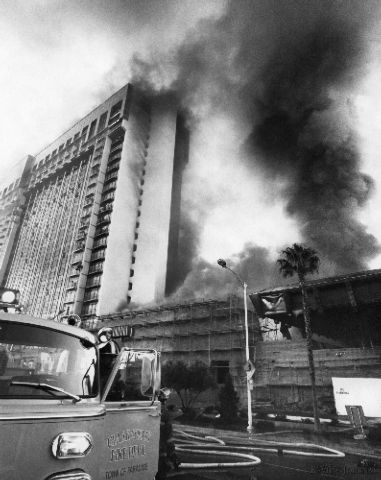 During a week when the news media dwelt on why JFK might have lived if only this or that had happened, and who really participated in his assassination, another anniversary significant to Las Vegans got short shrift.
Do you remember it?
Nov. 22 was the 50th anniversary of President Kennedy's death, but Nov. 21 was the 33rd anniversary of the fire at the MGM Grand, the fire that caused the death of 87 people.
By coincidence, I happened to be interviewing Senior U.S. District Judge Philip Pro on Thursday on an unrelated subject. We shared some memories from when I was a reporter who covered the massive litigation that followed and he was the federal magistrate who was part of the team that kept that litigation moving along, so it didn't bog down.
Because of his efforts, with those of then Special Master Mike Cherry (now a Nevada Supreme Court justice) and Philadelphia U.S. District Judge Louis Bechtle, the case was resolved promptly. Families and victims received their money within three years because Bechtle, Pro and Cherry worked together to prevent the case from dragging on, making sure lawyers didn't lollygag as they like to do.
Besides the 87 deaths, there were more than 600 injuries. A total of 1,357 legal claims were filed. The cost to settle all the claims: $223 million.
I best remember two numbers: the 87 deaths (84 that day and three more later) and the figure $192,000.
That's the sum it would have cost to put in sprinklers during the construction of the $106 million hotel, which opened with fanfare in December 1973.
To clear up any confusion, this fire didn't occur at the MGM Grand on Tropicana and the Strip, the big green behemoth. The fire occurred at Bally's on Flamingo and the Strip, then the MGM Grand but Bally's since 1985.
During the discovery phase, it was found there was plenty of blame to share for the spread of the 7 a.m. electrical fire. If sprinklers had been installed, the fire would have been out in no time. Instead, it started in the deli, where there were no sprinklers and no employees present to put it out or pull the fire alarm. The ball of fire moved through the casino fueled by highly flammable materials. The nation's second-deadliest hotel fire was blamed on lack of sprinklers, code violations, design flaws, installation errors and flammable materials that made the fire worse.
Like many locals, Pro was stuck in traffic on his way to work watching the smoke billow. He knew early on the it would be challenging and interesting to work on such a huge case.
Every year, he thinks about the 87 who died — and the complex litigation that followed. Pro said it probably made him a better judge because he honed his case management skills. Remember, he had been a federal magistrate for only seven weeks, since he was sworn in Oct. 6, 1980.
The fire helped change hotel fire safety laws not just locally and nationally but also internationally, Pro said.
The litigation was so big that another result was the fast expansion of the legal community in Las Vegas. Out-of-state firms came in and merged with local firms. Local firms needed more attorneys if they were involved in the case. "Firms grew, they doubled and tripled in size overnight," Pro remembered.
The judge also carries a constant reminder on his key chain, a tiny little fusible link, which was improperly installed in the hotel's ventilation system. A minor thing, but it created major havoc because smoke spread through the ventilation system because of that mistake.
Most people died of smoke inhalation as a result of this installation error.
Little things cause deaths. We cannot forget, whether it's JFK or the MGM.
Jane Ann Morrison's column appears Monday, Thursday and Saturday. Email her at Jane@reviewjournal.com or call her at (702) 383-0275.