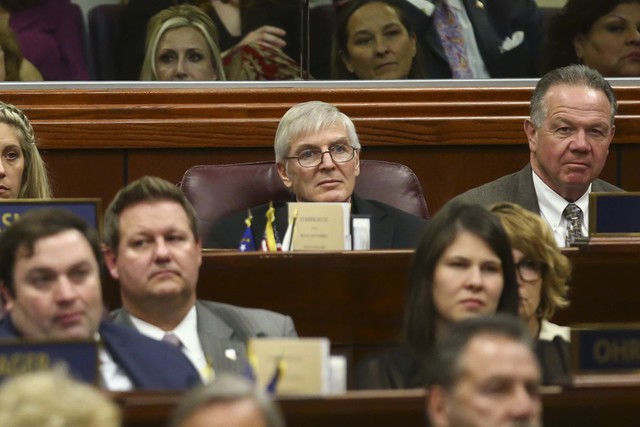 Reforms passed in 2015 to block Nevada legislators from playing the gimme, gimme, gimme game are on the chopping block, courtesy of Assembly Democrats and Republicans.
Following the "leadership" of Sparks Democratic Assemblyman Skip Daly, the Assembly passed Assembly Bill 396 so they can resume taking free meals and gifts during a session and the rest of the year.
They want to return to the days of wine and roses for legislators, the days that Sen. Michael Roberson shut off when he was majority Republican leader in 2015.
Daly, a business manager for Laborers Local 169, wants the goodies back.
With the exception of one absent assemblyman, all the assembly members followed Daly's march toward allowing more freebies and less reporting of them.
On Wednesday, the bill was exempted from Friday's deadline for passing bills out of the second house. Since April 26, it has been sitting in the Senate Legislative Operations and Elections without a hearing.
If it gets out of committee, you can count on Roberson voting against it. But I'll be watching to see who joins him and who doesn't.
With a few exceptions, Nevada legislators historically want free meals paid for by lobbyists with generous expense accounts. It's like an entitlement.
Between sessions, some want unlimited luxury food and beverage. I won't name names because I can't prove what I know, but some, not all, parlay their legislative jobs into nonstop free meals.
Roberson's 2015 bill was strict and cut off the volcanic flow of freebies. It passed late in the session when legislators are ramming and jamming, and barely know what they are voting for. Legislators were banned from accepting anything from a lobbyist, and the ban was all year, not just when reporting was required before, after and during the session.
Trips had to be reported along with who paid for them.
Daly and the rest of the Assembly don't want to report trips, which have tended to be lavish affairs and include family members.
Educational trips to the Bahamas and London to learn about poker companies must be tough. Why should the public know about them?
His bill would allow lawmakers to accept up to $20 a day in food and beverage and $10 a day in gifts from one source.
Hypothetically, one lobbyist buys a lawmaker breakfast, another buys lunch, another buys dinner, another buys drinks, maybe a few others buy the same legislator a coffee or two.
Pretty soon, it's real money.
It also carves out more exceptions for what a "gift" is.
Those guiding how state money is spent want looser reporting of the largesse they accept. All that talk about transparency is vacuous.
Roberson made it simple: Don't take anything, not even a cup of coffee.
If you can't manage your money to pay for your coffee and your meals, should you be responsible for managing the public's money?
Is it simply impossible to meet with a lobbyist, discuss an issue and pay your own way?
Jane Ann Morrison's column runs Thursdays in the Nevada section. Contact her at jane@reviewjournal.com or 702-383-0275. Follow @janeannmorrison on Twitter