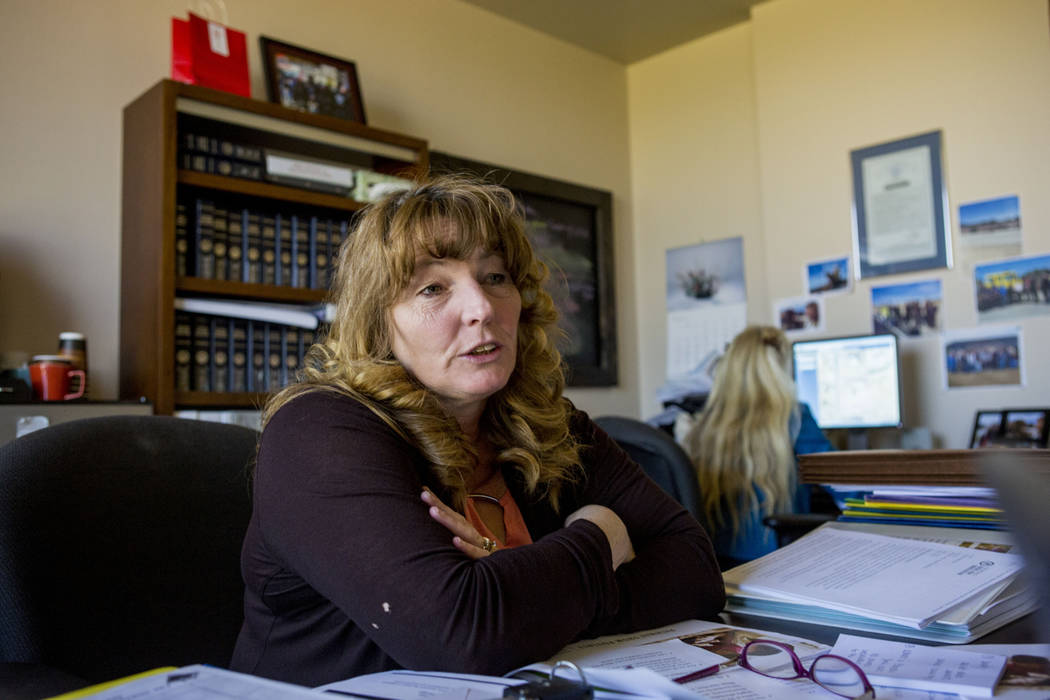 If you ask Clark County Commissioner Marilyn Kirkpatrick why she got into politics, she offers no platitudes.
Her ambition was sparked by a challenging childhood. Her mentally ill mother sent her to Child Haven when she was 13. Her father didn't want to raise her. And Kirkpatrick told me something terrible that she has never before discussed publicly: Her boss sexually assaulted her when she was 15.
None of that sounds like the basis of a successful political career, one that has earned Kirkpatrick the respect of her peers, pundits and the public.
But the challenges she faced are central to the woman she is today. "You can overcome all your obstacles," she'll tell anyone. With the help of five key people, she did.
Two were staffers at Child Haven, the county's home for abused, neglected and abandoned children. Three were educators: Kenny Guinn, Brian Cram and coach Pat Hayden.
Kirkpatrick said she entered public service because she received help and moral support from these five people and their families, who cared enough to help her almost finish high school and gain emancipation from her parents.
Starting in 1979, Kirkpatrick began moving in and out of Child Haven. She can't remember how long she lived there, but at one point she stayed there as a witness in protective custody.
Crediting unsung heroes
At Child Haven, she met the first person who tried to help her: Camille Burrell, a staff member she called Miss Camilla. "She pushed us to not feel sorry for ourselves," Kirkpatrick recalled. Edea Trapletti was another Child Haven staffer who provided the support Kirkpatrick so desperately needed.
Guinn helped her win emancipation from her uncaring parents. Later Cram and his wife, Teri, helped her find safe places to stay and food to eat. And Hayden and his family encouraged her to strive for a career.
"These were unsung heroes, who actually helped kids. We have a lot of great people in the community who take kids under their wings," she told me recently. "All of this is what drove me to do better, to finish school."
Kirkpatrick often talks to troubled kids. "I tell kids all the time that I've been there, done that. I share your pain and here's how you overcome it."
At 15, wanting to buy herself braces, she took a job as a bus girl at a restaurant owned by Dick Longmire.
According to Review-Journal press clippings from 1982, the 61-year-old owner of the Blue Onion restaurant was charged with 13 counts of sexual assault and eight counts of statutory sexual assault on an unnamed minor.
Kirkpatrick was that minor.
She testified at the preliminary hearing that she submitted to her boss because she was afraid of losing her job.
Another victim was a waitress in her mid-30s, a single mother of five. She also said she submitted to keep her job.
Longmire was bound over to face trial but died before facing justice. "He got off easy, if you ask me," said Kirkpatrick, now 50.
Kirkpatrick's parents wouldn't sign the emancipation papers so she could live on her own, so she moved to Los Angeles for six months so she could be emancipated from them when she turned 16.
Giving back
Years later, married and starting her own family, Kirkpatrick began her community activism with volunteer jobs: Girl Scouts, Little League and the PTA. Her first political appointment came in 2001, when she served as a planning commissioner for the city of North Las Vegas.
When that term ended in 2004, the Democrat ran for Assembly District 1. She won, and she represented the district for 10 years. Along the way, she earned a reputation as a policy wonk, particularly on taxes, asking questions and researching minute details. As Assembly speaker in 2013, she was a key negotiator on tax issues, saying her goal was to improve tax policy for Nevada for the long term.
In 2015, she was appointed to the County Commission to fill the District B vacancy, and in 2016 she was elected.
Kirkpatrick still researches issues in-depth, asks probing questions and constantly looks for ways to help children, the elderly and the mentally ill.
On May 1, she is rolling out a pilot program, "Pathway from Poverty," for people who live within a 3-mile radius from the entrance of Nellis Air Force Base. The area has 3,000 children, and her goal is to help change their lives for the better.
She's worked as a waitress, a first aid safety assistant for the school district and a sales executive for local food distribution companies. Now she's a full-time county commissioner.
Kirkpatrick credited her experiences, her contacts with people who cared, as well as her hard-knock early years for shaping the hard worker she is today and for making her strong.
Some women with similar experiences might turn to drugs or alcohol to escape the pain. The unpretentious Kirkpatrick bootstrapped herself to hold one of the most powerful political positions in Nevada.
I don't say this about many elected officials, but I admire her.
Jane Ann Morrison's columns runs Thursday in the Nevada section. Contact her at jmorrison@reviewjournal.com or 702-383-0275. Follow @janeannmorrison on Twitter.