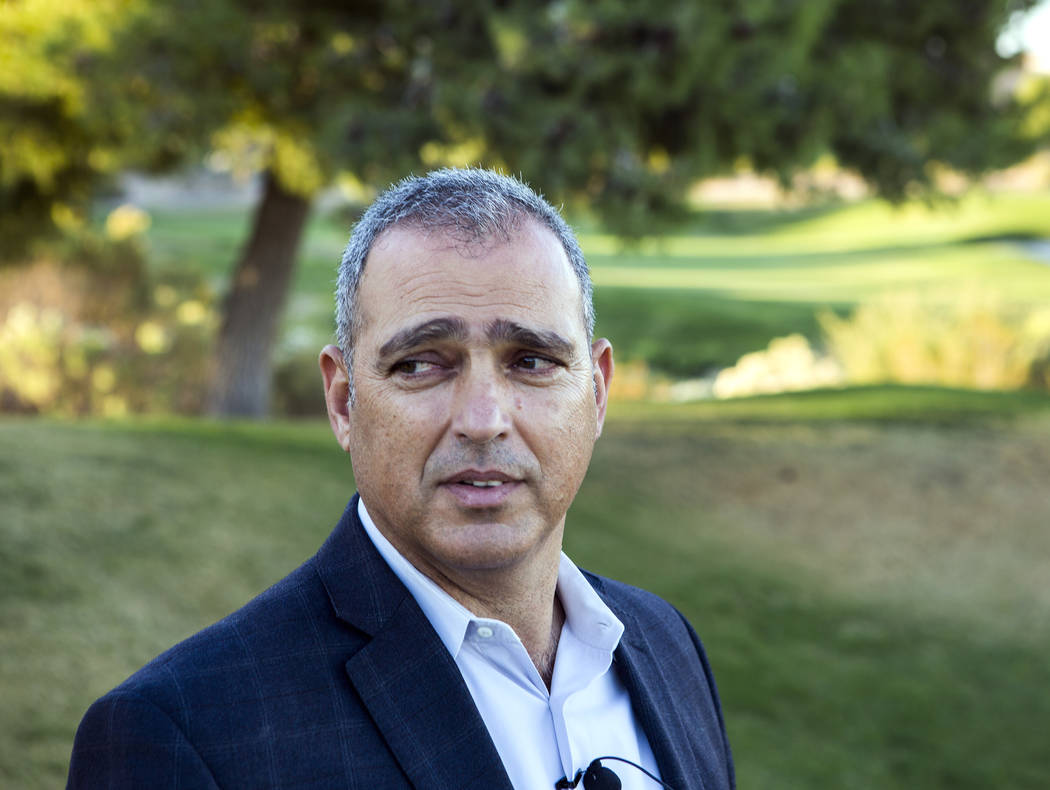 Is Las Vegas City Councilman Bob Coffin an anti-Semite?
I don't think so, but his choice of words leaves the question open for discussion.
Developer Yohan Lowie most definitely thinks Coffin is anti-Semitic.
"He doesn't like my national origin," Lowie, who is from Israel, said Tuesday.
On Aug. 2, Coffin was one of four council members who voted against EHB Companies' plan to build housing on the now-defunct Badlands Golf Course in Queensridge. Lowie's plan was the most divisive issue before the council for more than a year, and it was the deciding issue of this year's municipal election.
Before the vote on the developer's plan, Coffin said he'd been accused of anti-Semitism, which was news to me.
At my request, Coffin provided copies of letters and emails that lay out what he said in February that infuriated Lowie, the March entrance of Jewish Nevada into the fray, Coffin's furious response at "an unfounded accusation" and what Lowie attorney Jim Jimmerson wrote in June.
At the Feb. 15 City Council meeting, Coffin publicly referred to an earlier meeting with Lowie.
In the video recording of that meeting, Coffin said he told Lowie, "You gotta stop treating these people [Queensridge residents] like a bunch of unruly Palestinians getting thrown, you know, a concrete block settlement thrown into their land."
Lowie reported Coffin's comments to officials at Jewish Nevada, a charitable group.
Marla Letizia is chairwoman of the board of Jewish Nevada and the wife of public relations consultant Tom Letizia, who represents Lowie. She called Coffin to discuss his comment. But he was still reeling from the death of his son in late January.
In an interview Monday, she said she was doing her job as board chairwoman by calling Coffin to discuss his "insensitive and hurtful remarks and help him understand why they were so hurtful." But he was in no shape to discuss it, so she waited.
Unable to get an appointment later, she asked President Todd Polikoff to write a letter.
She insisted it was not written at the request of Lowie or her husband. "I'm still open to having a conversation with Bob."
Polikoff wrote Coffin on March 27, appalled that Coffin accused Lowie of "treating people like Palestinians."
"By singling out and condemning Mr. Lowie as an Israeli, your words are not only anti-Israel but anti-Semitic," Polikoff wrote.
Coffin's March 30 response letter described Polikoff's opinion as "insulting and half-baked" and claimed that Polikoff had damaged him with "unfounded accusations."
Coffin wrote that in the private meeting, "I said that I thought his [Lowie's] opportunistic handling of the Badlands purchase and his arrogant disregard of the Queensridge neighborhood reminded me of Bibi Netanyahu's insertion of the concreted settlements in the West Bank neighborhoods."
In his letter, Coffin stuck by his belief that Lowie looked upon the neighbors as "a band of unruly Palestinians." Then he criticized Israeli Prime Minister Benjamin Netanyahu, calling him "a loud-mouthed buffoon."
"So call me anti-Bibi but anything else is just not true," he wrote.
Lowie continued to insist Coffin was anti-Semitic. In a May 26 email, Lowie urged Jewish Las Vegas residents to vote for incumbent Councilman Bob Beers, calling him "a friend of Israel and all Jewish-Americans."
Lowie also said he had recently experienced "hate first hand when Las Vegas City Councilman Bob Coffin compared my land development efforts to the settlement conflict in Israel."
Beers, who supported Lowie's development plan and lost his re-election bid to Steve Seroka, is not Jewish but aided Jewish issues in Ward 2. Asked this week if he thought Coffin was anti-Semitic, Beers said, "Oh, no, no, no." He served with Coffin in the Legislature as well as the City Council.
Jimmerson's June 20 letter to Coffin asked him to recuse himself from voting and discussing the developers' plans, claiming Coffin was unable to act impartially.
That provoked Coffin's public comments in August.
"They're trying to get me to conflict out," Coffin said. "I will never recuse myself."
My take on this: Coffin's word choice was insensitive and could have been more politically correct, but that's not his style. He tends to ramble on and blurt out his thoughts without much of a filter. But I don't believe his antagonism toward Lowie is based on Lowie's religion.
Lowie has a reputation as both a charmer and a hothead, and he's known for being unyielding. He repeatedly tried to rally the Jewish community against Coffin.
Now we'll see if Coffin's Jewish friends come to his defense.
Jane Ann Morrison's column runs Thursdays in the Nevada section. Contact her at jmorrison@reviewjournal.com or 702-383-0275. Follow @janeannmorrison on Twitter.