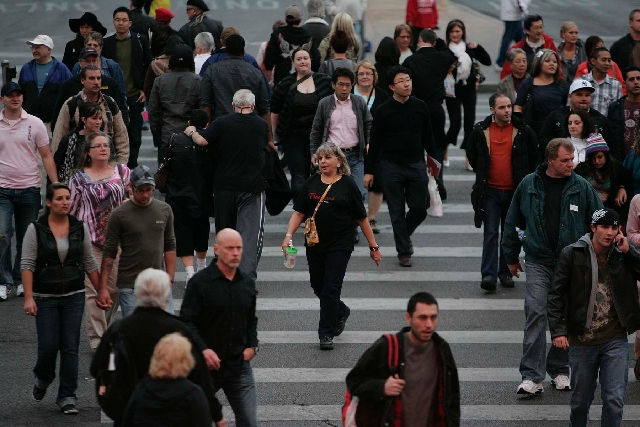 Fellas, you can't have it both ways.
You can't squeal foul when the U.S. Department of Homeland Security cuts funding to Southern Nevada for anti-terrorism efforts and then days later yell that any suggestion Las Vegas is an obvious terrorist site is wrong.
That's called hypocrisy.
So, when it's a question of losing $1.8 million in a federal grant, we're a terrorist target?
But when we want tourists, Las Vegas is as safe as safe can be?
Sheriff Doug Gillespie straddled the two conflicting positions, and he wasn't the only one.
He joined with Clark County Commissioners Steve Sisolak and Larry Brown and other elected officials in an April 10 letter saying that dropping Southern Nevada's ranking from 30 to 33, which eliminates all funding for Southern Nevada, is "unacceptable and indefensible."
That letter went out before the Boston Marathon bombings on April 15.
Local officials also asked U.S. Sen. Harry Reid and U.S. Rep. Dina Titus, both Nevada Democrats, to ask for an explanation from Homeland Security Secretary Janet Napolitano in an effort to move Las Vegas further up the list so it will be in the money.
The same demand for anti-terrorism money played out in 2006 when Las Vegas was dropped from a list of cities considered high-risk targets. In 2005, Las Vegas received $8 million. In 2010, about $5 million. In 2011, an effort to boot Las Vegas from the Urban Areas Security Initiative funding was defeated by Nevada's congressional delegation.
I am one of those who agree that it's not a question of "if" but "when" a violent terrorist act occurs on the Las Vegas Boulevard.
But when Adam Walker said that, and it sparked the Review-Journal's front-page headline, "Las Vegas presents target for terrorists," his comments were condemned.
Walker is an intelligence analyst with the Southern Nevada Counter-Terrorism Center. He was speaking at the 20th Annual International Tourism Safety Conference in dear old Las Vegas, two weeks after the Boston bombings.
He wasn't the only panelist to agree that Las Vegas is a prime target. Security and police consultant Tom Burns said the city's casinos and worldwide reputation make it a target.
They would be stupid if they said otherwise.
But the very next day, the sheriff, Gov. Brian Sandoval and Rossi Ralenkotter, head of the Las Vegas Convention and Visitors Authority insisted Las Vegas was a safe place.
Ralenkotter called Walker's comments "irresponsible, reckless and counterproductive." He said the gaming industry and law enforcement "work closely together to maintain a safe and secure experiences for our visitors and residents."
That is true, but Walker's comments are also true.
I believe law enforcement is working to prevent terrorism, but the Southern Nevada Counter-Terrorism Center doesn't release public reports of terrorist events prevented. (Wouldn't want to scare the tourists away.)
Gillespie didn't and wouldn't say his city isn't a potential threat. He said it was safe. That's why police train. That's why they want that $1.8 million they may lose.
"We are still vulnerable, and we always will be vulnerable, so let's not kid ourselves," Gillespie said, in 2011, 10 years after 9/11.
Let's not be hypocrites. Adam Walker spoke the truth and shouldn't be slammed for being honest. He also spoke what locals think.
Let me list the reasons: The Strip. Downtown Fremont Street. Hoover Dam. Nellis Air Force Base. Creech Air Force Base. The Nevada National Security Site. Those 40 million visitors a year. Any of those are potential targets, but for the maximum terror harming the most people from all over the world, you can't beat our beloved Strip.
It's inevitable. And we know it. No one can guarantee absolute safety from terrorists.
(Pssst. Don't tell the tourists.)
Jane Ann Morrison's column appears Monday, Thursday and Saturday. Email her at Jane@reviewjournal.com or call her at (702) 383-0275.