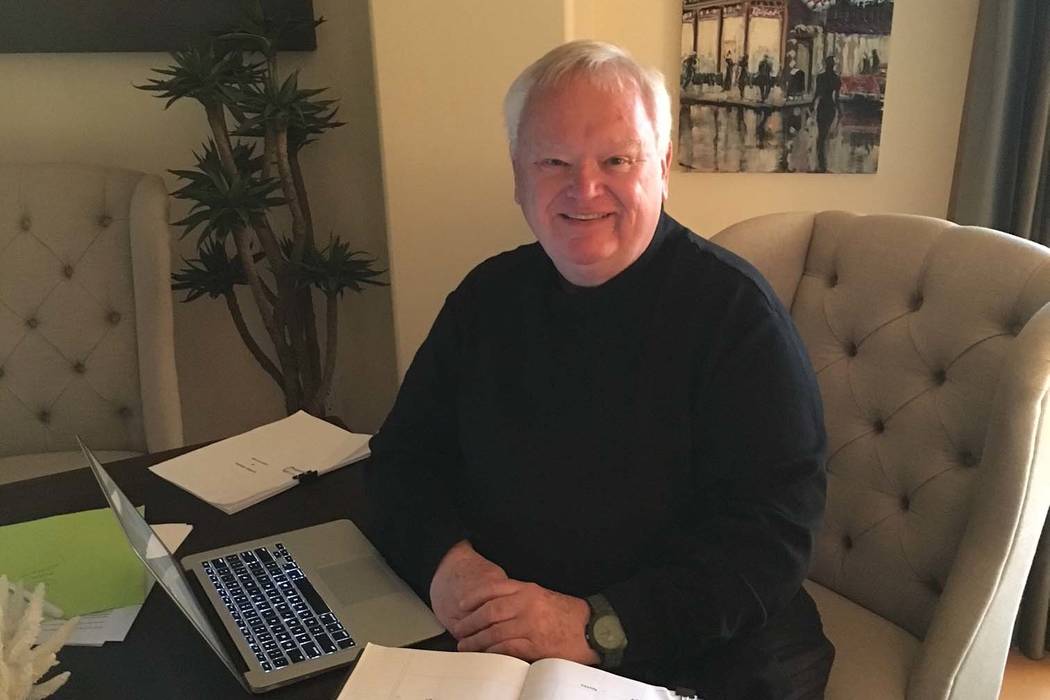 In his political life, former Nevada Assemblyman Larry Spitler was known as a skilled mediator and a wonk who cared keenly about policy but nonetheless understood the necessary machinations of politics.
On the Assembly Ways and Means Committee, he watched carefully how Nevada spent its money. He fought to bring a women's prison to Southern Nevada so families here could visit them. He didn't let special interests buy his votes or tramp over him.
Post-politics, he's made an unusual transition. Today, Spitler is a documentary movie producer.
Usually it's the movie guy who goes into politics. Think Ronald Reagan and Arnold Schwarzenegger.
Spitler took the opposite route.
The Democrat, whose day job was working for the telephone company, served in legislative sessions in 1991, 1993 and 1995 before deciding to leave politics. He opened his own consulting company in 1996, lobbied for the Clark County School District and later became associate state director for AARP.
When he was 62, he decided he didn't want a 9-to-5 job and retired.
'I wondered what a producer does'
In 2014, John Boccardo, a friend for 40 years, asked Spitler to help him finish production of a documentary about Tab Hunter, the Hollywood heartthrob of the 1950s, who had kept his gay life secret. Suddenly, Spitler had a new title — associate producer.
Remember the movie "Damn Yankees"? The song "Young Love"? Then you remember Tab Hunter. His All-American face was featured on countless movie magazine covers.
"I wondered what a producer does," Spitler said. Mostly, he wrote checks.
Spitler's newfound status as an associate producer for "Tab Hunter Confidential" threw him into the world of film festivals and premieres. In 2015, he went to the London premiere of the documentary and met the star, now 86.
"He has a wonderful philosophy of life," Spitler said. "He is very together as a person, very focused. He decided he wanted to tell his story of coming out."
The movie includes interviews with Hunter, Debbie Reynolds, Robert Wagner, John Waters, George Takei, Clint Eastwood and Connie Stevens. Archival footage from Natalie Wood and Anthony Perkins also helped tell Hunter's life story.
I ordered it from Amazon and found it a fascinating biography, including how Warner Brothers protected him from negative publicity and promoted his hard-not-to-love image.
Spitler also met Jeffrey Schwarz, the director of the Hunter documentary, who told him about another documentary he was working on about Allan Carr, who produced the blockbuster movie "Grease" and the Broadway musical "La Cage Aux Folles."
A campy character, Carr was known for wearing caftans and throwing disco parties in Hollywood in the 1970s and 1980s.
Carr, who died in 1999 at age 62, had revived the movie career of Ann-Margaret and also managed Marvin Hamlisch, Mama Cass Elliot and Marlo Thomas.
This time Spitler moved up to co-producer for "The Fabulous Allan Carr" and had a stronger voice because he got involved earlier. "I loved doing it and got to go to several meetings in Hollywood."
His favorite part was talking to young people involved in the industry and feeling their energy. "To see how they work is just amazing," Spitler said."We'd talk about sequences of events, animation."
He discovered how complex the documentary world is. Obtaining rights. Arranging interviews. Buying music. Legal issues.
A willingness to learn new things
Spitler is also writing fiction. He has finished one manuscript called "Nothing Personal" and is working on his second, titled "And Guest," which is "about how we meet meaningful people in the world and how they change us."
Specifically, he was referring to the late Las Vegas Sun columnist Muriel Stevens, whom he escorted to countless events as her guest.
This book, he said, "captures the heart of life when a person lets you share their life and introduces you to a world you've never known."
The 74-year-old credits the documentary experience and his writing to his willingness to learn new things.
And he noted, "I had a mentor with John, who helped guide me through these things and bring new dimensions to our friendship."
He and Boccardo, an architect, have formed their own production company, Lottie and Lorraine Pictures, named after their late mothers. Lottie was Spitler's mother.
"Tab Hunter Confidential" hasn't played in Southern Nevada, but "The Fabulous Alan Carr" is scheduled to premiere Nov. 1 in Las Vegas as a fundraiser to benefit the Gay &Lesbian Community Center of Southern Nevada. For more information, email Andre Wade at the center at awade@thecenterlv.org or call him at 702-802-5400.
Will Larry Spitler try for a major motion picture? Unlikely.
"I'd like to stay in the independent film genre," he said.
Indies seem like the right fit for a man who had been independent as a legislator, able to work with both Democrats and Republicans who respected his integrity because he didn't play political games.
Wish I could say that about more people. Unfortunately, I can't.
Jane Ann Morrison's column runs Thursdays in the Nevada section. Contact her at jane@reviewjournal.com or 702-383-0275. Follow @janeannmorrison on Twitter.