Former Nevada first lady brags about Rancho High School
September 20, 2017 - 2:39 pm
Updated September 20, 2017 - 10:46 pm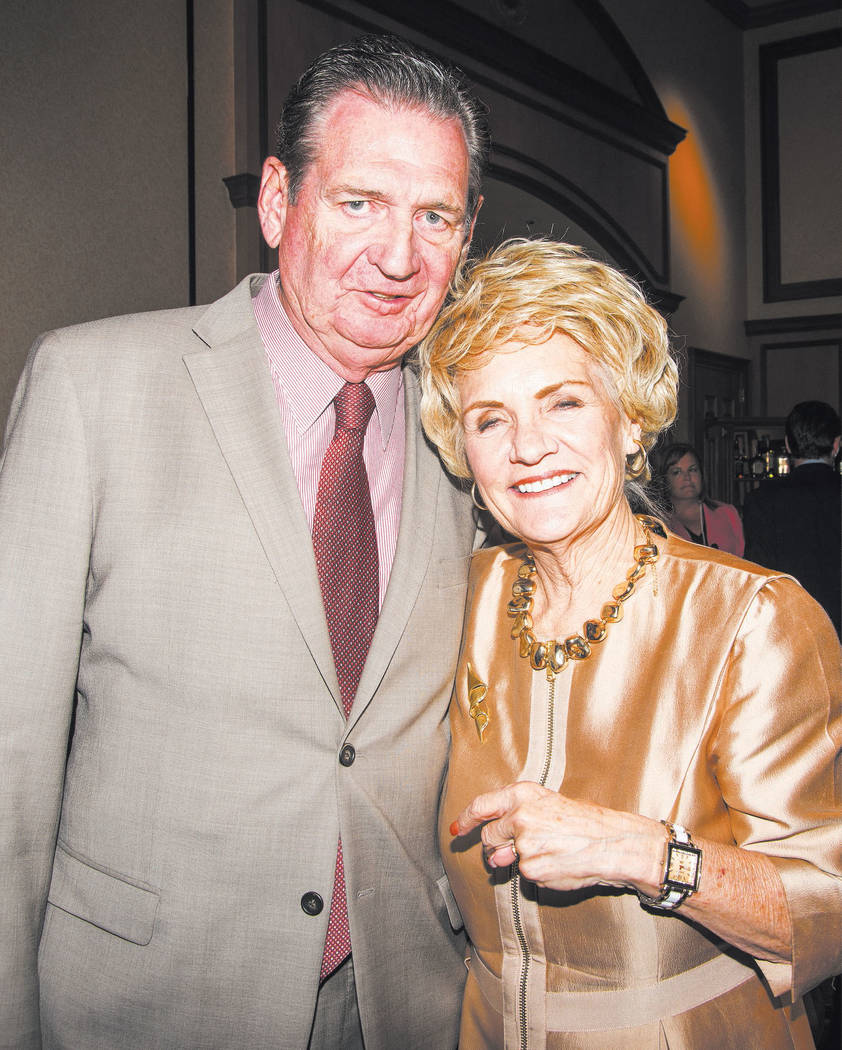 Former first lady Sandy Miller may not have been a cheerleader when she graduated from Rancho High School's Class of 1967, but she cheers for it now.
As the 50th anniversary of her graduating class nears, the onetime majorette bragged about the school of today, which includes a magnet school with an aviation program for would-be pilots and a medical program for would-be emergency medical technicians, and honors classes for college-bound students.
She even cheers that the original school she attended was razed to make room for the new one that opened in 2007.
Her fondness for the North Las Vegas school, which opened in 1954 as the second-oldest high school in the Las Vegas Valley, has nothing to do with the buildings.
Rancho had no defining architecture like that of Las Vegas High School.
When the new Rancho High opened in 2007, no one mourned the destruction of the old one. "There was nothing to preserve," she said.
In the '60s, Miller said, "We were the blue-collar high school. We were the people who built Las Vegas."
The graduates and their parents were the workers who built the casinos and laid the carpets. "We were a strong union town where a valet could make $60,000 when I graduated from high school."
Her memories are of her eight friends who remain close today and the fun they had together. She recalled good times they had cruising along Fremont Street. She laughed about once taking the easy way in chemistry, "borrowing" answers from a desk mate, but getting caught.
Her graduating class had about 500 members and included Frankie Sue Del Papa, who became Nevada's first female secretary of state and later the attorney general, and Tony Marnell, owner of Marnell Companies, which built so many of the Strip hotels.
A slew of elected officials emerged from Rancho over the years, including North Las Vegas Mayor John Lee, U.S. Rep. Ruben Kihuen, Clark County Sheriff Joe Lombardo and state legislators Olivia Diaz, Nelson Araujo,Warren Hardy and Mo Denis.
Rancho High's Class of 2016 had a graduation rate of 81 percent, which is higher than the Clark County School District's rate of 75 percent and the state rate of 74 percent, according to recently released data.
US News and World Reports rates Rancho as the 15th best among Nevada's 67 high schools. Today, the school has 3,255 students, and 63 percent come from financially distressed families. Some 89 percent of the students are minorities, mostly Hispanic.
When she was in school, she knew she would go on to college rather than take a casino job, and she graduated from the University of Nevada, Las Vegas.
Sandy Searles, then a teacher for deaf students, met her future husband on a blind date in April 1973 when he was a deputy district attorney. They married that November.
He was elected lieutenant governor in 1984, and two years later when then-Gov. Richard Bryan won a Senate seat, Bob Miller served out the remaining two years of Bryan's term and was elected to two more terms, making him Nevada's longest-serving governor.
She is, and always has been, a strong advocate of public schools, especially when she was first lady from 1987 to 1997.
The reunion information is on the website of the Rancho High School Alumni Association, www.ranchoalumni.org.
For further information, contact Peggy Samuels at 702-281-1166 or at psranchogirl@aol.com.
Miller, who routinely attends the reunions to connect with friends, still has a passion for the two versions of Rancho.
Like most high school recollections, the fond memories are not about the place, but the people.
Jane Ann Morrison's column runs Thursdays in the Nevada section. Contact her at jane@reviewjournal.com or 702-383-0275. Follow @janeannmorrison on Twitter.