Foster Grandparent Program gets kids reading
February 21, 2015 - 7:33 am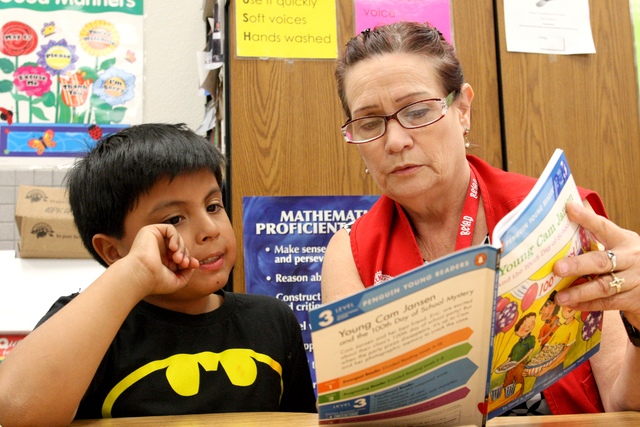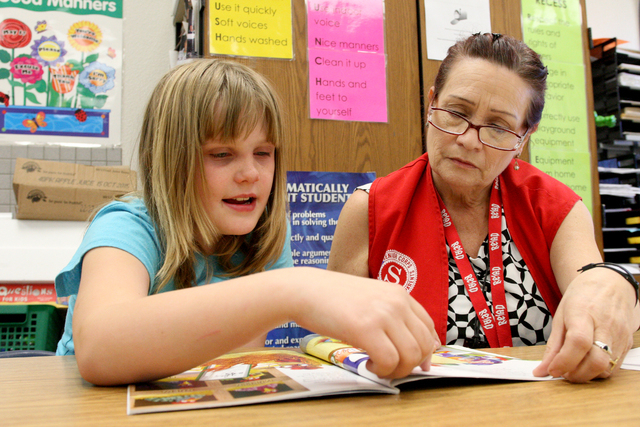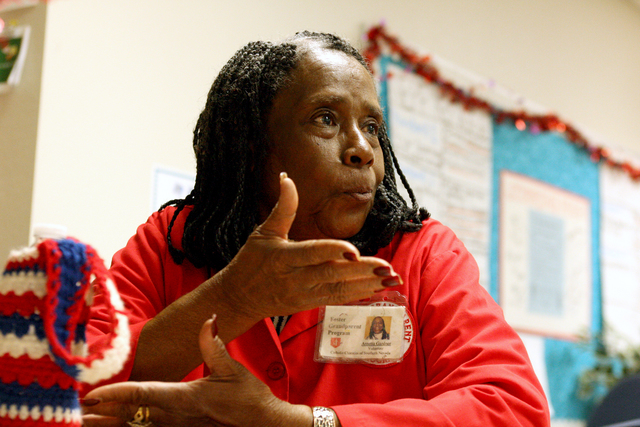 Not sure how many of us would work for $2.65 an hour, 32 hours a week and find it fulfilling.
But for Mary Astorga, Arnetta Gardner and Irene Susbilla, it's a rewarding gig to be part of the federal Foster Grandparent Program and teach children how to improve their reading skills by offering one-on-one time with underprivileged elementary school students.
The three are among 55 "Grandmas" and three "Grandpas" who work at 15 low-income schools throughout Clark County and are themselves low income.
To qualify for the program, the adults are at least 55 and on food stamps.
These three "Grandmas" work at Rundle Elementary School near Nellis and Stewart avenues.
Astorga, whom second-graders call "Grandma Mary," is 60 and has worked as a Foster Grandparent for two years.
Watching Astorga work one-on-one first with Adrian Guzman and then with Katie Samson in the midst of second-grade teacher Israel Carrillo's class was the highlight of my Tuesday. Their efforts showed on their faces and their smiles of success. Katie chose the book "The Plot Chickens" and clearly understood it when asked. Demonstrating his comprehension, Adrian wrote a book report on his choice, "Young Cam Jansen."
Astorga corrected pronunciation, made sure words were not skipped and then asked questions to make sure the young reader understood what they were reading. (And they did.)
Assistant Principal Lorraine Watson said the program works and provided records for three anonymous students. One was reading at 12 words a minute at the beginning of the year and had improved to 42 words per minute. A second second-grader went from 32 words per minute to 59, and a third went from 15 to 39 words per minute. The end-of-the-year goal is 106 words per minute. Rundle joined the program in 1995.
Progress information on each student is reported to Catholic Charities of Southern Nevada, which has operated the program since 2006, taking over from the Equal Opportunity Board.
Sabrina Tolson, who supervises the program for Catholic Charities, approached me recently at the Review-Journal's Successful Aging Expo to pitch the program.
The fact that the nationwide Foster Grandparent Program is 50 years old is another sign that it works, making it a dual program helping poor children and poor senior citizens.
Gardner, aka "Grandma Netta," is 68 and in her third year with the program. With six children and 38 grandchildren, she is a natural. Like most involved in the program, she heard about the old- fashioned way: word of mouth. "I was not doing anything with my life, and I enjoy being productive."
The $391,000 annual budget doesn't allow advertising, but Tolson said the program would like to add more grandparents to expand into more schools. Her goal is to increase the current 58 to 76 grandparents.
"It takes patience, but they love us to death," said Astorga, who works with younger children.
The qualities necessary to be a good Foster Grandparent include patience, good reading skills and being open to learning, Tolson said. "They have to be kind and have the ability to work with another generation."
Grandparents (and you don't have to be an actual grandparent to join) would need to understand the importance of the movie "Frozen" to these youngsters. Because the same grandparents work with the same students, it provides consistency.
Tolson said their average age is about 70, and they do lose some grandparents. An 89-year-old grandma recently had to retire. Another is still working after 22 years.
The program pays mileage and provides bus passes, but it's not always easy to get to the schools, and the foster grandparents have to commit to a minimum of 15 hours a week. Another benefit is an annual physical at no cost.
"They're not disciplinarians," Tolson stressed. "They're mentors, they're roles models, they're tutors."
"My program has a lot of seniors who are not mobile. They get there on shuttle buses and use walkers. I know all of them, and they really want the kids to learn how to read. They are truly focused on how to say the words. Even though they have children speaking different languages."
The program is a dual program, and the little extra they learn makes a difference, Gardner and Astorga agreed.
At Rundle about 43 percent of the students are English Language Learners and Foster Grandparents make a difference, Assistant Principal Watson said. "It's really a joy having these grandparents here." She wants two more at Rundle, if she can get them.
The pay's not great, but helping someone learn to read has unique rewards. If interested, call 702-382-0721 and tell the receptionist you're interested in the Foster Grandparent Program.
(Full disclosure: At some point, I always thought I would like to teach adults to read. But watching Adrian and Katie showed the joy of working with those little ones.)
Jane Ann Morrison's column appears Thursdays. Email her at jmorrison@reviewjournal.com or leave a message at 702-383-0275. Find her on Twitter @janeannmorrison