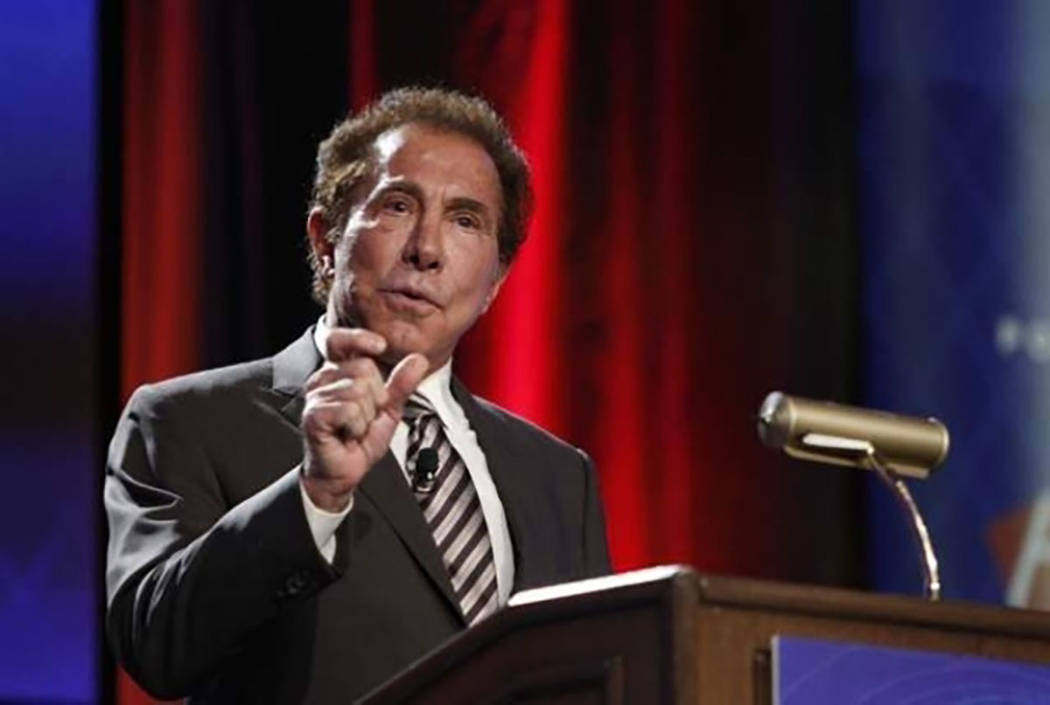 For 12 days, an acidic drip, drip, drip demolished Steve Wynn's reputation, finally forcing him to resign as chairman and CEO of Wynn Resorts on Tuesday.
Now it looks as if his resignation won't spare him further embarrassment after all.
Surely he knew he wasn't going to rebound following The Wall Street Journal's Jan. 26 front-page story detailing allegations of sexual misconduct.
When gaming regulators in Nevada, Massachusetts and Macau swiftly and sternly said they'd be looking into the allegations, he had to know those inquiries were going to be hugely humiliating.
Then the Las Vegas Review-Journal, which had stayed silent for decades about reports of his sexual proclivities, smacked him in the face Monday with a story revealing he allegedly forced a Mirage cocktail waitress to have sex with him in 1990 because he wanted to do it with a grandmother.
That was the last drip.
It was also creepy.
The saddest sentence in the Review-Journal's story about the grandmother, who was about Wynn's age, in her late 40s, when she yielded to his demands nearly three decades ago: "To me, that's how it was, it was normal."
Wynn didn't even bother to deny the allegations in the Review-Journal, or blame his ex-wife, Elaine Wynn, as he did when The Wall Street Journal broke its blockbuster about the manicurist who received $7.5 million to settle her complaint.
Everyone I know is wondering what he did that made it worth $7.5 million to buy her silence.
Somewhat overlooked as a contributing factor to his resignation was the aggressive response in Massachusetts, both by regulators and The Boston Globe.
On Monday, the Globe came out, guns blazing, with an editorial headline saying, "No, Steve Wynn is not suitable."
"The board of Wynn Resorts Ltd. should remove him as CEO and take his name off the casino that's rising along the Mystic River in Everett," the editorial declared.
The newspaper also said Massachusetts regulators needed to discover "who else in Wynn's company knew about the $7.5 million settlement and was involved in the decision to cover it up."
The Massachusetts Gaming Commission was steamed that Wynn failed to disclose, and in fact took steps to disguise, the settlement reached in 2005 before they approved his suitability.
To win approval to build a $2.4 billion casino outside Boston, Wynn had to prove he had "integrity, honesty, good character and reputation."
Wynn's gaming license at risk
Nevada has similar standards for licensing suitability, including language about behavior reflecting "disrepute."
Despite surrendering his jobs, Wynn still faces potentially humiliating hearings because both Massachusetts and Nevada regulators have said they are moving forward regardless.
"Massachusetts was a significant contributing factor (to Wynn's resignation) because of the public nature of its hearings," said gaming expert Clyde Barrow, who worked for 27 years researching the economic, social and fiscal impacts of casino gaming at the University of Massachusetts-Dartmouth.
He said the Massachusetts Gaming Commission is aggressive about transparency and ethics and wouldn't just rely on The Wall Street Journal's report, but would be forceful in conducting its own investigation. "Unless the commission revokes his license, he's still licensed."
"I think he did what had to be done," Barrow said. "Wynn is a large shareholder but not the majority shareholder, but given his age (76), the board has probably been planning for his departure."
If allegations that supervisors essentially "pimped" female employees are true, they could lose their licenses, too. And board members are not getting a pass.
On Wednesday, a 42-page complaint, obviously in the works for some time, was filed against Wynn and his entire "hand-picked" board. Filed in Clark County District Court on behalf of the Norfolk County Retirement System of Canton, Massachusetts, the lawsuit alleges that Wynn, legal counsel Kim Sinatra and the rest of the board, including former Gov. Bob Miller and former Nevada Gaming Commissioner Pat Mulroy, ignored their duty to protect stockholders' interests.
Essentially, the claim is that the board failed to investigate credible allegations of sexual harassment and approved excessive and lavish compensation for Wynn, while enriching themselves.
The lawsuit raises serious issues about whether Sinatra participated in a cover-up of the $7.5 million settlement.
Wynn Resorts spokesman Michael Weaver said there would be no comment from board members about the lawsuit filed locally by law firm Eglet Prince.
The board consists of 10 people, including Wynn and Sinatra, and the lawsuit details the longtime close personal and financial relationships members had with him.
Millions coming Wynn's way
Board members approved a $330 million severance package for him long before this resignation. And if he loses his license, the company must pay him about $110 million, according to the lawsuit.
Board members themselves were well-compensated. In 2016, the lowest compensation was $327,000 and the highest after Wynn's $28 million was Sinatra's $2.7 million. Miller was paid nearly $518,000 and Mulroy more than $372,000.
Alleging breach of fiduciary duty by Wynn and Sinatra specifically, the lawsuit asks that all "profits, benefits, and enrichment and other compensation" they obtained be returned to the company. The lawsuit also calls for all the directors to be assessed punitive damages.
Today, all sorts of people say they knew Wynn was a hound asking for sex from his employees, usually single mothers (or grandmothers) who needed their jobs so their children could eat.
The court case and gaming suitability hearings could tell us even more.
Jane Ann Morrison's column runs Sundays in the Nevada section. Contact her at jane@reviewjournal.com or 702-383-0275. Follow @janeannmorrison on Twitter.
Steve Wynn Investigation
Read complete coverage about Steve Wynn and the accusations of sexual misconduct