Henderson resident remembers her brother, Charles Manson victim, as 'my idol'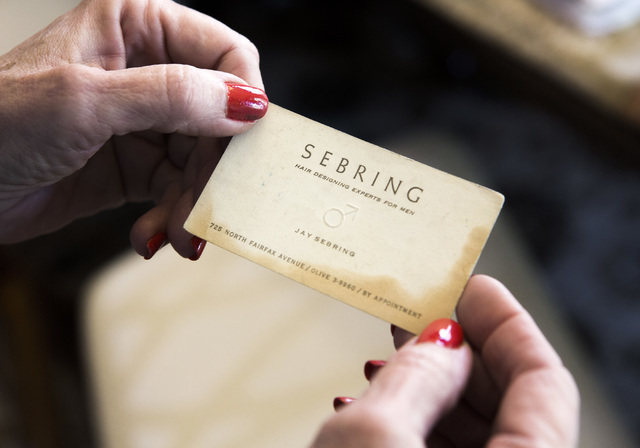 Thomas John Kummer became Jay Sebring about 1958 because he liked the name of the racetrack in Florida and his hair styling business was taking off.
By 1961, he was known as a top Hollywood men's stylist.
An article that year in the Los Angeles Herald Express said he charged $15 for the first styling and $10 after that. But others paid more. A man identified as a "Las Vegas impresario" paid $100 for a Sebring style.
His clients included Steve McQueen, Paul Newman, Cliff Robertson, James Garner, Robert Wagner and Henry Fonda, among others. He created rock star Jim Morrison's look. Newman later invested in Sebring's San Francisco salon.
Sebring was the first American to use the blow-dryer on men and the first to create a line of products aimed at men in 1966.
By the time of his death at 35, he was already a celebrity, and a businessman of note. His product line and salons were on the verge of expanding into the international scene. But then he was savagely shot and stabbed to death in the early morning hours of Aug. 9, 1969.
His sister, Peggy DiMaria, was 25 when Sebring and four others were murdered at the whim of Charles Manson.
Peggy and Jay, or Tom as he was known then, were raised together in a Detroit suburb. He was the oldest of four children, and she was the youngest.
She described him as handsome and generous.
"I totally looked up to him, he was my idol," Peggy said. "He was great-looking, and I was proud to say he was my brother."
He had another trait. He knew how to listen. "My brother always had a way to make me feel that what I was saying was important." She said he did the same with his clients.
She and her husband, Tony, were also hairstylists in Michigan, and when they moved to Las Vegas in 1965, they didn't have enough money to take the classes needed to become licensed here. So Tony went to work as a busboy, and she worked as a receptionist.
During a visit, "Jay asked why we weren't doing hair," Peggy recalled.
After he left, they received a check from him, a loan so they could go to school and work as stylists in Las Vegas.
"He always asked me what I was doing and what I wanted to do," Peggy recalled. "I'm sure he'd ask his clients the same thing. He just wanted to help."
One example: He helped Bruce Lee's career take off.
Sebring had moved to Los Angeles in 1955 after spending four years in the Navy during the Korean War. After attending cosmetology school, he began developing fresh ideas, such as shampooing men's hair before cutting it. Using a blow dryer, styling with scissors instead of clippers. He even used hair spray on men. What was commonplace for women's hair was innovative for men's.
He opened a salon in Los Angeles and another in San Francisco. He would travel to his famous clients and had a particular skill to design their hair so that their good features were enhanced and their bad ones downplayed.
His sister and the rest of the DiMaria family now living in Henderson are not fans of the book "Helter Skelter" written by the prosecutor Vincent Bugliosi.
In it, Bugliosi described Sebring as "troubled and insecure."
"Anyone who knew my brother would not describe him as insecure," Peggy said. "My brother had a presence."