Lawyer's poke at Hardesty falls flat
December 3, 2015 - 11:33 am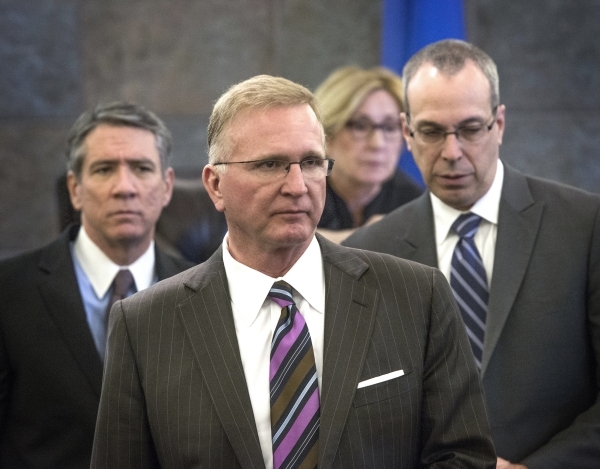 When wealthy Las Vegas attorney Robert Eglet presented an education seminar to more than 200 attorneys and judges and put up a slide showing mug shots of Nevada Supreme Court Chief Justice James Hardesty and mobster Al Capone side by side, some laughed. Others didn't.
Some thought it was a joke gone awry, others thought it was a deliberate insult to the chief justice.
Hardesty was among those who didn't find it amusing, and later told Eglet so. Eglet apologized. "He attempted to make a joke and it went sideways," Hardesty said. "It's closed. He offered a personal apology, I accepted it."
Hardesty confirmed that when the slide appeared, Eglet said, "What do these men have in common? Both made bad decisions." Or something like that.
Eglet denied he said those words or referred to "bad decisions," but Hardesty on Wednesday insisted a second time those words were "pretty close" to what the attorney said.
After showing the slide, Eglet mentioned a decision known as the Tam decision, after Dr. Stephen Tam, who had been sued for medical malpractice by the estate of Charles Cornell Jr., who died in 2010.
"Mr. Eglet mentioned the Tam decision, and I said in response: That was a unanimous decision by the court," Hardesty said.
Even two months later, it sounded like a tense moment between the powerful lawyer and the powerful judge who authored the Tam decision. The Nevada Supreme Court on Oct. 1 had upheld the constitutionality of a Nevada statute setting caps on certain medical malpractice cases, rejecting District Judge Jerry Wiese's ruling that the law was unconstitutional.
The supremes said Wiese erred when finding the caps did not apply to claims for medical malpractice and erred when finding the caps for non-economic damages apply per plaintiff and per defendant.
The case, which has multiple defendants, will be reset for trial.
Eglet was not involved in the Cornell lawsuit, but is a hugely successful personal injury attorney who has won multimillion dollar awards in personal injury cases. This decision could reduce certain awards he might win.
The slide, Eglet said Monday, "was intended to be a shot at humor." He said he's given similar presentations three or four times on how jurors make decisions using Capone and U.S. Supreme Court Justice John Roberts.
Perhaps one difference is that Hardesty was in the audience at the seminar at the Nevada Justice Association annual convention held Oct. 8 to 10 in Huntington Beach, Calif. Eglet's presentation was touted as one of the highlights of the convention.
NJA President Laurence Springberg said the slide spurred him to write a letter of apology to Justice Hardesty. "We felt an apology was necessary because of the slide implying a connection between the two men."
He was unable to recall the exact words Eglet spoke. "The slide was the issue," Springberg said in an interview.
Springberg wrote that on behalf of NJA, he wanted to apologize for the "inappropriate and disrespectful personal statements and the photograph directed at you" at the convention. "That portion of the presentation was done without the knowledge and approval of the Nevada Justice Association."
Hardesty wrote back that he appreciated the NJA's "thoughtful and courteous gesture" and recognized that NJA cannot be responsible for remarks by a presenter. "You should know that the presenter has extended his personal apology."
Eglet's name was never mentioned in the two letters.
Eglet, the association's man of the year in 2013, said he was was unaware that NJA had apologized to the justice until I told him.
Eglet said he's a close friend of Hardesty and will be on the justice's re-election committee in the next election.
Hardesty laughed and said he doesn't yet have a re-election committee. He does consider Eglet a friend.
Eglet's two-hours-plus seminar, titled "Voir Dire: Themes, Challenges and Strategies" in the NJA program, included a discussion of how 95 percent of decisions are made unconsciously. He went through the science of the rational brain and the emotional brain and used the Hardesty-Capone slide to emphasize that the human brain makes decisions the same way no matter who you are.
Using his scientific theory, Mother Teresa and the alleged shooter at Planned Parenthood in Colorado would make similar decisions if they were on a jury.
Sure they would.
A few weeks afterward, Eglet said he saw Hardesty at another event. "He said something to the effect, 'I didn't like it,' " Eglet recalled.
"I said I'd never do anything to offend him," Eglet said. "I'm not trying to insult Roberts or Hardesty."
Hardesty said Eglet, in his face-to-face apology, "told me he considers me a credit to the court."
Sitting beneath a picture of Napoleon Bonaparte, a gift from his wife also meant as a joke, Eglet said he believes the story came to my ears because other attorneys are jealous of his success.
Could be.
But it clearly upset Hardesty then, even if he now dismisses it as "old news."
The tale, which spread through the legal community and eventually reached me, sounded more like an overt nearly Napoleonic "look at what I can do" swipe at a chief justice than a joke.
Jane Ann Morrison's column runs Thursdays. Leave messages for her at 702-383-0275 or email jmorrison@reviewjournal.com. Follow her: @janeannmorrison