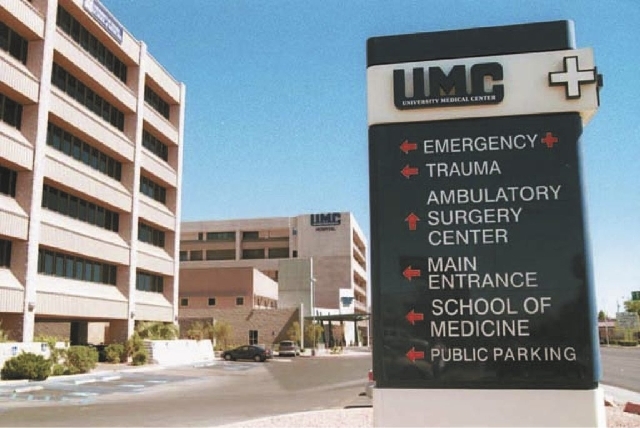 The UMC Foundation losing its nonprofit status is more of an embarrassment than a serious problem for the organization, but somehow it doesn't inspire confidence. It makes one wonder: Who is minding the store?
Not filing a tax return with the Internal Revenue Service for three years because there is no executive director suggests a fairly cavalier approach to the hospital foundation.
This foundation is not the same as the UMC Foundation formed in 1982 by Las Vegas community stalwarts, including Carolyn Sparks, but disbanded by then-CEO Lacy Thomas soon after he was hired in 2004.
Sparks and Bill Flangas presented the final check from the first foundation to Clark County commissioners in January 2007, who were shocked and clueless that Thomas had disbanded it.
At the very next commission meeting Thomas was fired, then later indicted on charges of theft and misconduct relating to hospital contracts. The indictment was dismissed in June 2011 by a judge who found the indictment "constitutionally vague."
District Judge Michael Villani said even prosecutors acknowledged Thomas didn't, himself, benefit from the five hospital contracts he granted to friends or associates. Prosecutors alleged they were sweetheart deals that cost the taxpayers $11 million in no-bid, irregular contracts.
Sparks recalled on Wednesday that Thomas attended their first foundation meeting after he was hired as CEO of UMC in January 2004, "and was all nice. At the second meeting, he wanted us to turn over everything to him and he wanted an executive director running it. He shook his fist in Diana Bennett's face." Bennett is a longtime Las Vegas philanthropist and gaming executive.
Other notables who donated their time and effort to the first UMC Foundation included the late casino owner Bill "Wildcat" Morris, the late Gov. Grant Sawyer and activists Lynn Wiesner and Diana Wilson.
The UMC Foundation was a fundraising group that raised money and gave it to the hospital. The good news was that the foundation managed to stay legit by filing its IRS forms.
It's biggest fundraiser was a Children's Miracle Network Telethon. Between 1985 and 2006, the foundation raised $6.4 million for pediatric programs. No longer a fundraiser for UMC, the telethon now helps St. Rose Dominican hospitals. The final insult to the foundation members? "We called to reserve a meeting room and were told: 'The foundation is no longer welcome at UMC.' That's exactly the quote," Sparks recalled.
The reformatted UMC Partners in Excellence Foundation, which is also known as the UMC Foundation, was started in 2005 with $500,000 from United Healthcare of Nevada, $500,000 from the Tony and Renee Marlon Charitable Foundation and $40,000 from the Aetna Foundation.
The most recent tax return for 2009 said it gave $235,000 to UMC to pay for pediatric needs for the hospital. For 2008, it didn't give any grants, according to the 990 form. The forms for 2010, 2011 and 2012 remain the missing links.
County Commission Chairman Steve Sisolak said the blame rests with a county staffer. The foundation's executive director left in October 2010 and her job was merged with another person's to save money. That person, who is no longer at UMC, didn't file the returns. "I blame our staff for not following up on it," Sisolak said. "It's clearly not the foundation board members' responsibility."
Board member Stan Hunterton was less kind on himself. "It's awful. I feel responsible. I'm sure we all do, whether we are or aren't." He didn't know you had to keep filing once you received nonprofit status. "Shame on me that I didn't. I'm not blaming anyone else," the Las Vegas attorney said. "It's a shame because UMC and the foundation have gotten so much bad press; it's a shame we've now added to it."
He's aware that fundraising will become harder, but he's not walking away from it. "I am particularly proud of the respite room for families," he said. When a child is seriously ill at UMC and families are waiting there day after day, there's a place to shower and microwave food and rest and read.
"We're not misusing the money; we're not buying Jet Skis. We made a mistake," Hunterton said. "I'm proud to be associated with UMC. It's one of those untold great stories. … I see what these people do and if you're badly injured in this community, it's where you are going to be."
Whether the blame rests with the staffer or board members can be debated, but the UMC Foundation has a black eye now and needs to restore its credibility.
It was a paperwork error. It can be fixed. It's not as if they were stealing drugs from the hospital.
Jane Ann Morrison's column appears Monday, Thursday and Saturday. Email her at Jane@reviewjournal.com or call 702-383-0275.