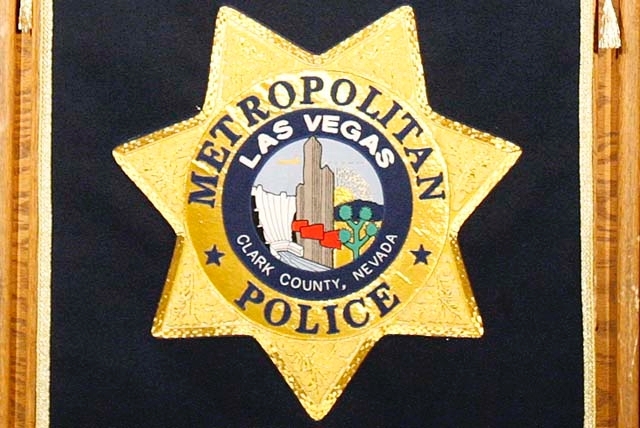 More Cops is a misnomer.
The reality is, even if Clark County commissioners vote to raise the sales tax by 0.15 percent at their Aug. 6 meeting, Sheriff Doug Gillespie admitted it's unlikely there will be more cops in Clark County next July.
An estimated 50 to 60 officers retire each year, plus it takes times to hire and train officers, and the additional money wouldn't start to roll in immediately. But eventually, Gillespie hopes to hire an additional 100 officers.
If the sales tax rate increase is rejected and remains at 8.1 percent rather than 8.25 percent, some police officers could lose their jobs, according to Gillespie. If it passes, 250 jobs are saved and another 100 officers hired.
Gillespie's goal is to have two police officers per 1,000 residents (not counting tourists). There are now 1.74 officers per capita. The ratio would dip if commissioners reject the sales tax increase.
Because a two-thirds majority is needed to raise taxes, five votes are needed to approve the ordinance, and two commissioners can bolt. Commissioners Chris Giunchigliani and Steve Sisolak are prospective bolters. They voted against the sale tax increase idea in December.
Giunchigliani wants some of the More Cops money to go to place body cameras on police officers, which the NAACP and the ACLU desire to capture police misbehavior.
Gillespie wants a pilot program for that but doesn't want to use More Cops money, though the Legislature allowed the money to be used for cops and their equipment.
Instead, he proposed using money seized and forfeited from criminals to cover the $1.5 million cost. That's not quick enough for Giunchigliani.
Giunchigliani asked if commissioners give the sheriff More Cops money, does that mean he won't come back for an increase in funding? He said with a $30 million deficit, he will be asking for an increase in funding from the city and county for the next budget.
The Metropolitan Police Department faces a $30 million shortfall because of cuts in funding by the county and city of Las Vegas, so some of the More Cops money is likely to be redirected to pay for existing jobs rather than adding new ones.
Sisolak started his questioning by channeling his prospective GOP opponent, Gov. Brian Sandoval. "I am philosophically opposed to raising taxes," the Democrat said. Perhaps he will channel Sandoval again and vote for the increase because it was voter-approved in 2004.
Sisolak asked whether the money would go toward pay raises, a hot-button issue because many taxpayers resent that public employees pensions and benefits are more generous than those in private industry.
Gillespie said his current budget would restore 4 percent merit raises and longevity raises. As for future contracts, "any other salary benefits will be part of negotiations, which you (Sisolak) are very aware of since sitting on the Fiscal Affairs Committee."
Later, Gillespie told me nearly two hours of questioning was frustrating because "they say stuff that's not accurate, and they know it's inflammatory. That part does frustrate me a little bit, but in this job, I've developed patience and tolerance I never had before."
It looks like the sheriff will get his five votes.
Commissioners Tom Collins and Larry Brown support the sales tax increase as a safety issue. Commissioners Mary Beth Scow and Susan Brager are expected to support it.
Commissioner Lawrence Weekly said he is taking a neutral position. My guess: He will side with the advocates.
If Sisolak and Giunchigliani vote against it, their votes are irrelevant to the final outcome, unless Weekly joins them.
Even to make a point, does anyone really want to be advocating for fewer cops and higher crime rates? Didn't think so.
Jane Ann Morrison's column appears Monday, Thursday and Saturday. Email her at Jane@reviewjournal.com or call her at (702) 383-0275.