New highway trims old-school Las Vegas barber shop
August 24, 2016 - 6:39 pm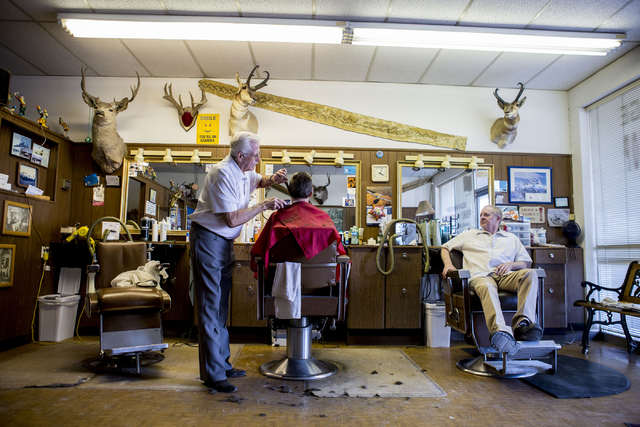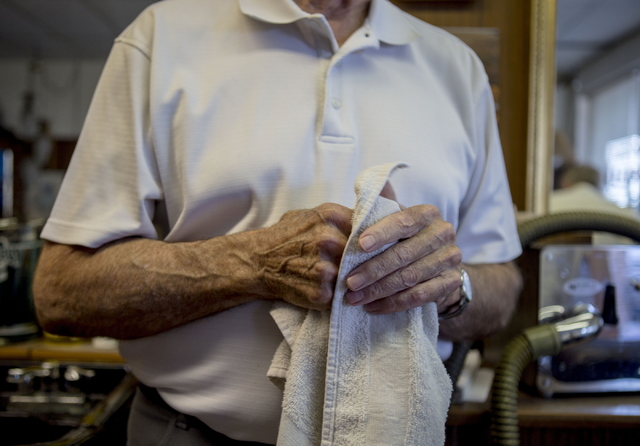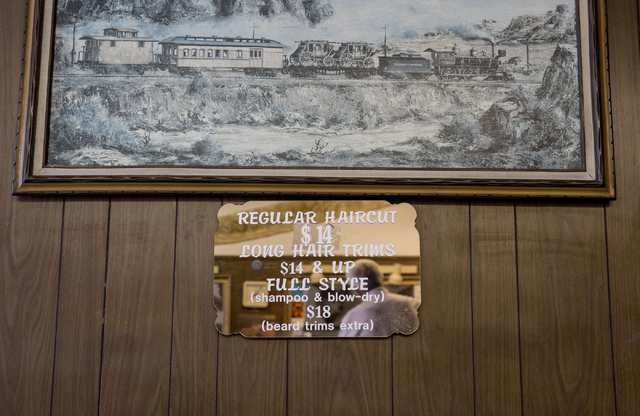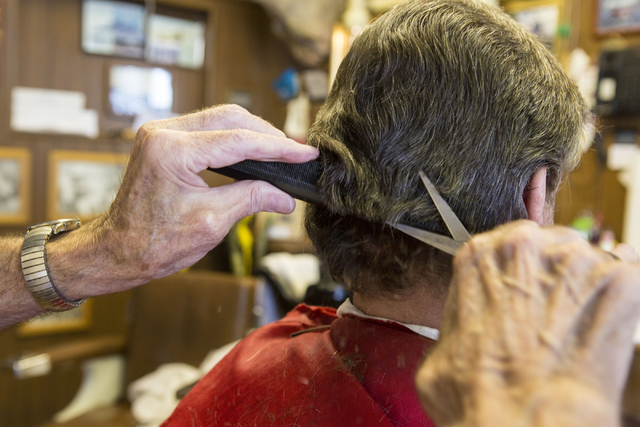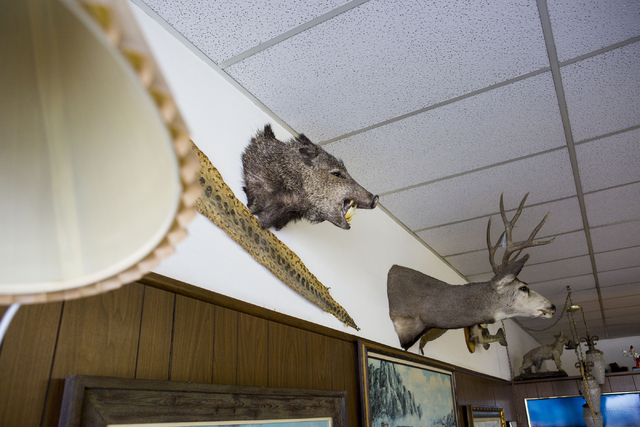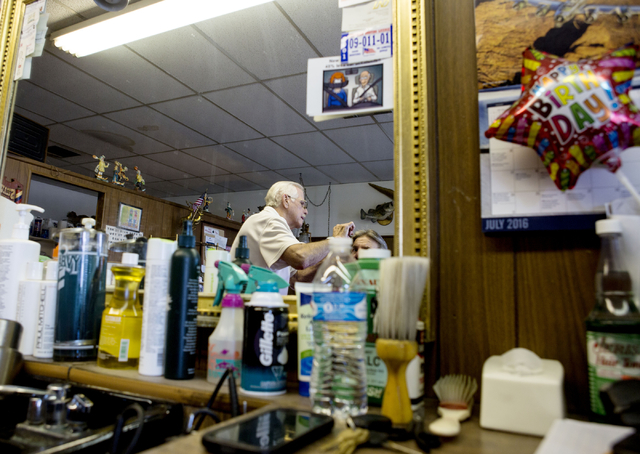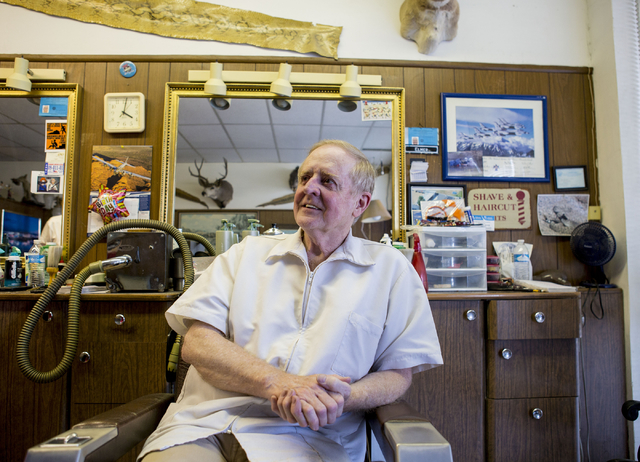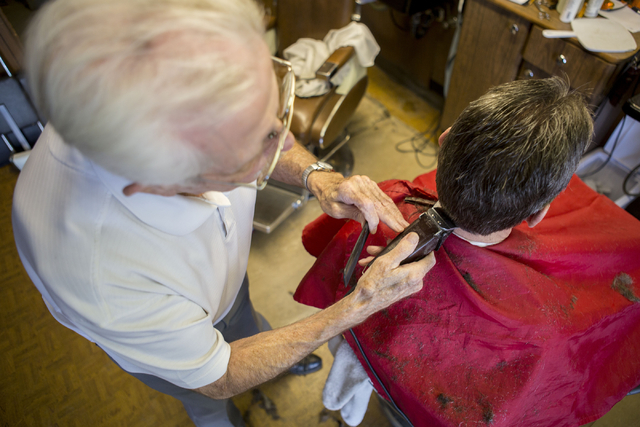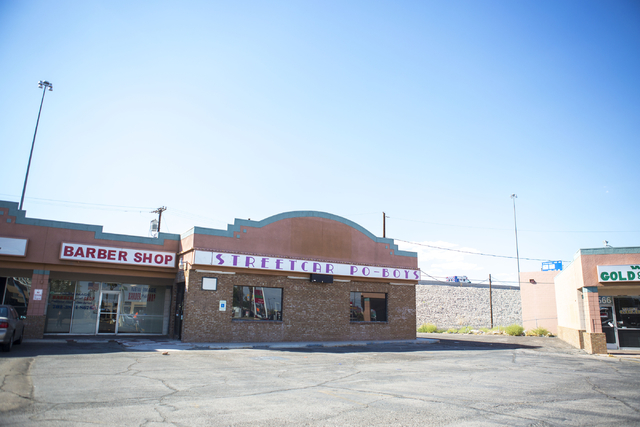 Driving by the corner of Oakey Boulevard and Western Avenue, a shortcut to the newspaper, makes me sad.
Oakey Center once was a happenin' place where movers and shakers mixed with blue-collar types. Now it's vacant, except for the New Image barber shop and Kelly's bar. The parking lot is so empty gunslingers could shoot it out without hitting any townsfolk.
Oakey Center will be bulldozed once these last two businesses leave.
It would be easy to blame the demise of this once flourishing center on Project Neon, the Nevada Department of Transportation's $1.5 billion upgrade of 3.7 miles of Interstate 15 between Sahara Avenue and the Spaghetti Bowl interchange. The project requires the Oakey Center site and land from many other area businesses.
But the decline really began in 1998, when Poppa Gar's restaurant closed after a 33-year run. The comfort food restaurant opened by Garland Miner in 1965 was a magnet for the good old boys of Las Vegas. "More deals were made over there than were made at City Hall and the county," laughed New Image owner Randy Benefiel.
Many of the lawmen, politicians and businessmen would eat at Poppa Gar's and stop for a haircut next door at New Image.
Benefiel and barbers Jon "The Chopper" Holten and Elmer Yahne are a three-man operation at the barber shop that opened more than 50 years ago. "We were vibrant," said Holten. "We were full every day."
When I visited last week, customers were still coming in, fighting construction traffic to get there. Mark Miscevic, a 20-year customer and co-founder of Americana Group Realtors, sat in Holten's chair for a haircut and a beard trim.
When the shop opened in 1965, a haircut cost $1.75. Today that haircut is $14.
Miscevic is not sad the center will be bulldozed to make it easier and safer to use Interstate 15. "It's part of a town growing. It's better than a town dying or a town getting smaller."
Former Nevada Gov. and U.S. Sen. Richard Bryan is a longtime customer of Benefiel's. "I'll stay with him as long as I have hair," Bryan laughed. Like Miscevic, Bryan soon will take his business to the shop's new location, about a mile away at 2800 W. Sahara Ave. The move is expected to take place in September.
Some of their customers' names are familiar if you've lived here a decade or three. Former Review-Journal Editor Don Digilio quit going to the shop when the price of a haircut went up a quarter. Former Las Vegas Mayor Oscar Goodman. Retired District Judge Donald Mosley. Poker player Puggy Pearson. Actor Pat Morita. The late media mogul Jim Rogers. Attorney John O'Reilly.
They'd sit in one chair and a construction worker might be in the one next to them. And in the barbershop tradition, they'd all talk. "Some would say Bryan was the only Democrat they'd ever vote for," Benefiel recalled.
The barber shop is one of 60 businesses that Project Neon will relocate.
Benefiel said Project Neon is paying about $60,000 to move his barber shop.
Through June, NDOT has spent more than $9.1 million on moving, storage and re-establishment costs to relocate businesses displaced by Project Neon, said NDOT spokesman Tony Illia. An additional 20 businesses still need to be relocated.
Project Neon's land acquisition and property management costs through June exceeded $172 million, Illia said.
The realty company that represented Oakey Center was paid more than $6 million for the land.
Benefiel, 65, and Holten, 76, enjoyed talking about the good old days when the center hustled and bustled, but they're not wedded to their location, which has been fading for several years. They're fine with starting anew.
Like me, they see downtown's stretch of I-15 as a death trap for drivers.
Nostalgia is fine, but being able to drive without crashing or dying on the interstate is better.
Jane Ann Morrison's column runs Thursdays. Leave messages for her at 702-383-0275 or email jmorrison@reviewjournal.com. Find her on Twitter: @janeannmorrison