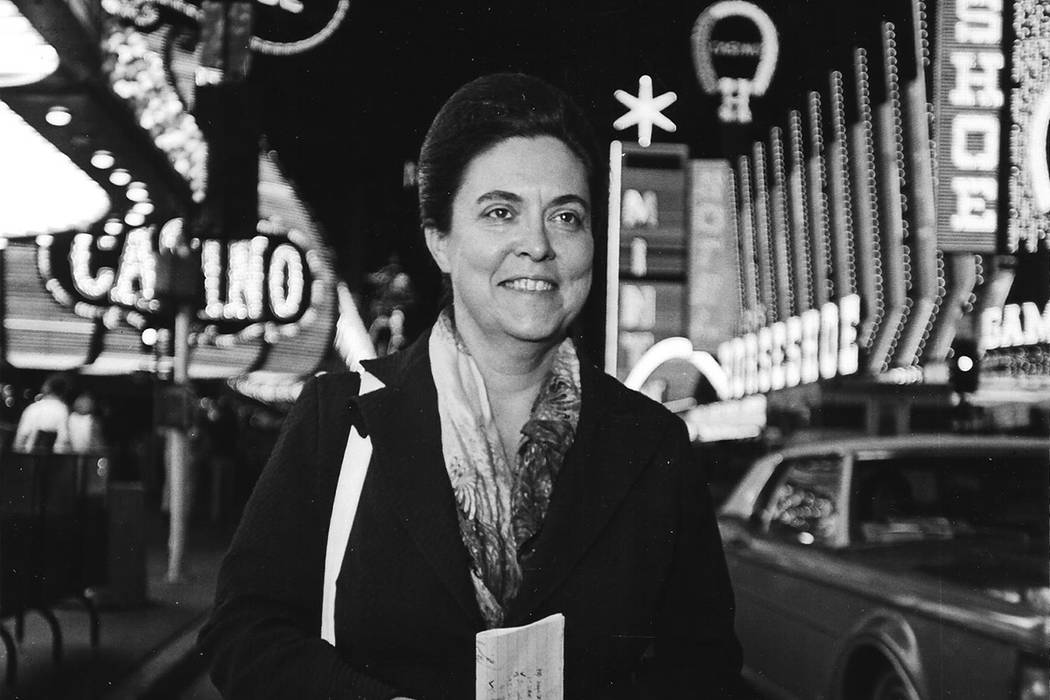 Myram Borders was a cutthroat journalist who strategized ahead of time how to beat the competition. But the real reason for her successful 36 years at the United Press International wire service was her penchant for hard work.
Some journalists today sleep with cellphones by their beds. Borders had the office phone in her house, as well as a noisy teletype machine installed in her spare bedroom. She was always available to work, even in the middle of the night.
In 1967, she received an anonymous call at home about 1 a.m. from a man who wanted to sell her an exclusive. She didn't pay for stories, but she told him about outlets that did. He tried them, and they were closed for the night, which she well knew. So the hotel employee returned to Borders with his scoop: Elvis Presley and Priscilla Beaulieu were going to get married at the Aladdin Hotel.
She went to the hotel about 2:30 a.m. and snooped. About 8 a.m. she spied Nevada Supreme Court Justice David Zenoff and asked if he was there to officiate. He knew better than to lie to Borders and confirmed it. She was the first to report it, one of many scoops.
When Borders was inducted into the Nevada Press Association's Hall of Fame on Sept. 30, the comment I heard most often was it was an honor "long overdue."
This woman grew up with Las Vegas. Her family moved here from Kentucky in 1940 when she was just 4.
She graduated from the University of Nevada, Reno, in 1958 and nabbed a full-time job with UPI. She tested her chops by working in bureaus in San Diego and Los Angeles before returning to Las Vegas to manage that bureau in 1965. Myram was the first female wire service manager in the western United States.
Over the years, she helped cover the Watts riots, Charles Manson's trial, Marilyn Monroe's death, Bobby Kennedy's assassination, organized crime, nuclear tests, and countless celebrities.
If there was a Nevada gamer or politician worth knowing, Borders knew them. She'd gone to school with many. More importantly, she knew how they connected to one another. The gamer to the businessman to the lawman to the politician.
The Associated Press and UPI were fierce competitors, and this was an era of telephones, not cellphones.
"If you had a two-minute beat on AP, you thought you'd beat the world," she said.
When covering Howard Hughes' Mormon Will trial in 1978, Borders and Linda Deutsch of The Associated Press were preparing for the verdict. Deutsch had a new computer that she set up in the courthouse press room and left for the courtroom. Borders' co-worker David Kelley stayed behind and disconnected the AP's computer phone.
The verdict that the will was a fraud came in, and Borders dictated her story to the Los Angeles UPI desk. Deutsch wrote her story, but when she hit send nothing happened. She had to dial again. The delay gave UPI's clients the story first.
Sometimes luck played a role in her scoops. She was driving home from work along Sahara Avenue in October 1982 when she heard an explosion and drove straight toward it. Mob associate Frank Rosenthal was standing next to his bombed-out car. He'd just left Tony Roma's rib joint.
Borders was first on the scene. But he didn't answer her questions. The bombing was made famous in the movie "Casino."
In efforts that helped all journalists, she fought for Nevada's Open Meeting Law and was the only journalist to serve on the committee of lawyers and judges that paved the way for cameras in the courtroom in the state.
She mentored young reporters, including me. Whether writing about the mob, gaming, politics or nuclear energy, she was direct, accurate and fast. Tough and principled. Not snide.
At the press association's dinner in Carson City, she said, "Nevada was and is an ideal place to be a news reporter. You may not get rich, but you can have the time of your life. And you won't get bored."
Jane Ann Morrison's column runs Thursdays in the Nevada section. Contact her at jane@reviewjournal.com or 702-383-0275. Follow @janeannmorrison on Twitter.