Sharing memories of Barbara Bush in Las Vegas
April 21, 2018 - 10:35 pm
Updated April 22, 2018 - 12:25 pm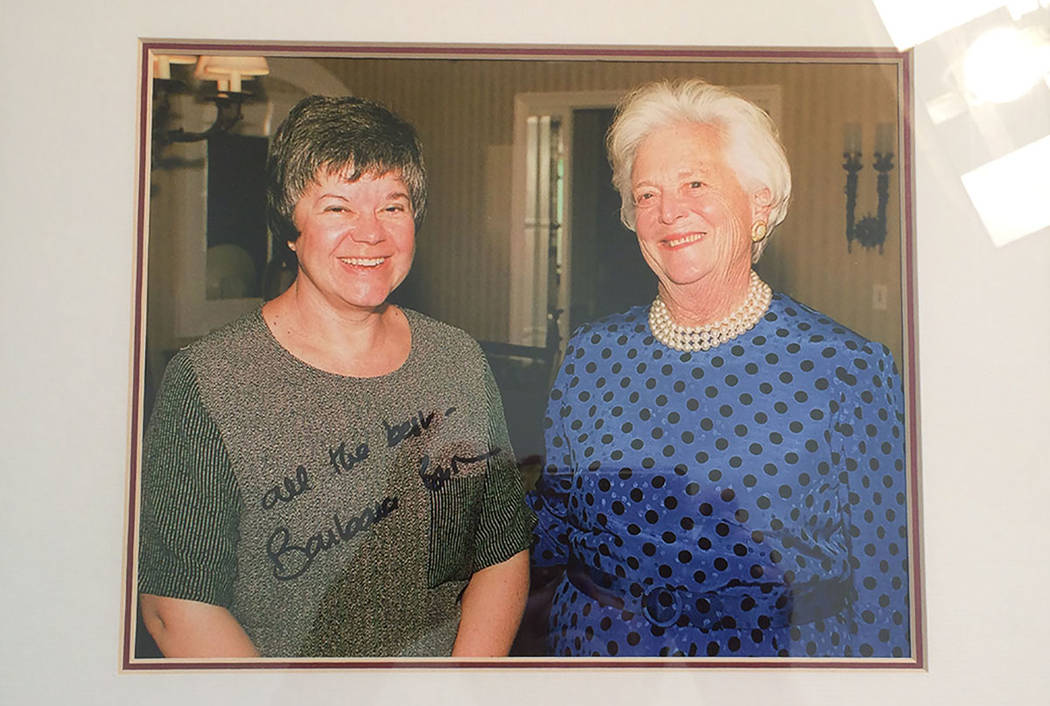 The timing was perfect for my one-and-only interview with Barbara Bush.
In 1999, she was in Las Vegas to raise money for son George W. Bush's 2000 presidential bid. No longer first lady, she was more forthcoming than she had been when her husband was president from 1989 to 1993.
We talked about the downside of third-party presidential candidates, including Ross Perot, Patrick Buchanan and yes, Donald Trump. More about that later.
The feisty side of her that was kept mostly private when her husband was president emerged during our 45-minute interview in her Caesars Palace suite on Oct. 13, 1999. So did her articulate, charming and gracious side.
Her death at her Houston home Tuesday at age 92 made me and countless others recall memories.
A Houston neighbor told The New York Times she always picked up her dogs' poop when she walked them, even if someone offered to help, demonstrating her down-to-earth nature and independence even in her later years.
Las Vegan Sig Rogich, who had brunch with her and her husband, former President George G.W. Bush, three weeks ago in Houston, recalled her keen insight. He remembered a dinner in the American Embassy in London during the G-7 summit in 1991 where he sat next to Princess Diana and Barbara Bush sat across from them, and the three of them talked extensively.
Afterward, she told Rogich, "She's lovely and charming and she's very fragile."
Rogich thought that was insightful of Mrs. Bush because in 1991, people didn't know Diana's marriage had been dissolving.
Barbara Bush, then 74, agreed to an interview with me as a favor to Rogich, her husband's media adviser and a family friend. Afterward she attended a $1,000-a-plate luncheon that raised $250,000 for her son's successful 2000 campaign.
The next day — Oct. 14, 1999 — the front page of the Las Vegas Review-Journal was dominated by a photo of her with arms outstretched, wearing a blue dress with black polka dots and three strands of faux pearls and her expressive face.
Over 45 minutes, we talked about many things, including third-party candidates. She spoke clearly and precisely, without hesitation, reflecting her logical thoughts. Like many others, I was smitten with this woman of intelligence, charm and insight.
She attributed her husband's loss in 1992 to Bill Clinton to a public ready for a change. In 1992, "there was no war; there was nothing bothering them. And in all honesty, we didn't get much help from the national press."
"Do I think the country hated George? No," she said. "They just didn't want him to be president. They wanted to try another generation."
She came down hard on third-party presidential candidates, including Perot, the Texas billionaire who may have cost her husband the election by siphoning off votes.
The subject was timely because the day before, conservative commentator Pat Buchanan had moved closer to announcing he would leave the GOP and seek the Reform Party nomination. Which he did. And lost.
She was concerned Buchanan might siphon votes away from her son.
"I say if you don't like what's happening in your party or the party that's closest to you, get out and work. And get people to vote. You can change things if you really work in a two-party system," she said.
Early insight on Trump
Her comments then about now-President Donald Trump take on more significance and show that famous insight.
The New York tycoon was toying with a presidential bid in 1999, a bid he didn't follow through on until 16 years later, after his career as a reality TV star gave him plenty of publicity.
In 1999, she said she thought Trump's talk of seeking the presidency "cheapens it a little bit, I think. It makes it like Disney World."
Her take was he was doing it for the publicity. "He's having fun. And maybe he's entertaining all of us."
What she might think about President Donald Trump today is known to close friends including Rogich, who is not breaking her confidence. But she did famously say in 2016: "I don't know how women can vote" for Trump.
Barbara Bush, like most spouses and parents of politicians, found politics difficult at times. "I love my husband and I love my son, not politics," she said.
Yet her husband's life in politics "has certainly brought me the best of everything in the world. I've met the best musicians, the best artists, the best athletes, the best stars. I've just been very lucky. I can't say I hate politics."
At the brunch three weeks ago in Houston, the couple talked about the world today and reminisced about old times together, Rogich said.
"She had that twinkle in her eye," Rogich said, despite the oxygen tubes in her nose.
"She chided the president he could only have one Bloody Mary."
Just weeks before her death, Barbara Bush was still the family's "Great Enforcer."
Jane Ann Morrison's column runs Sundays in the Nevada section. Contact her at jane@reviewjournal.com or 702-383-0275. Follow @janeannmorrison on Twitter.
Related
Former first lady Barbara Bush celebrated during funeral
Trump skipping Barbara Bush funeral, instead sending first lady
Barbara Bush's final days marked by courage, faith and humor
Nevada dignitaries remember Barbara Bush
Sig Rogich on Barbara Bush's legacy