Snowshoe Thompson deserves stamp of approval
December 3, 2014 - 10:48 pm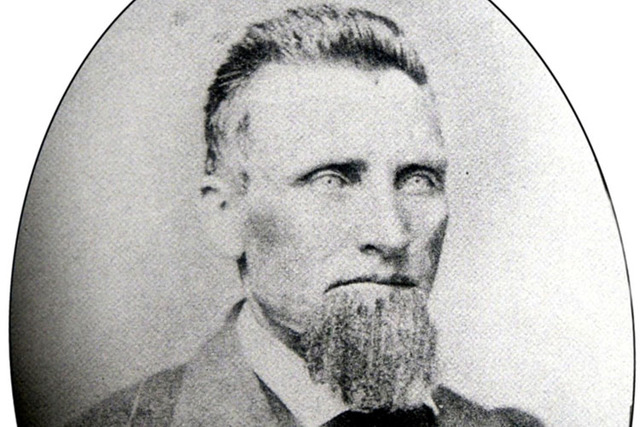 Justice demands that the U.S. Postal Service honor John "Snowshoe" Thompson with a commemorative stamp. After all, he didn't get paid by the government for delivering the mail for 20 years from 1856 until his death in 1876. Seems he deserves some recompense by the service.
OK, maybe justice demands is a bit overboard, but my recent trip to Northern Nevada showed that he's a hero up there, although a little-known quantity in Southern Nevada. And it does seem right that the first man to bring skiing to the Sierra Nevada would make a great subject for an action-packed stamp.
The Norwegian wore snowshoes that were more like skis because they had long narrow runners upturned in the front. The ones he made were 10 feet long.
A statue of him in Genoa captured the sense of speed he must have had to travel solo between Placerville, Calif., and Genoa, on 90-mile trips that took two and three days, hauling packs weighing up to 100 pounds that carried the mail but also carried medicine, clothes, even pots and pans, whatever people needed.
What he didn't carry was a gun because he found that too heavy.
When once he came face to face with six wolves noshing on a dead deer one spring, he decided to ignore the wolves and keep going because there were few other options. The wolves howled but didn't attack him.
"He felt the wolves did not jump on him because they were intimidated by his pretense of bravery," reads the "Snowshoe Thompson" booklet published by the Carson Valley Historical Society and sold at the Genoa Courthouse Museum.
He and his mother emigrated from Norway in 1837 when he was 10 and moved from state to state until she died and he moved to California in 1851, gripped by gold fever.
The postal service was looking for a mail carrier with the ability to navigate between Placerville and Genoa during the winter months.
He applied for the job and made his first trip in January 1856. The biography said he was "a young man with piercing blue eyes, fair hair, a straight back and muscular physique. Thompson was 6 feet tall, thin, wiry and weighed, perhaps, 160 pounds."
There were no signs pointing the way, no maps, no GPS and worst of all, no government pay. The first winter, he received $23.39 for his mail carrier efforts from people willing to pay $1 a letter. The following winter, he made $56.83, still not enough and still without a government contract.
For 20 years, each winter, he made the twice-a-month trip. In one heroic act, he found a man whose boots had frozen to his feet, turning his legs blue up to his knees. Thompson brought back help, and they transported the man from Lake Tahoe to Genoa. The doctor said the man's feet needed to be amputated, but he lacked chloroform. Thompson had to go to Sacramento, Calif., to obtain chloroform. "It was estimated Snowshoe had traveled 400 miles in 10 days," the biography stated.
In 1859, he claimed land in Diamond Valley in Alpine County, Calif., planning to go into ranching. He married in 1866 and had a son.
In 1869, he still hadn't been paid by the federal government, so the Nevada Legislature asked Congress to pay him $6,000 for three years of work.
Congress didn't pay up.
In 1872, he went to Washington, D.C., to ask in person. Another failure.
Today, Snowshoe Thompson memorials dot Northern Nevada and California.
There is a group called Friends of Snowshoe Thompson. The group's secretary Sue Knight said "not only did he accomplish something no one else had done, he was a good neighbor. He was a good role model all around and a stubborn Norwegian."
She said in 2001, three men from a Reno television station tried to replicate Thompson's 90-mile trek. With all the modern conveniences and equipment, it took them six days.
David Rupert, regional spokesman for the U.S. Postal Service, said there is a Citizens' Stamp Advisory Committee that recommends subjects for stamps and anyone can submit a proposal.
The criteria for naming a stamp after someone is spelled out on the website at https://about.usps.com/who-we-are/csac/welcome.htm.
When it comes to honoring people, the stamps mostly honor Americans (with exceptions like Mother Teresa and the fictional Harry Potter). Those honored have made extraordinary contributions to American society and culture, people who have made enduring contributions to the United States, according to the list of 11 criteria.
Excuse me, but didn't Snowshoe Johnson do exactly that?
He fostered communication between otherwise isolated Americans. He introduced Alpine and cross-country skiing to the Sierras. Clearly, he was an athlete. And a pioneer.
Previous efforts to honor him with a stamp have failed, but today, Nevada has some clout in the postal service.
Former Rep. Jim Bilbray is vice chairman of the U.S. Postal Service Board of Governors.
Katherine Tobin is one of the 14 people on the Citizens' Stamp Advisory Committee, which recommends 25 to 30 subjects each year. She's a former member of the U.S. Postal Service Board of Governors. She's married to federal Judge Evan Wallach.
Wallach and Tobin are both former Nevadans and close to Sen. Harry Reid, D-Nev.
If he wished, Reid could throw his clout behind a Snowshoe Thompson stamp, which would appeal to Nevadans and Californians, skiers and historians, and those of Norwegian ancestry.
Seems like the U.S. Postal Service has an obligation to honor the mail carrier who worked for 20 years without any government pay.
Sons and Daughters of Norway, Friends of Snowshoe Thompson, consider this a friendly nudge.
Jane Ann Morrison's column appears Thursdays. Email her at jmorrison@reviewjournal.com or leave a message at 702-383-0275. Follow her on Twitter @janeannmorrison.