Trailblazing Dondero left piles of achievements, trail of tales
September 14, 2016 - 1:45 pm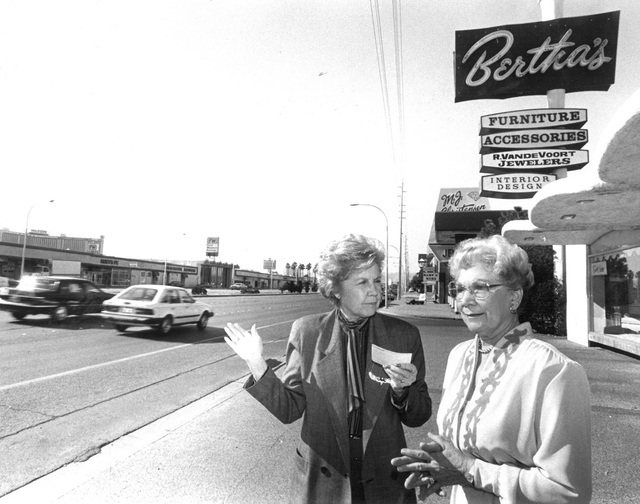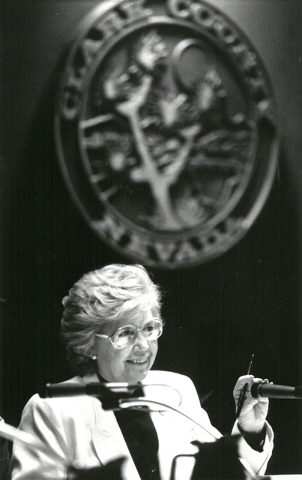 A teary Marilyn Dondero Loop made one request of the hundreds of people at her mother's celebration of life. "Share Mom's story for generations to come," she said Saturday.
Thalia Dondero was a trailblazer.
She was also a magnificent storyteller.
Her friend of 42 years, Marydean Martin said, "One of Thalia's favorite gifts to the community was what became a sought-after silent auction item at local galas called 'Dinner for Four at Thalia's Mount Charleston Cabin.' It became so popular that she had to keep it down to only two a month." Guests would win dinner, mountain views and Dondero's stories.
"Everything about her was so positive," Martin recalled, following Dondero's death Sept. 4 at age 96. "Everywhere you look, you can see things she saved."
She worked to keep houses out of the Red Rock and Gilcrease Ranch areas. She pushed to beautify the Strip. The list is endless. Preservation, parks and education were just a few passions for the mother of five.
Some of her stories became legendary, like being told to take notes at a closed personnel meeting in 1975, a year after she had become the first woman elected to the Clark County Commission. She refused and said, "I've got the same votes you have." Nor was she quiet about it. It made national news.
Outside of her love of her family, high on Dondero's love list were the Girl Scouts and Brownies. One day Dondero took Brownies out to the Spring Mountain Ranch for day camping. Vera Krupp, who owned the ranch between 1955 and 1967, not to mention that 33.19 karat Krupp diamond, ordered the Brownies off her property. Dondero refused to leave, so Krupp sent a bull into the area. He just stood around, The Brownies dubbed him "Lonesome George" and kept camping.
I loved that story, and countless others, like how she finagled state Sen. Floyd Lamb, D-Las Vegas, into supporting a park he insisted the state couldn't afford. "We named the park after him, and the money was found," she told me in 2009.
"Our lives are better because of her," said Father Bill Kenny of the Holy Spirit Catholic Church.
Political consultant Billy Vassiliadis told a story that was pure Dondero. Folks were dumping trash in a neighborhood and she got it stopped. Someone said that's her job.
"This isn't her district," was the reply.
It didn't matter to Dondero that these were not her constituents. There was a problem to be solved and she made sure it was fixed.
The funniest story came from family friend Jim Germain, who described how she came home from a function and saw her desert tortoise in the swimming pool. Fully clothed, she jumped in to rescue the tortoise, saving his life.
"Thalia was not going to let a desert tortoise die on her watch," Germain said.
Catherine Cortez Masto, whose father Manny Cortez served with Dondero, said when there was a particularly unpopular vote, when she was chairman, other commissioners wanted her to vote first. "After all, how can anyone be mad at Thalia?"
"She broke the barrier for women in public office," said Cortez Masto, herself trying to become the first woman from Nevada in the U.S. Senate. "She never gave up fighting for women's rights."
Retired educator Charlie Silvestri reminded the audience at Las Vegas Academy that Dondero led the fight to create Nevada State College in Henderson, and suggested there should be a naming there for the former two-term university regent.
I second that.
It would be the right thing to do, especially for a woman who didn't take a bribe from an undercover FBI agent during the days of Operation Yobo, an investigation in the 1980s of corrupt state and local officials. While others took bribes in exchange for zoning changes, Dondero accepted $500 cash as a campaign donation, and wrote the undercover agent a receipt for it.
I'll always remember Thalia Dondero as one of the honest ones, out to improve her community, not enrich herself.
Jane Ann Morrison's column runs Thursdays. Leave messages for her at 702-383-0275 or email jmorrison@reviewjournal.com. Find her on Twitter: @janeannmorrison