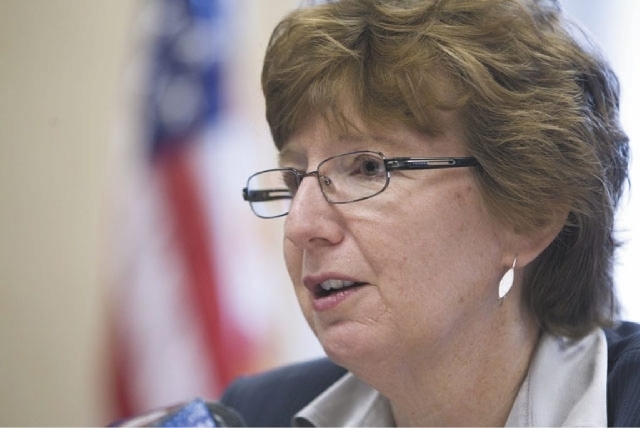 Former Assembly Speaker Barbara Buckley said she would decide in 2013 whether she would run for another office. "I won't need all of 2013 to make my decision," she said. It looks "pretty much" like she won't.
A clue that she's out of the political game, at least as a candidate: She's giving away the campaign contributions she has held onto since 2010. Her war chest remaining from her days as Assembly speaker of the 2007 and 2009 legislative sessions is dwindling. She is giving the campaign dollars away to political candidates and nonprofits and said she will give the rest away within the year.
The woman I thought had the potential to be the first female governor of Nevada decided not to run for governor in 2010 after Rory Reid entered the fray. She would have had to beat the county commissioner with the powerful Democratic daddy in a Democratic primary, then she would have had to defeat Republican Brian Sandoval, the ultimate winner.
With term limits, she could not continue as speaker, so her options were limited. Plus, it was time for a break. She had carried two full-time jobs for 16 years. She was a legislator for 16 years and executive director of the Legal Aid Center of Southern Nevada for 24. And she was a mom and wife.
"The only person that has a chance of reforming the tax structure is the governor," Buckley said. That person would have to use the power of the office to bring the groups together to reach some agreement.
She's not sure Sandoval wants to lead, even in a potential second term, where governors often become more willing to take chances.
So far, he certainly has not revealed any willingness to step forward to reform tax policy , sticking firmly and safely to his "no new taxes" mantra, protecting his electability.
Buckley credited Sandoval for making some enhancements to education, but most of those are roll-up costs. "Just because you're paying more for utilities doesn't mean you are improving education," she said.
Asked to grade Sandoval, she laughed and said, "I'm out of the grading business."
Yet she's not as down on the 2013 session as some (OK, me). Sandoval did add money to expand full-day kindergarten to more at-risk schools. He upped the funding for English Language Learners. Southern Nevada got more money for its colleges and universities.
Mental health funding was increased. Sandoval took the controversial position of expanding Medicaid under Obamacare.
"There are some measures where Nevadans will be better off," she said. We agreed more action was taken on social issues than financial.
The legislative low point for her personally was a bill quickly dubbed the Screw Barbara Buckley Act.
Sen. Greg Brower sponsored Senate Bill 194, a parallel bill to Assembly Bill 178 from Assembly Minority Leader Pat Hickey, which would put restrictions on how long a candidate could hold onto campaign contributions.
The identical bills from the two Republicans were written so that after a two-year hiatus, an elected official would have to dispose of the campaign war chest, unless they had filed for another office within two years. There was talk of changing that to four years.
Buckley reported having $575,000 on hand in January 2011. By January of this year, it had dropped to $155,000.
She admitted it hurt to have her integrity impugned as if she had done something wrong, when the law allowed her to keep the money for future campaigns. "It hurt because I worked for a very long time to serve with honor and integrity."
Both bills died in committee, but she's giving the money away anyway.
We will wait to see if there will be a governor in the near future willing to lead on tax reform. But with Buckley out of the picture, it doesn't look likely.
Jane Ann Morrison's column appears Monday, Thursday and Saturday. Email her at Jane@reviewjournal.com or call 702-383-0275.