Las Vegas teenagers working to lower Nevada voting age
October 21, 2016 - 4:54 pm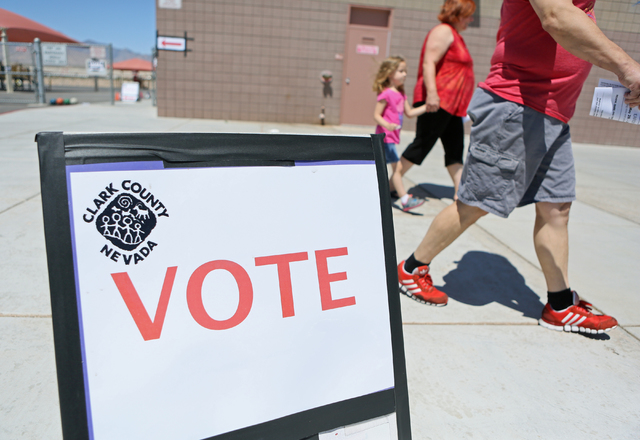 As high school students across the country examine this year's unusual election in their civics classes, a group of teenagers in Las Vegas hope to do more than just observe the political process.
Alan Cruz and Kevin Castellanos, both 16 and juniors at Canyon Springs High School, plan to convince the Nevada Legislature next year to lower the voting age so 16- and 17-year-olds can vote in local school board elections.
The idea isn't entirely uncommon: Some states allow 17-year-olds to vote in primary contests if they'll turn 18 by the general election. Two cities in Maryland allow 16-year-olds and up to vote in municipal elections and referendums, with similar initiatives underway in San Francisco, Arizona and Washington, D.C.
And Cruz and Castellanos, who have a team of hopeful student lobbyists attending other high schools in Clark County, already convinced state Assembly members Dina Neal and Olivia Diaz, both D-North Las Vegas, to submit a formal bill draft request so lawmakers can consider lowering the voting age during their 2017 session.
"It was just an idea, and honestly we didn't think it would come this far," Cruz recently said, with a nervous laugh.
Changing the voting age in Nevada requires a state constitutional amendment, which voters must approve in two separate elections before it goes into effect.
That process could last through 2020, well after Castellanos and Cruz gain the right to vote at 18. Still, they said this isn't an effort to benefit themselves.
"We have a substantial say in what happens now, but it's also going to affect our siblings. I want my decisions to have a positive impact on their education," Castellanos said.
The pair admit they face unfavorable odds, including what they referred to as "adultism," meaning when older voters automatically assume young people don't know enough or won't do enough research to make informed decisions at the ballot box.
However, Castellanos and Cruz argue that high school juniors and seniors have perhaps the most information of any constituency to judge the impact that different school board candidates will have on sex education, magnet school expansions and more.
"We're not just saying let us vote for the heck of it," Cruz said. "We want to have a positive impact and get rid of the stigma that youth (and) teens are stupid or don't know anything about politics."
While Castellanos and Cruz plan to testify during next year's session, they already have identified one lawmaker who may need some convincing: Dina Neal.
She apparently indicated that she doesn't support their proposal but just wants them to learn about the legislative process.
Diaz, a Clark County School District teacher, has expressed "big support" for the idea, Cruz said.
Regardless of their bill's fate, Neal's stance seems to have inspired the students. Both Castellanos and Cruz hope to serve as legislators one day and make an impact on public policy.
"I understand they don't make good pay, but I just want to make a difference," Castellanos said. "I just want Nevada to blossom. I don't want us to be last in education."
On Education appears every other Saturday.
Find @nealtmorton on Twitter.