Sex education debate again roils school board meeting
September 10, 2016 - 8:55 am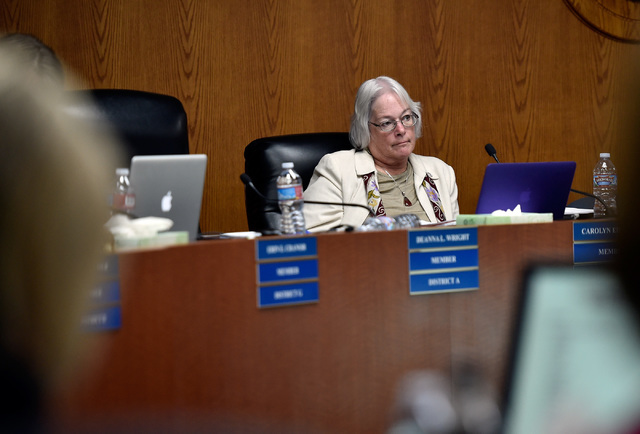 For nearly three decades, the Nevada Legislature has required parents to grant permission before their children participate in a sex education course.
Schools in only three states — Nevada, Mississippi and Utah — still operate under such an opt-in mandate. And when the Clark County School Board on Thursday debated whether it should lobby lawmakers to remove the Silver State from that short list, some members of the public weren't terribly happy.
Aside from warning trustees that they would tarnish the U.S. Constitution if they supported a reverse to an opt-out policy, several public speakers warned about the danger of exposing children to sexual content too early.
One commenter suggested pornography creates serial killers. Another said sex education sent Ted Bundy — who confessed to 30 homicides during the 1970s — on his hunt for more gratification.
Only one public speaker expressed her disappointment with such comments, which she described as "fear-mongering" and "misinformation."
During a similar meeting last year, supporters of the current opt-in mandate compared any attempt to change it to the Holocaust and assassination of Martin Luther King Jr.
GLOBETROTTING TRUSTEE
Following the sex education debate, board President Linda Young left the meeting early to wishes of "safe travels" from her fellow trustees.
That confused some education insiders and state lawmakers watching the meeting, since a legislative panel was scheduled Friday to vote on a final package of regulations to implement a top-to-bottom reorganization of the district.
Similar concerns arose when the proposed rules faced the first of three key votes last month. As lawmakers spent more than 12 hours debating the regulations, with several trustees in attendance at the hearing, Young posted updates on social media of her travels in Rio de Janeiro, Brazil, to attend the Olympics.
"There's no one person on the (school) board," Young said during a phone interview late Thursday. She was waiting at McCarran International Airport to board a red-eye flight to the Cayman Islands, where she has a time-share property.
"Yes, I'm the board president, but we have six other very, very capable trustees who can articulate better than me about these issues," she said regarding the reorganization.
CSN LENDS A HAND
When news broke last week that the for-profit college chain ITT Technical Institute was at risk of shutting down, administrators at the College of Southern Nevada sprang into action.
School officials began brainstorming ways to help students who were at risk of being dropped from the embattled school. So when ITT Tech finally shut down this week, CSN — the state's biggest college — already had a plan in place.
The community college has assigned a specialist at each of its three campuses to help students transfer and complete their degree programs. Administrators say the school will evaluate transcripts one-on-one to help students transfer as many credits as possible from the unaccredited private school.
There's also a hotline (702-651-5555) and website (https://www.csn.edu/itt) specially created for ITT Tech students seeking options at CSN. The traditional, 16-week semester began last month, but students can still register for short-term classes during this fall term.
"There are 700-plus students out there who are stranded," said CSN Associate Vice President James McCoy. "We're trying to be empathetic to them. It must be terrible to be going to school then all of a sudden come to your college campus and find out its closed."
CHANCELLOR SEARCH QUICKENS
The search for Nevada's next higher education boss is moving quickly.
A panel of 21 community leaders — including a representative from Gov. Brian Sandoval's office — has been chosen to seek a permanent leader for the Nevada System of Higher Education, a powerful job left vacant after this year's contentious retirement of former Chancellor Dan Klaich.
The state's Board of Regents, an elected body that oversees NSHE and its chancellor, hopes to hire a chancellor with a strong academic background — preferably one who has run a higher education system or served as a college president. The job is being temporarily held by law professor and former UNLV administrator John Valery White.
Last month, regents began drafting a wishlist for the chancellor position, kicking off the search process. The group hopes to have a permanent chancellor hired within a year.
The committee's first meeting will take place at the end of September.
On Education will appear every other Saturday.
Contact Neal Morton at nmorton@reviewjournal.com or 702-383-0279. Follow @nealtmorton on Twitter. Contact Ana Ley at aley@reviewjournal.com or 702-224-5512. Follow @la__ley on Twitter.