Beloved doctor Nicholas Vogelzang won't stop fighting cancer
January 7, 2017 - 12:40 pm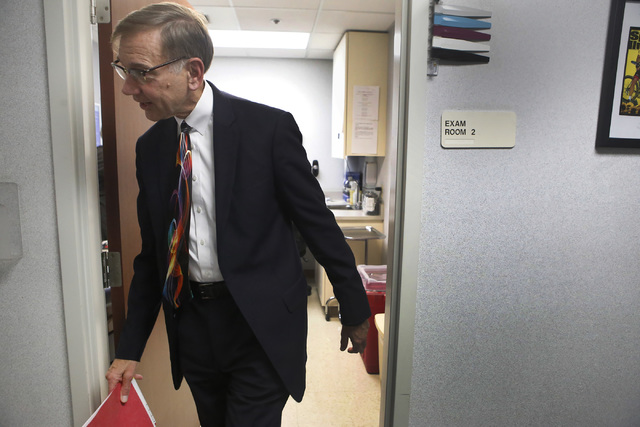 The phone call came in during my recent vacation.
A woman, choking back tears, left a message and a return phone number. No name.
"Someone told me Dr. Vogelzang is retiring. He can't. Someone in our family will die if he does. Is it true? Is he retiring?"
I suspect I got the call because in December, and several times over the past 10 years, I've written about how Dr. Nicholas Vogelzang has helped a patient get another chance at life with a new cancer-fighting drug.
I seriously doubted Vogelzang was retiring. The world-renowned 67-year-old oncologist at Comprehensive Cancer Centers of Nevada has long said trying to help people beat cancer is an honor.
Still, I visited with the good doctor and popped the retirement question.
Laughing, he said rumors always abound because of his age, but he hoped to be seeing patients for another 50 years. Vogelzang, who has helped develop therapies for cancers of the bladder, kidney and prostate as well as mesothelioma and testicular cancer, actually enjoys 15-hour work days.
I called the phone number left in the message. The woman who had left it answered. I identified myself, but she politely declined to give her name.
When I told her what Vogelzang had said, she began to cry. "Thank God," she said weeping before hanging up.
Whenever you talk with patients or their families about Vogelzang, the former director of the University of Chicago Cancer Research Institute and the Nevada Cancer Institute, shows of emotion are not unusual.
Last month, Lysa Buonanno described Vogelzang's 10 p.m. phone call to say her rare Stage 4 lung cancer could be treated with a new drug.
"That's the kind of doctor he is. He really cares," she said, a tear trickling down her cheek. "He gives out his cellphone and personal email and told me to get in touch with him whenever I felt I needed to. What other doctor does that?"
Lisa Corrado, a city of Henderson senior planner whose father, Guy, is being treated for kidney cancer with a new immunotherapy, also couldn't fight back the tears.
She said she's called Vogelzang at night, and other members of the family have emailed him whenever they grow overly concerned, including on weekends.
"He's very patient, never gotten irritated with us," she said. "He's just a special guy."
Part of what makes him special is how he's handled the challenges in his own personal life.
His upper body tilts forward stiffly, a side effect of the radiation he received in the '80s to treat Hodgkin's disease, a cancer of the lymphatic system. It damaged his neck, heart and thyroid.
"You have to keep moving forward as long as you can," Vogelzang said.
He's also dealt with open heart surgery, the loss of a child and his wife's battle with a sarcoma, a malignant soft-tissue tumor in her thigh.
This man who lectures around the world on cancer treatment told me that during his wife's successful battle with cancer, they experienced the joys that others struck by cancer had told him they experience.
"You bond over little things," he said. "The joy of having hair, the joy of not having diarrhea, of realizing tomorrow could be worse than today. It has affirmed our love for life."
According to Dr. Cy Stein, a renowned researcher at the City of Hope Cancer Center in Los Angeles, it is because of Vogelzang's work in cancer research that trial drugs for the treatment of prostate, kidney, bladder and testicular cancers now often come to Las Vegas before they're on hand at many of the nation's prestigious academic medical centers.
They are medications that can mean the difference between life and death.
"We're just so lucky to have someone here who combines the best in research and treatment," Corrado said.
She still marvels at Vogelzang's willingness to hand out personal contact information to patients and their families.
Vogelzang doesn't see it as a big thing.
"I believe in the Golden Rule: Do unto others as you would have them do unto you," he said. "I live my faith."
Paul Harasim's column runs Sunday, Tuesday and Friday in the Nevada section and Monday in the Health section. Contact him at pharasim@reviewjournal.com or 702-387-5273. Follow @paulharasim on Twitter.