Caring for others is Henderson nun's high fashion
August 20, 2016 - 1:02 pm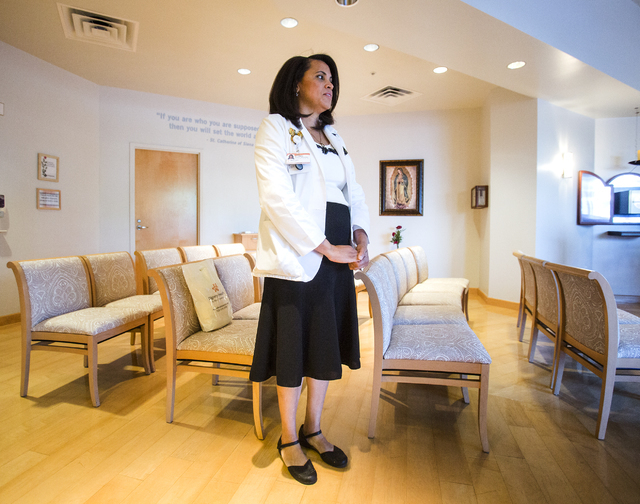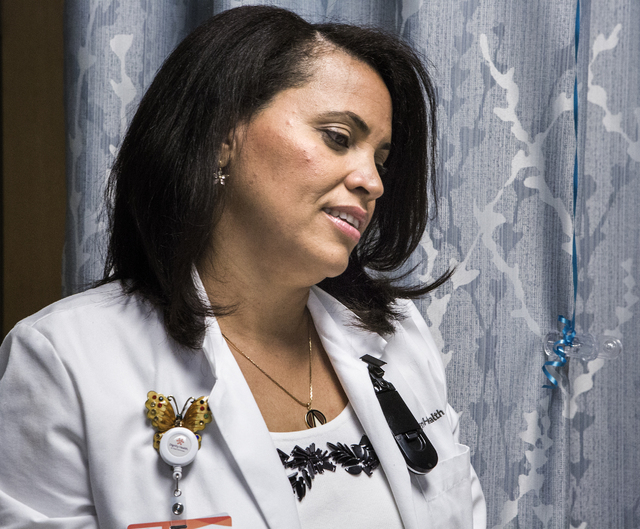 As a smiling Sister Xiomara Mendez-Hernandez enters the hospital room to bless him, 1-day-old Anthony Arevalo, his eyes tightly closed, scrunches up his tiny nose as though he's about to sneeze.
But there is no sneeze and little Anthony, lying next to his mother in bed, becomes as wide-eyed as a newborn can be when Sister Xiomara softly intones:
"And may God the Holy Spirit fill you with light, peace and joy."
It is 9 a.m. on Aug. 17 at Henderson's St. Rose Dominican Hospital — the Siena campus. The baby's grandmother, Aracelis Avila, who traveled from Cuba for his birth the day before, watches as the nun cradles her grandson.
Anthony's mother, Yanet San Pedro — still more than a tad uncomfortable after delivering her son by C-section — listens as Sister Xiomara coos.
After saying goodbye to the family, Sister Xiomara, the chaplain for labor and delivery at the hospital, stands in the hallway, laughing as she wipes away the tears welling in her eyes.
"You see how lucky I am to have a job like this, where I can experience such tears of joy," she says.
When the 21st century began, no one, including Mendez-Hernandez, would have thought she'd have a job like this.
Or think she was lucky to have it.
She was a shining star in the world of fashion in the Dominican Republic, seemingly following in the footsteps of Oscar de la Renta, a native son first known worldwide in the 1960s as one of the couturiers who dressed Jacqueline Kennedy.
While she was in her 20s and 30s, her fashions became so popular in her hometown of Santo Domingo that she was regularly interviewed on TV.
She designed elegant clothes for a gala honoring the King of Spain, for the inauguration of her country's president.
People not only wanted to see how she dressed runway models, they also wanted to see what she was wearing.
Yet the more famous she became, the emptier she felt.
She realized a dream she had as a little girl after seeing poor children bullied for the clothes they wore — she wanted to make nice clothes they could wear — wouldn't come to fruition because no one would put up the necessary capital.
She understood people weren't interested in her, but in her image as a celebrity.
"They wanted to speak with me because I was on TV and in the newspaper, not because of who I was."
Ties to nuns in the Dominican Order grew stronger. She had long appreciated their life of simplicity, of helping the less fortunate.
She felt like she was becoming an ugly kind of untouchable when her associates told a little girl who ran up to her that she couldn't touch the fashion designer — they told the little girl she'd make the important lady dirty.
"I realized I wasn't being who I was," she says. "That wasn't me."
Three years after her mother died in 2005 — at the peak of her success in the fashion world — she joined the Dominicans.
"I realized I was more than clothes," the nun says, her English tinged by her native Spanish accent. "I am the person beneath the clothes, the person who wants to reach out to others to help."
After working with the impoverished in the Dominican Republic and the American Midwest, Sister Xiamara, now 41, was trained as a chaplain and sent to Las Vegas in January.
What she finds most challenging is helping families through miscarriages and stillbirths.
"People need to talk, to have someone listen compassionately, to know that there is a loving compassionate presence of God with them, " she says.
Fashion design isn't completely out of her blood.
She designed the habit she wears when performing in a one-woman play she wrote about St. Rose de Lima — a woman declared a saint by the Catholic Church for her work with the needy in Lima, Peru.
"I feel the blessing of 800 years of tradition when I wear it," she says. "It helps me embody the passion and compassion for the poor, the needy and the suffering."
Paul Harasim's column runs Sunday, Tuesday and Friday in the Nevada section and Thursday in the Life section. Contact him at pharasim@reviewjournal.com or 702-387-5273. Follow @paulharasim on Twitter.