Entrepreneurial spirit drives talented Las Vegas teen designer
August 22, 2016 - 5:54 pm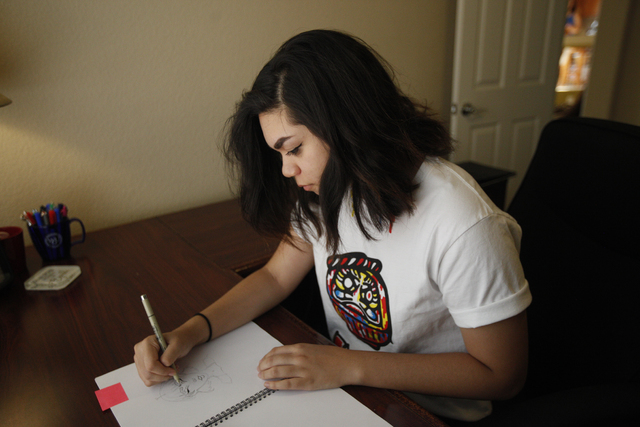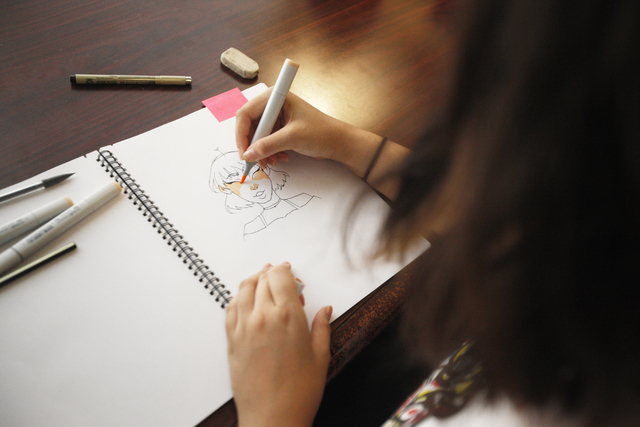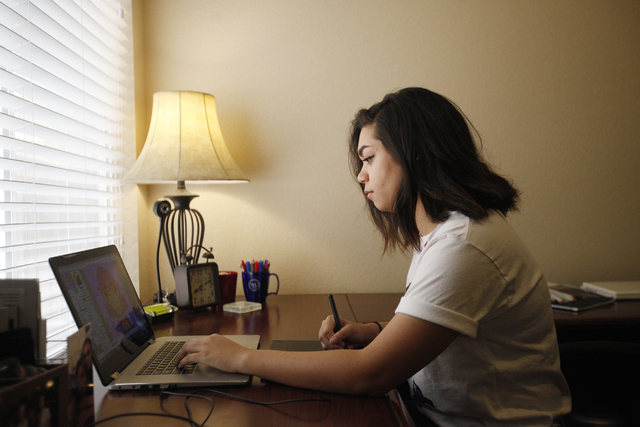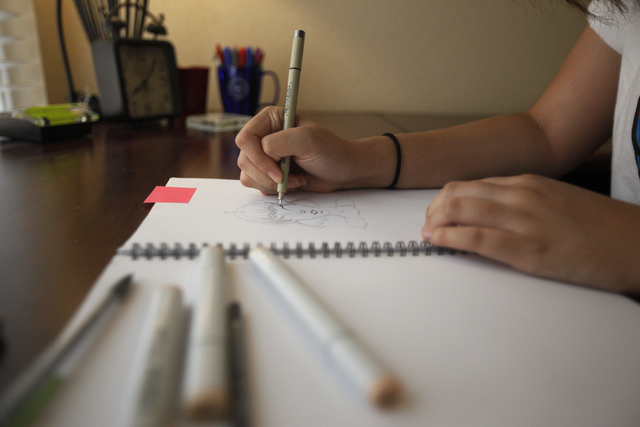 There was no one better in the United States in a prestigious graphic design competition this summer than Amanda Galvan, who's entering her senior year at Southwest Career and Technical Academy in the Clark County School District.
Yes, in a competition open to students from age 13 to 22 — it was co-sponsored by multinational Silicon Valley software company Adobe Systems and Certiport, which certifies individuals in digital literacy — the 16-year-old Galvan beat out 80,000 entrants from 45 states with a computerized design inspired by the Lake Mead Recreation Area.
That includes students from the University of Southern California Annenberg School for Communication and Journalism and George Mason University, the largest public research university in Virginia.
When Galvan went on to represent the United States at the Adobe Certified Associate World Championships in Orlando from Aug. 7 to 10 — more than 230,000 students from 19 countries entered the competition that ultimately required a timed graphic design created for an art foundation — she finished eighth, the first time an American had placed in the top 10.
So what does this teen who loves to carry Whitney, her Chihuahua pug, everywhere enjoy talking most about these days?
No, it has nothing to do with the competition.
She's zeroed in on the future.
"I've had this dream since 10th grade, when I first started studying website design, that I would one day open my own website design business," she says, sitting in the southwest Las Vegas home she shares with an older sister and her parents, Art and Jennifer Galvan. "I want to be an entrepreneur. It's my goal. If I don't do it, I'll be unhappy."
If she doesn't help make the point sociologists have been making about Generation Z — that young people born between 1996 to the present are increasingly goal-oriented — no one does.
"If I don't set goals for myself, I won't be able to accomplish anything," says Galvan, who works part-time grading papers for Kumon tutoring service. "I'm very into planning my future."
She knows, of course, that her future in website and graphic design became brighter with her performances in the Adobe competition.
Allison Yrungaray, a Certiport official who attended the world championship, still talks about Galvan's performance in Orlando. Though the 33 contestants were given eight hours to finish a poster for the International Child Art Foundation's Arts Olympiad, Galvan finished in three.
"Everyone else was still working, but she felt that if she continued she would only second guess herself," Yrungaray recalls. "She said that in the real world she works fast, so why not work fast in the competition?"
Talk about being self-assured at a young age.
"I work fast," says the honor student, who plans on attending UNLV. "That's the way my brain works. I knew it was the best I could do, so it was time to move on."
Using Adobe software, Galvan pieced together a stock photo of a girl playing a violin with geometric shapes that she turned into a grassy knoll and flowers. Along with information on the Arts Olympiad was the signature of the poster, "Making Creativity Bloom."
"It was good but not as good as the one done by the girl from Mexico," Galvan said matter of factly. "When I saw hers before the judging was done, I knew hers was the winner and it was."
She said her poster that won the U.S. competition came after seeing boats on Lake Mead. With Adobe graphic programs, including Illustrator, she created the water and boat on her computer that has this signage, "#FINDYOURPARK."
While her recent winning efforts aren't in website design, she notes that skill requires many graphic design elements, including use of Adobe Illustrator and Photoshop. She also uses those skills when creating computerized art that she sells through Redbubble, an online marketplace for artwork.
Everything she's learning is going to be used, she says, to build a website design business committed to excellence.
"I'm into website design because of what it can do for business," she says. "Without a good website, a business will fail. It's that simple. You only get one chance to make a first impression. My business will give the best first impression."
Paul Harasim's column runs Sunday, Tuesday and Friday in the Nevada section and Thursday in the Life section. Contact him at pharasim@reviewjournal.com or 702-387-5273. Follow @paulharasim on Twitter.