FIT helps people fit in careers
December 13, 2016 - 10:57 am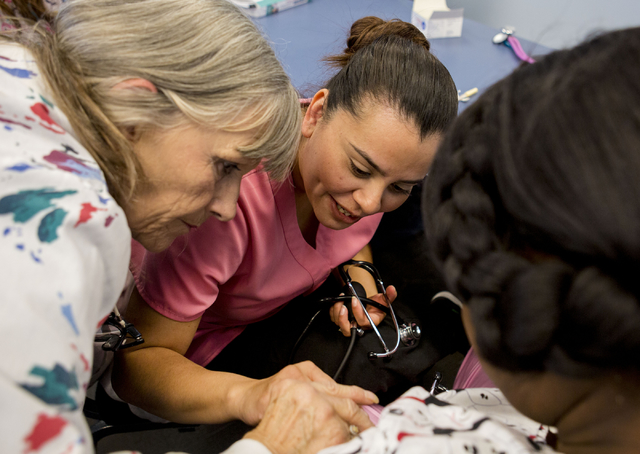 Janet Frasier Blumen was a successful corporate attorney in Las Vegas in the 1990s.
That was a time — she was appointed by Gov. Bob Miller — when she also served as chairman of the Colorado Water Commission.
And it was a time when the baby boomer was a volunteer at the Episcopal Food Bank.
It was in that position she learned why women — most with small children — returned to pick up food week after week.
Why, she had asked them, weren't they putting their children in preschool, getting jobs and becoming self-sufficient?
Turned out a woman who was the sole support of two kids couldn't get off the food line if she was working full time at minimum wage.
That realization would be the catalyst in 1997 for Blumen creating the Foundation for an Independent Tomorrow, a nonprofit corporation that provides vocational training, job preparation, education and employment services to move Nevadans into self-sufficient employment and financial stability.
"I just hated to see people unable to move forward in their lives," she said.
In the nearly 20 years since she began FIT, nearly 4,200 unemployed and underemployed Nevadans have found jobs that pay enough to make them able to support a family without public assistance.
With funding coming from private and corporate donors as well as state and federal funding — Blumen still writes grant proposals herself — FIT clients are able to be trained for jobs ranging from warehouse work to truck driving, from solar panel installation and IT to culinary and forklift operators.
"No, I never thought I'd still be doing this all these years later, but I'm glad I am because it's so rewarding," the 60-something Blumen said recently as she sat in her office in the FIT educational complex near Martin Luther King Jr. and West Lake Mead boulevards. "I've been able to help fulfill a real need in the community."
As we toured FIT classrooms — they're inside the 8,500-square-foot Standards of Excellence Academy — an instructor was starting a class for people interested in becoming certified nursing assistants.
"Many positions require certifications these days, so we try to provide training for some of them," Blumen said.
Certifications are also earned for administrative assistants, electronic health record specialists and in warehouse logistics.
FIT began in 1997 with one paid employee — a former legal secretary — inside a small office donated by the Stratosphere.
Now CEO, Blumen remembers she started with three rules that still guide the organization today: FIT wouldn't be political, wouldn't duplicate services already in the community and wouldn't be a social club.
Sayed Qawi, an immigrant from Afghanistan, said it was because of FIT he's a certified nursing assistant today.
"I'm so thankful," he said. "I hope to give back to FIT one day."
Ex-offender Kent Carter said he'll never forget how FIT not only provided the money for classes that enabled him to become stronger in IT, but also made it possible for him to get a job.
"Janet Blumen gave me a chance when so many people look at you with prejudice," he said.
Dan Anderson, a family wealth director at Morgan Stanley and a vice president of FIT's board of directors, noted that Blumen realized college wouldn't be a viable option for some people.
"But she saw where some services could still give people a career," Anderson said.
Blumen believes being part of the boomer generation helped fuel her work in FIT.
"To me, boomers are about 'us', not 'me,'" she said. "The protests that were done in the '60s about things like civil rights, women's rights and the environment were about helping all of us.That's the way I've seen my work with FIT."
Paul Harasim's column runs Sunday, Tuesday and Friday in the Nevada section and Monday in the Health section. Contact him at pharasim@reviewjournal.com or 702-387-5273. Follow @paulharasim on Twitter.