Former meth addict and car thief going straight
December 17, 2016 - 3:04 pm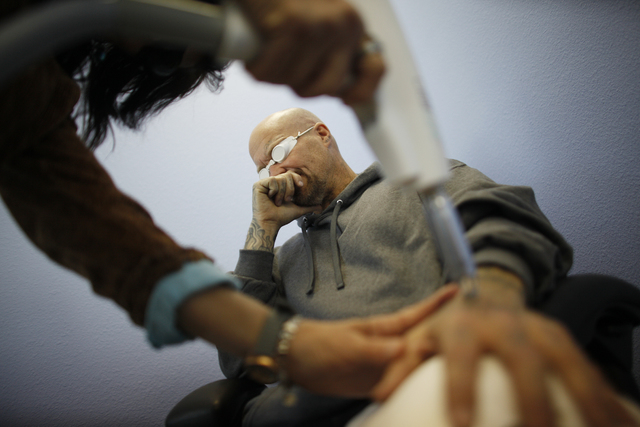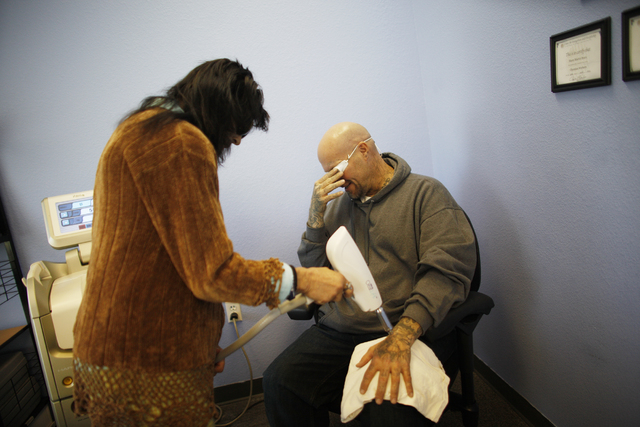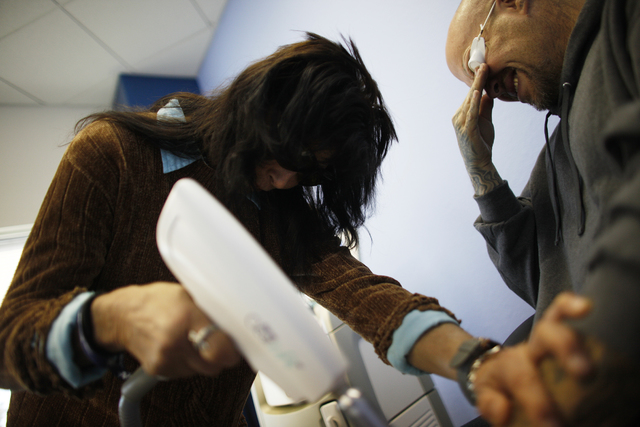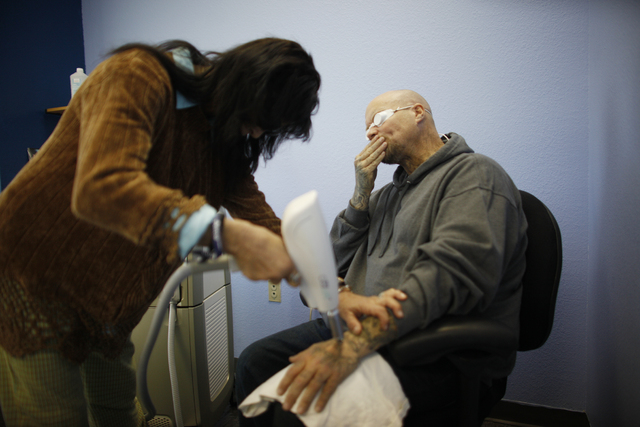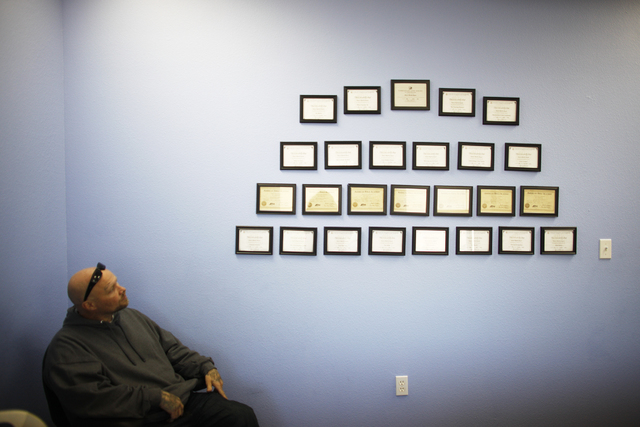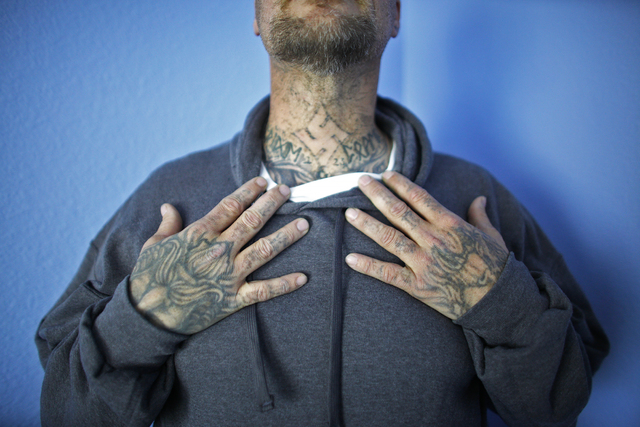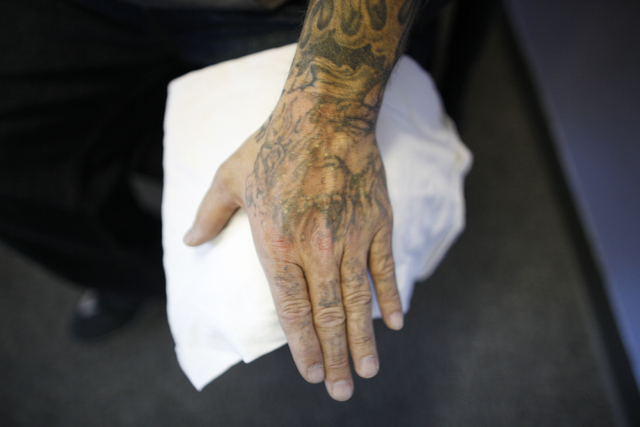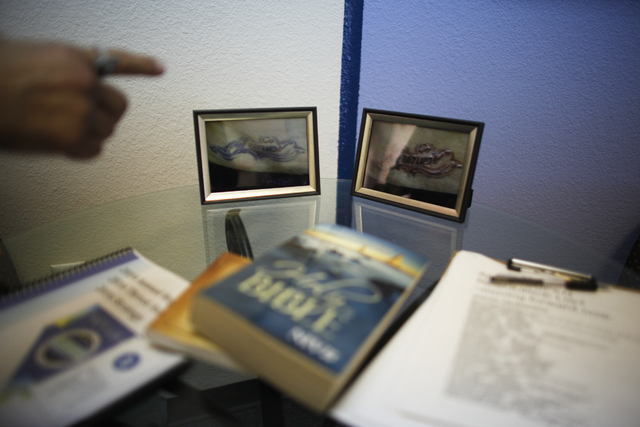 It's a slow, tedious and painful process, but Marty Byars wants to get it done. He wants to remove the crude tattoos he received in prison.
The tattoos range from swastikas to gang-related white power messages.
He's already had some removed from his face, neck and hands.
Byars, who spent much of the last 18 years in the penitentiary on auto theft charges, says the tattoos don't reflect who he is any more, have nothing to do with him.
So on a recent Sunday he sat once again in the offices of A Doors Open — a nonprofit in North Las Vegas with a mission of removing tattoos from ex-offenders — and let Robyn Grace, his wife, use her tattoo removing laser on him.
He grits his teeth as the powerful pulse of light hits, a sensation described as similar to getting hot specks of bacon grease on your skin.
Direct, reflected or scattered laser radiation could harm the eyes of either Byars or Grace, so they wear safety glasses.
After Grace finishes another pass with the laser on Byars' hand, she said: "There, it's starting to look better."
Byars, 42, continues to impress Martin Green, who supervises Byars' truck driving work at Northern Pipeline Construction.
"He'll be breaking records around here as far as moving up," Green says. "I'm training him to be a foreman, making sure he gets his pipefitter card. You can see him growing, speaking to troubled youth at ministries, mentoring others who've been in trouble."
Byars used to steal cars to feed a methamphetamine habit, but he says he has now devoted his life to Christ.
Had it not been for the Foundation for an Independent Tomorrow (FIT), and Byars' wife, it's unlikely he would be a shining example of what an ex-offender can do to turn his life around.
"FIT gave him a chance and we gave him a chance and he made the most of them," Green said. "You've got to have that kind of partnership. The reason our company likes people from FIT is they not only get them trained for a job, but also teach them how to be dependable, how to handle authority. They pay for licenses and gear to give them a real chance. "
To this day, Byars finds it amazing that FIT paid for his truck driver school and took the time to show him how to live outside prison. "I'm going to show them their money wasn't wasted," he said.
Janet Blumen, the founder and CEO of FIT, says her organization doesn't turn away ex-offenders who are serious about making something of their lives.
"But they have to make the commitment," she says. "We don't take any excuses for not being on time, for improper behavior. Whenbecome productive members of society — that's all the thanks we need."
As powerful as FIT's role is in Byars' turnaround, he's the first to admit that he probably would have never hooked up with the organization if it hadn't been for his wife.
"Robyn knew about it so as I soon as I was paroled last July I had the paperwork done and got into it," he said. "Believe me, I know I've gotten a lot of breaks. I had people caring about me."
Byars' wife, whose interest in helping ex-offenders years ago grew out of seeing how few of them ever got a real chance to change their lives, said she met Byars before his last prison stint.
"We stayed in touch and fell in love," said Grace, who works in a restaurant when not engaged in her nonprofit work.
That Byars broke his meth addition and today is polite and sociable once again shows the resiliency of the human spirit.
He admits he spent much of his time in prison in solitary confinement.
"I got in a lot of gang-related fights," he said. "They almost all were race-related. Basically, if you tried to be friendly with someone of another race, you got real hurt or killed. If you didn't get in a gang, you'd be in real trouble. But I don't really hold anything against anyone's race."
If Byars had his way, the tattoos he still wears — constant reminders to himself and others about his prison past — would come off much more easily.
But he understands who put them there.
"I was responsible for putting them there and now I'm responsible for living a good life. I can do it."
Paul Harasim's column runs Sunday, Tuesday and Friday in the Nevada section and Monday in the Health section. Contact him at pharasim@reviewjournal.com or 702-387-5273. Follow @paulharasim on Twitter.