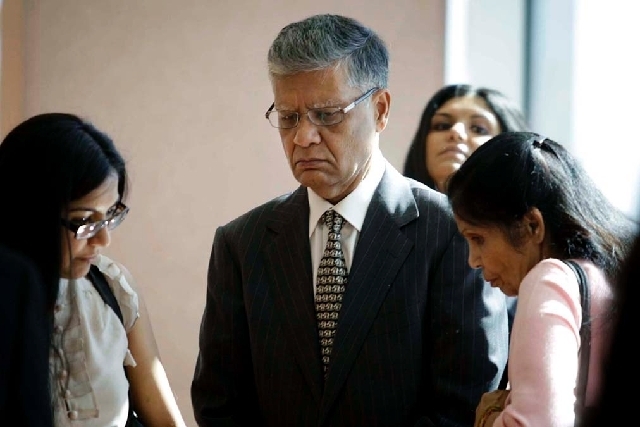 You want to believe that someone who works in the health care industry has extra caring in his or her soul for their fellow man, that they're at least partially driven by service to mankind, not solely by the pleasures and power made possible by the dollar.
Yes, when you or a loved one goes in the hospital, you'd like to think your medical team thinks more along the lines of medical missionary Dr. Albert Schweitzer than profits-over-patients Dr. Dipak Desai.
What gives many of us some semblance of peace when illness or injury comes our family's way is that we know, or have known, doctors and nurses and therapists and hospital executives who treat you and yours as family.
They are men and women who leave no doubt in your mind that they are focused on doing the right thing because that's at the very core of their being, that you're not seen as a ticket to a new Mercedes or European vacation.
Unfortunately, the more you know about hospitals, the less convinced you are that the majority of men and women who work in them share the values of the caregivers you respect.
How you could not think that way when three times as many people die every year in hospitals from medical errors as on the nation's roads –– 100,000 to 34,000 –– is hard to understand. Particularly when you consider that the Centers for Disease Control and Prevention reports that 80,000 of those deaths come from hospital-acquired infections that are largely preventable.
If you want to talk with someone who'll make you feel better about hospitals in the future even as they make you uneasy about those who work in them, strike up a conversation with futurist David Houle and health care attorney Jonathan Fleece, authors of a much talked about piece in MedPage Today, "Why one-third of hospitals will close by 2020," and the book, "The New Health Age: The Future of Health Care in America," which has drawn positive reviews from health policy experts as well as TV's Dr. Oz.
One of their contentions is that the health care reform slowly taking place at government insistence –– particularly hospitals being forced to disclose information about infection and mortality rates –– will soon snowball, making transparency so commonplace in health care that Americans will go online to compare hospitals just as they do cars. Right now some of that hospital information is on websites, but the sites are not well known to most Americans.
"Any American considering a hospital stay will simply go online to compare hospitals relative to infection rates, degrees of surgical success and … other metrics," the authors wrote in MedPage Today. "Hospitals will be driven by quality, service and cost –– all of which will be necessary to compete. … Currently in our non-transparent health care delivery system, Americans have no way of knowing which hospitals are most dangerous. We simply take uninformed chances with our lives at stake."
In a phone interview from Florida, Fleece said it was clear to him that Americans will benefit from transparency. Those hospitals, for example, that don't dramatically cut infection rates, he said, will go out of business.
Health care experts have long known, of course, that if hospital staff washed their hands more and cleaned all high-touch surfaces daily with a disinfectant, the infection problem could be significantly minimized. But it didn't happen.
Those same experts have said hospital housekeeping efforts, basic to keeping dangerous bacteria such as Clostridium difficile in check, needed to be expanded. But many hospital executives cut housekeeping by as much as 25 percent during the recession.
So why will the infection control efforts of doctors and nurses and hospital staff change now?
"In the past, there was no economic consequence for infections," Fleece said, adding that hospitals actually made more money when they had infections because they then treated them, too.
Because of recent health reform efforts, he said, both private and government insurers are making hospitals accountable — not reimbursing them for preventable infections, and in some cases fining them.
(Statistics from hospitals around the country do show some infections declining since insurers acted.)
So, did thousands of Americans die from infections in hospitals because there was no economic benefit in vigilant infection control? "I'd just say hospitals didn't have an economic driver to lower infections," Fleece said.
I think I'll contact Dr. Dipak Desai over at the prison. Maybe a murderer –– his lack of infection control caused one man to die of hepatitis while others still suffer from the disease –– can help me better understand how certain medical minds think.
Contact reporter Paul Harasim at pharasim@reviewjournal.com or 702-387-2908.