Local business owner stays in front of the 8 ball
September 30, 2016 - 9:30 am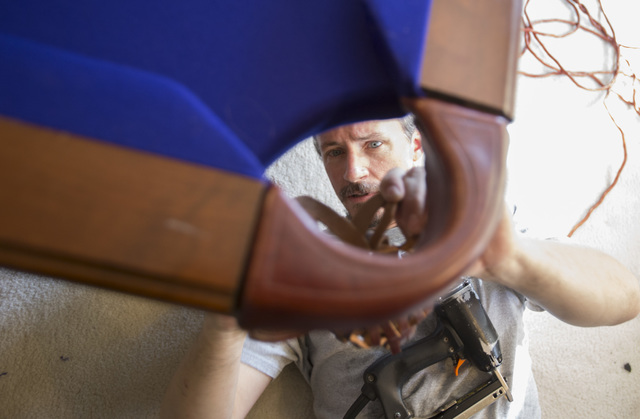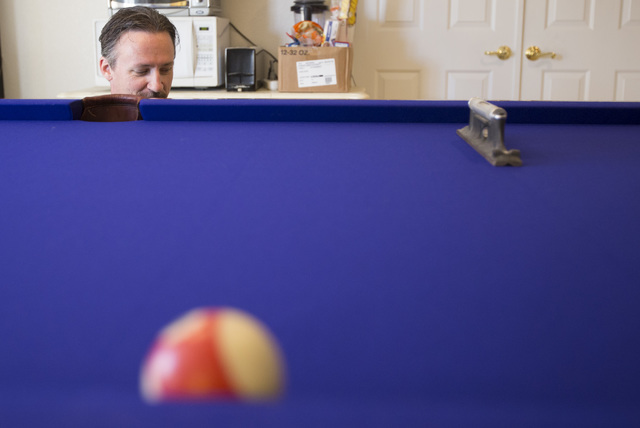 A barefoot Jim MacMillan stood on the front porch of his southwest Las Vegas home looking for signs of a truck carrying workmen — men who will turn a disabled Olhausen pool table into the centerpiece of his game room.
"I've waited three years to get it fixed, to get the budget for it," he said recently. "It was a gift from a friend who moved."
At exactly 8 a.m., the scheduled time of the appointment, Kevin Knoke, the president of On Cue Billiards, pulls up with two of his employees, Darcy McDonald and Austin Younger.
The 42-year-old Knoke, who uses weightlifting to help him stay in shape for amateur hockey competition as well as his job, looks as though he could just about pick up a 1,300-pound pool table by himself.
Over a couple of hours, the pounding, drilling, leveling and re-felting done by the three men rebuilds a table seemingly ready for pool table heaven and turns it into something the legendary billiards player Minnesota Fats would enjoy.
If you need an example of the quintessential small, small-business owner, Knoke fits the bill.
While a small business is defined as having under 100 employees, his company — it's done work for casinos and thousands of Las Vegans, including celebrities Celine Dion, Criss Angel and Chris Tucker — has just six full timers.
Their work often consists of simply moving pool tables throughout the Las Vegas Valley — about 120 tables a month.
"It's a combination of people buying new tables and people moving from one house to another," said Knoke, whose firm also moves, delivers and installs arcade games, pinball machines, shuffleboards and foosball tables.
General moving companies don't move pool tables because of their specialized needs. Before a 1,300-pound table can be moved, it's torn down, with the three 250-pound pieces of slate the balls roll on carried out separately.
The table is taken in pieces to its location, rebuilt and leveled.
Knoke says it's common for someone to "hit the ceiling" after calling for a price quote for a move. They find $265 too steep. That cost is much less, he says, than what many shell out to fix damage they do to a house, or to their backs, when trying to do it themselves.
"Once a man who got upset with the price called back an hour after he and friends tried to take a table down stairs in one piece," he said. "They lost control and buried it in a wall. We handled it but it cost several times the original price."
He's had other customers with custom shuffleboards that were too large for high-rise elevators.
"It took a couple hours to convince him he was wrong," Knoke said.
Even though Knoke once made a substantial income installing fiber optic networks across the country, he said he long dreamed of becoming an entrepreneur. That dream started to materialize when he worked for a Colorado company selling hot tubs and pool tables. A fan of billiards since he was a little boy, Knoke learned how to install them and moved to Las Vegas as the company expanded.
As soon as he felt confident he could make it on his own delivering pool tables, he started his own company. That was in 2007. He bought a pickup and hired day laborers to help him out.
He soon found out how the economy can destroy a business plan.
"The company I had worked for was going to be my primary source of my delivery business and it went belly up," he said. "It was terrifying. I had to drum up business."
Conversations with the owners of Billiards N More in Las Vegas got him a job as the primary installer of their tables. In 2008, he hired his first full-time employee. Now with five employees and three trucks — his wife works in human resources for a local company — he says being an entrepreneur has pros and cons.
"I do twice the work and make half the money, but I love not working for someone else," he said. "I did get hurt on the job with a staple gun, but I knew how to handle it when I stapled my thumb instead of the felt to the table. I pulled out the staple, wrapped up my thumb so I didn't get blood on the table and went back to work."
Paul Harasim's column runs Sunday, Tuesday and Friday in the Nevada section and Monday in the Health section. Contact him at pharasim@reviewjournal.com or 702-387-5273. Follow @paulharasim on Twitter.