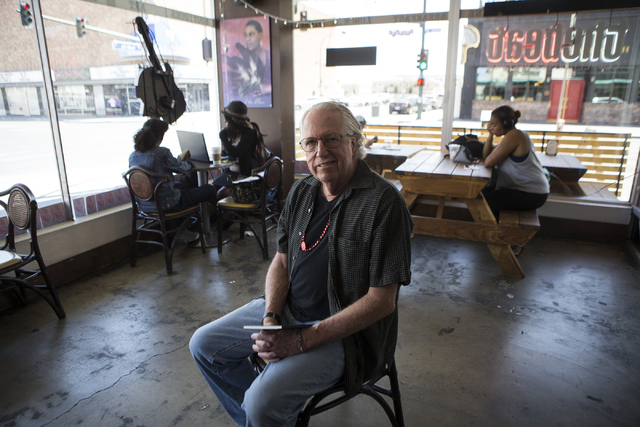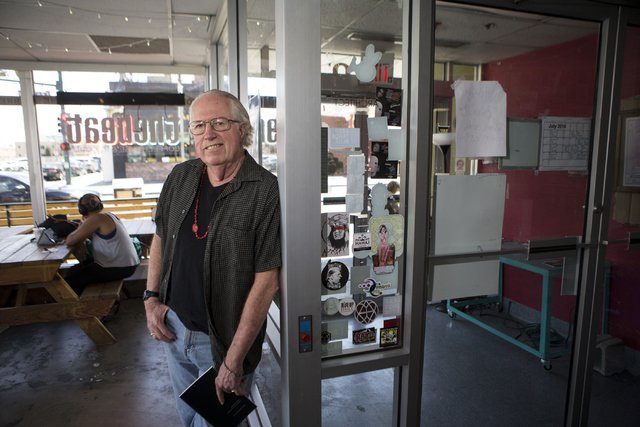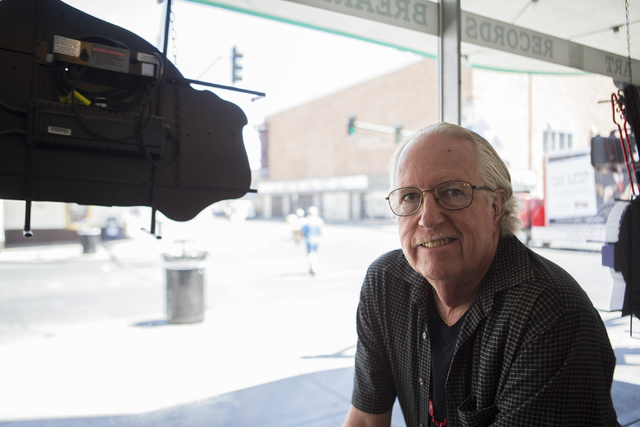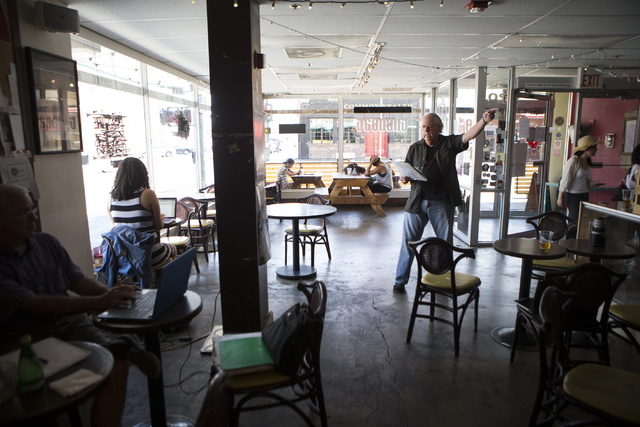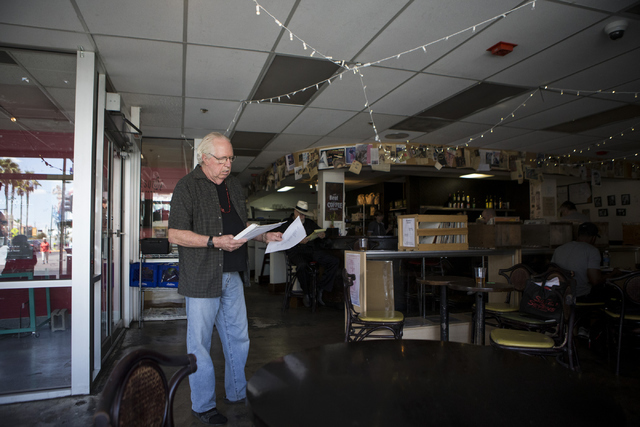 Before our first in-person interview began, Lee Mallory, who told me over the phone he wanted to make poetry popular in Las Vegas, handed me an autographed drawing.
Of himself.
"I'm sure you'll want it later," he said as I sat down inside the Casa Don Juan Restaurant with his likeness in my hand.
I looked closely at the drawing. It showed the poet, who moved here in 2013 from Southern California, with horns coming out of his head and a naked woman coming out of his shirt pocket.
The inscription read: "Paul — thanks for all. Best, Lee, 'The Love Poet.'"
In this age of self promotion — a time when people go on Facebook to brag about everything from their ability to keep a cigarette going while taking a shower to eating roaches without burping — it became even more apparent during my interviews with Mallory that no one need ever worry about the "The Love Poet" starting a new age of humility.
He advised Review-Journal photographer Eric Verduzco on how to take his photo without showing his double chin.
And yet as cloying as his self-promotion is — there were times when I thought he might kiss himself as he gushed in a Hamlet-length soliloquy about his friendships with the late renowned poets Kenneth Rexroth and Charles Bukowski — I continued listening to him because he's had the writing ability to publish eight books of poetry and edit 15 others.
When he actually talked about poetry, it became easy to understand why Michael Barton, chief academic officer of the Clark County School District, likes the idea of a poetry in schools program that Mallory and Clark County poet laureate Bruce Isaacson envision — poets visiting schools on a regular basis, with students coached in writing their own works.
Poetry, Barton said, is an important method of expression, even if taught by an eccentric.
"Poetry at this time is more important than ever," Mallory, 69, said.
"A poetry book or the close communion of a poetry reading can be a calm, discerning eye in the middle of the storm. People are so besieged by news of shootings, affected by political polarization, racial divide and all the rest, so poetry in its expression of everday universals — love, nature, togetherness, spirituality, companionship, beauty and oneness, affords that 'North Star' we are all seeking …"
While Mallory — a former English instructor at California's Santa Ana College — may be right, poetry's readership in the U.S. continues to decline despite easy availability on the Internet. In 1992, according to the Survey of Public Participation in the Arts, 17 percent of Americans read a poem at least once yearly. By 2012, the number had fallen to 6.7 percent.
The Los Angeles Times thought enough readers were familiar with Mallory's work to produce a front page piece on him after he moved to Las Vegas to be with his mother: "Mallory moved … with a Quixote-like plan: to reign as the king of poetry in a desert resort town without an attention span, a place that refused to feign interest in anything without an over-under."
Mallory thinks distractions, not the lack of good poets, has hurt poetry. With that in mind, he takes poetry where distractions are, generally nightspots.
To get attention from patrons, the performance poet has licked a woman's thigh, broken dishes, cracked a bullwhip, and stuck his hand into a spinning fan.
"It makes people listen to my readings," he said.
It also made the woman with the licked thigh threaten court action, he concedes.
Among the places he's held poetry readings in Las Vegas are the Silver Sevens casino, Ichabod's restaurant, Double Down Saloon and The Beat Coffeehouse & Records.
There, they've heard him recite from his Laundry Poem, shouting his love lines above the din:
I'd like to be your washer/soak you in warm liquid/gently agitate/your silks and lingerie
Not long after I arrived at a rehearsal for an upcoming reading at The Beat Coffehouse, the self-proclaimed Love Poet began to chant a poem. A young woman was impressed.
"What he's got to say is a turn-on," she said.
Paul Harasim's column runs Sunday, Tuesday and Friday in the Nevada section and Thursday in the Life section. Contact him at pharasim@reviewjournal.com or 702-387-5273. Follow @paulharasim on Twitter.