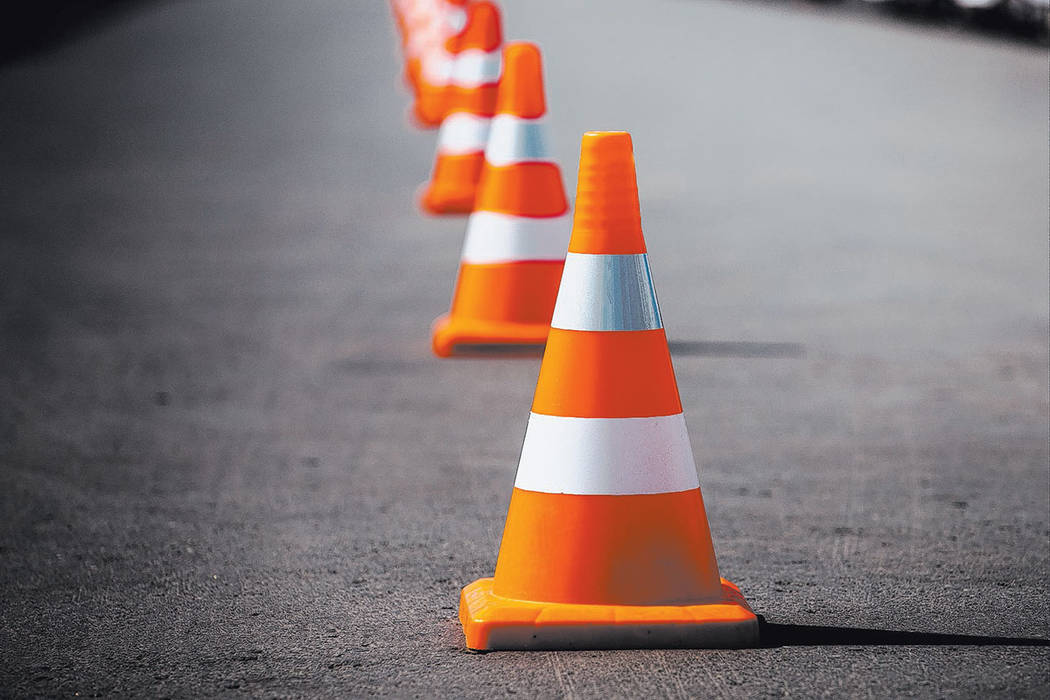 Orange cones line myriad road construction zones across the Las Vegas Valley, garnering just as much respect as comedian Rodney Dangerfield.
Maybe even less.
A series of commercials hit the radio and television airwaves last week encouraging drivers to "Love the Cone" as part of the Regional Transportation Commission of Southern Nevada's ongoing "See Orange" campaign.
One commercial takes place in a therapist's office, complete with tissue box, with an orange cone confessing "as long as I can remember, people hated me" and "the abuse is nonstop."
Moments later, flashbacks of angry drivers give way to images of completed road projects as the orange cone realizes "I'm a symbol of progress, a sign of good things to come."
The psychological expert's diagnosis: martyr's complex, as she scribbles "boo-hoo" into her notepad.
The cheeky commercials attempt to put some humor into a frustrating situation encountered by drivers almost daily.
"We know that orange cones can be troubling, but they are a symbol of progress, growth and jobs," RTC General Manager Tina Quigley said. "The 'Love the Cone' campaign is designed to be fun and memorable to promote our valley's growth and progress, and to provide resources for our residents to ensure they're aware of active construction sites."
The RTC spent roughly $20,000 to produce the commercials, along with advertisements that will appear on bus shelters and vehicles, Quigley said. The televised spots, ranging in length from 15 seconds to just over one minute, will air on the Las Vegas affiliates for NBC, ABC, CBS and Fox, along with Spanish-language ads appearing on Univision and Telemundo.
The Road Warrior occasionally gets questions from readers who see orange cones, but no construction activity in some neighborhoods.
To lodge a complaint or get more information about a specific road project, drivers can call the RTC's hotline at 702-928-2663, visit SeeingOrangeNV.com or send an email to seeingorangenv@rtcsnv.com. Questions are usually answered within three business days.
Blurred lines
Brian from Summerlin noticed that ongoing construction at the Spaghetti Bowl interchange has caused some of the lane markings to wear away on southbound U.S. Highway 95 near downtown Las Vegas.
"Navigating the Big Squeeze is bad enough," Brian said, referring to the narrowing of freeway lanes on U.S. 95 through the end of January. "Please help us get new white lines on the roadway."
Just as you sent that question, Brian, the traffic lanes were restriped on southbound U.S. 95, Nevada Department of Transportation spokeswoman Tony Illia said. However, Illia noted that early morning and sunset glare can make it hard to see the lane markings.
"As such, we are currently exploring other alternatives, such as raised reflective lane markers that give drivers a tactile warning when crossing," Illia said. "Safety is of paramount importance."
Jones-ing for a connection
As most drivers in the southwest valley have noticed, northbound Jones Road abruptly ends at Blue Diamond Road, then restarts about a mile north of the intersection. Lee from Las Vegas wanted to know whether Clark County plans to connect the gap so that Jones runs all the way through Blue Diamond when driving north.
Designs are underway to eventually fill that missing link on Jones, county spokesman Dan Kulin said. He did not provide a construction timeline.
Flashing yellow arrow requested
Mark from Las Vegas noticed that the signals for both directions of Decatur Boulevard are programmed for rush-hour traffic at Harmon Avenue.
"That means drivers wanting to make a turn onto Harmon must wait a long time for the green arrow," Mark wrote in an email to the Road Warrior.
Mark wanted to know whether the county could trigger a flashing yellow arrow so that more drivers could turn left, rather than halting them with a solid red light.
"No plans for such a change at this time," Kulin replied.
Questions and comments should be sent to roadwarrior@reviewjournal.com. Please include your phone number. Follow @RJroadwarrior on Twitter.
RTC's "Love the Cone" ad spots


Road Work Ahead
Downtown
— Las Vegas Boulevard is restricted between Fremont Street and Carson Avenue through Friday for sign maintenance.
— Carson Avenue is restricted at Main Street through Saturday. Crews are installing a water line.
— Main Street is restricted between Bonneville Avenue and Las Vegas Boulevard through May 28. Crews are working on a storm drain.
— Commerce Street is restricted between Wyoming Avenue and Main Street through May 30 for road improvements.
— The northbound U.S. Highway 95 exit ramp to Rancho Drive will be closed through June 21 for work associated with Project Neon.
— Martin Luther King Boulevard is closed between Oakey Boulevard and Interstate 15 through July. Crews are installing drainage boxes.
— Oakey Boulevard is closed between Main and Commerce streets through July. Crews are installing underground utilities and storm drain infrastructure.
— Washington Avenue is restricted between Martin Luther King Boulevard and Rancho Drive through Aug. 1. Crews are installing gas lines.
— Ninth Street is closed between Carson Avenue and Main Street through Dec. 31 for sewer work.
— U.S. Highway 95 will be restricted between Rancho Road and just east of Interstate 15 through January 2018. Crews are building a new flyover ramp for high-occupancy vehicles as part of Project Neon.
— Sections of Bonneville Avenue, Charleston Boulevard, Grand Central Parkway and Martin Luther King Boulevard will have closed or disrupted lanes surrounding the Spaghetti Bowl as crews work on Project Neon through July 2018.
East valley
— Warm Springs Road onramp to westbound 215 Beltway will be closed until late May. Crews are working on a new bridge for the Airport Connector.
— Nellis Boulevard will be restricted between Gowan and Craig roads through June 15. Crews are completing sewer work.
— Las Vegas Boulevard will be restricted between Nellis Boulevard and Puebla Street through June 15. Crews are completing sewer work.
— Warm Springs Road offramp from the eastbound 215 Beltway will be closed through June. Crews are building a new bridge over the highway.
Southwest
— Rainbow Boulevard will be restricted in each direction between Hacienda Avenue and Sunset Road from 9 p.m. to 5 a.m. until mid-June. Crews are repaving the road and adding a traffic lane.
Summerlin
— Summerlin Parkway's westbound lanes will be restricted between Buffalo Drive and Rampart Boulevard through July. Crews are building a new auxiliary lane and making other improvements.
— The 13-mile scenic route at Red Rock Canyon National Conservation Area will be repaved in one-mile increments through August.
Gasoline Prices
The average gasoline price Friday in the Las Vegas Valley was $2.64 per gallon. It was $2.78 in Nevada. The national average of $2.35 is up 1 cent from a week ago, down 6 cents from a month ago and up 7 cents from a year ago.