Beltway Comings And Goings
October 31, 2007 - 9:00 pm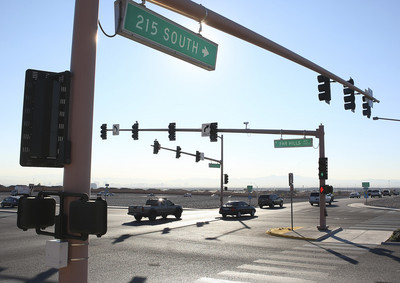 This week readers want to know when the Far Hills-Las Vegas Beltway interchange will be constructed and what is up (or down) with a 25 mph speed limit on a stretch of Hualapai Way. Also, we clear up the confusion surrounding the big mess at Koval Lane, between Flamingo Road and Harmon Avenue.
Ken Schultz wants to know when intersections such as Far Hills Avenue and Lake Mead Boulevard will lose their traffic lights, now that the Cheyenne interchange with the Las Vegas Beltway is almost complete?
The Lake Mead interchange is already under construction and expected to be done by the end of July 2008 at a cost of $12.3 million, said Bobby Shelton, spokesman for the Clark County public works department.
Here's a look at some other Beltway projects:
• Work has just begun on the Las Vegas Beltway bridge over Decatur Boulevard and nearby railroad tracks. This has been a choke point on the Beltway, where three lanes are squeezed to two. When the project is finished, at the beginning of 2009, there will be three lanes in each direction.
• The Aliante Parkway interchange project is scheduled to start on Nov. 13. This work will focus on Aliante and the interchange with North Fifth Street. Station Casinos is helping pay some of the costs for the project, which is scheduled for completion in January 2009.
• Also on Nov. 13, a project to widen the Beltway from Hualapai Way to Charleston Boulevard will begin. That project should be done by the end of June.
Then there are the projects that won't start until next year.
There is the widening of the Beltway between Decatur and Hualapai from two lanes to three. When construction is finished will depend largely on when it begins. If things go really well, work could be done by the end of 2008.
And finally, Ken, because you've been patient, here is what you really wanted to know. Work on the Beltway from Charleston to the Summerlin Parkway, which includes Far Hills, won't start until next year at the earliest. If things go well, construction would be finished in 2010.
Of course there is more work that needs to be done on the Beltway, but this is what is on the horizon.
Frank wants to know why the speed limit on Hualapai Way, from Patrick Lane to Tropicana Avenue, was reduced from 35 mph to 25 mph?
As my 1-year-old friend Emily likes to say after a miscue: "Uh-oh."
The county might be saying the same thing in this case.
Shelton wrote in an e-mail: "(Clark County) Development Services says they didn't change it (the speed limit). Our guys (county public works) don't think they changed it. So, we are researching it a bit more to see if we can figure out who may have changed it and who may have authorized the change."
The construction of Bishop Gorman High School on Hualapai may have played a role in the speed limit change, Shelton said. Traffic folks may also be looking to study the area to determine the appropriate speed because of the school.
When I drove that stretch of road I had a hard time finding anyone going 35 mph, never mind 25 mph.
For now, Frank, we will have to wait and see what solution the county comes up with.
Last week I addressed a question regarding "marshaling" of rigs being done on Koval, between Harmon Avenue and Flamingo.
Sources told me all the hubbub was because of a movie production that was starting up. But astute readers informed me the marshaling yard on the west side of Koval was causing the congestion. It's used as a staging area for trailers used in conventions, expositions and trade shows.
Just wanted to clear that up. So now you know, but it's still a mess.
Hit 'n' Run: Happy Halloween, everyone. Please drive carefully tonight and watch out for ghoulishly dressed children. Some will be hard to spot, especially the ones dressed as Darth Vader.
Contact reporter Francis McCabe at fmccabe@reviewjournal.com or (702) 387-2904.
ROAD WARRIORMORE COLUMNSDiscuss this column in the eForums!
Construction work on U.S. Highway 95 just west of downtown is winding down. The Nevada Department of Transportation announced the latest work that will cause drivers headaches:
The Rainbow Boulevard northbound and southbound onramps and the Summerlin Parkway eastbound ramp to U.S. 95 northbound will be closed from 6 a.m. to 9 p.m. today for paving. Use detours as posted.
The Valley View Boulevard onramp to U.S. 95 will reopen at 11:30 p.m. Friday. Use alternate ramps at Decatur Boulevard and Rancho Drive until then.
The Decatur onramp and Valley View offramp to southbound U.S. 95 will be closed starting at 5 a.m. Saturday through 11:30 p.m. Nov. 6 for paving. Use posted detours.