Brace for traffic-filled weekend when EDC comes to Las Vegas
Updated June 14, 2017 - 2:23 pm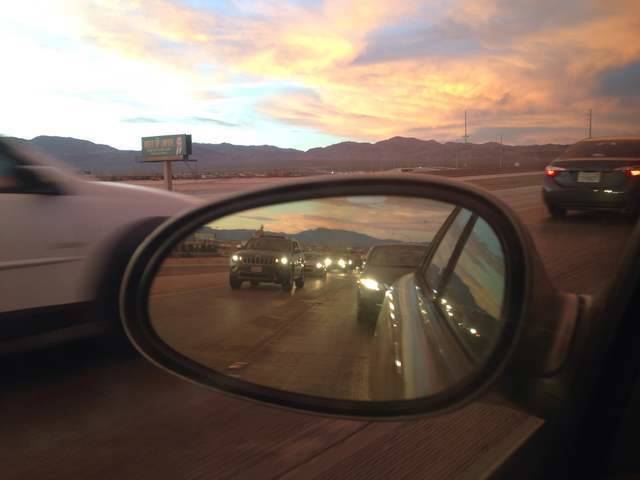 Just about everyone in Las Vegas will have something to rave about during the Electric Daisy Carnival next weekend.
That's when roughly 400,000 revelers make their way to Las Vegas Motor Speedway for three days of high-energy music coming from the likes of Afrojack, DJ Khaled and Tiesto.
The rest of us will get to be stuck on the slow-moving Interstate 15 waiting to exit Cheyenne, Charleston and Flamingo.
In both cases, it's a spectacle to behold.
"The best thing you can do is arrange your trip to avoid being on I-15 in the late afternoon and early evening those days," said Tony Illia, a spokesman for the Nevada Department of Transportation.
Most drivers headed to EDC and all points north will inch along a traffic-choked I-15 that remains under construction along a 5-mile stretch between Craig Road and Speedway Boulevard.
Work on the $33.8 million freeway-widening project continues through the weekend, but two lanes of traffic will remain open in each direction, Illia said.
But the worst time for congestion will be when the party ends Monday morning, when pooped-out partiers will compete for space on the freeway with commuters headed to work.
Nevada Highway Patrol Trooper Jason Buratczuk warned that "everyone works EDC weekend" to watch for drowsy drivers, accidents and people who might have consumed illegal substances.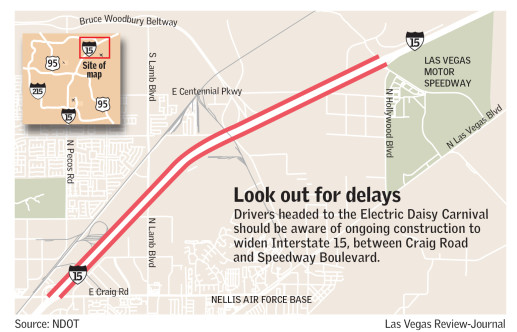 Live camera feeds of local roads and freeways will be monitored by the regional traffic management center, said Brad Seidel, a spokesman for the Regional Transportation Commission of Southern Nevada. Signal timing will be adjusted if needed, while information will be posted on digital message signs.
RTC bus lines 113, 115 and 219 will have minor detours from 5 p.m. to 9:30 a.m. Friday, Saturday and Sunday, Seidel said.
"The Electric Daisy Carnival in Las Vegas is infamous for traffic nightmares on I-15," AAA Nevada spokesman Mike Blasky said. "Stop-and-go traffic and extreme heat are particularly rough on your vehicle, and EDC offers plenty of both to drivers."
Stay hydrated, and stock your vehicles with water, car chargers, flares and flashlights in case of an emergency, Blasky suggested.
To avoid some of those problems, EDC organizer Insomniac will operate 100 buses on a continuous loop between parking lots at Craig Ranch Park in North Las Vegas to the Las Vegas Motor Speedway.
Taxicabs are helping by cutting through Nellis Air Force Base to hit the music festival. Lyft is offering a promotion for 2,000 new and existing users who use the code "RIDEEDC" for 50 percent off two rides to the Speedway. Uber will have a designated pick-up and drop-off lot with a rider lounge at the Speedway.
Carnival attendees will also fly into McCarran International Airport, where electronic dance music will greet about 683,000 airline passengers on departing and arriving flights between Thursday and Monday, airport spokeswoman Christine Crews said. For those wanting to travel like a rock star, Maverick Helicopters is offering 15-minute rides from the airport to the speedway for $850 round trip or $550 one way, according to the company's website.
Driving without license plates
Calvin from Las Vegas said he's noticed vehicles around town without license plates and wanted to know how he can report the scofflaw drivers.
"What happens if they cause an accident?" Calvin asked the Road Warrior.
Unfortunately, there isn't a way to report these vehicles, according to representatives of the Nevada Highway Patrol and the Nevada Department of Motor Vehicles.
"We do stop these vehicles without license plates because sometimes there are other violations or infractions involved that prohibit the owner from registering the vehicle, such as no insurance or warrants," Buratczuk said.
However, a vehicle with no rear plate isn't necessarily driving illegally, DMV spokesman Kevin Malone said. The vehicle may be operating under a DMV movement permit. The permits are not visible from the back because they are taped to the windshield.
Additionally, owners may be waiting on a specialty plate, or their plates may have been stolen, Buratczuk said.
Now you see it, now you don't
Scott from Summerlin noticed a sign that reads "Yield on flashing yellow" on northbound Buffalo Drive at Vegas Drive. However, the signal doesn't offer a flashing yellow arrow when he travels through the intersections around 4 p.m. on weekdays.
"Is it flashing yellow during other parts of the day, and I don't see it?" Scott asked.
That appears to be the case, Scott.
The signal is set to a protected, green arrow left turn during peak weekday hours, including your afternoon commute, Las Vegas city spokeswoman Margaret Kurtz said. The flashing yellow arrow appears only during weekends and off-peak hours.
Questions and comments should be sent to roadwarrior@reviewjournal.com. Please include your phone number. Follow the Road Warrior on Twitter @RJroadwarrior.
Road Work Ahead
Downtown
■ The northbound U.S. Highway 95 exit ramp to Rancho Drive will be closed through June 21 for work associated with Project Neon.
■ Martin Luther King Boulevard is closed between Oakey Boulevard and Interstate 15 through July. Crews are installing drainage boxes.
■ Oakey Boulevard is closed between Main and Commerce streets through July. Crews are installing underground utilities and storm drain infrastructure.
■ Washington Avenue is restricted between Martin Luther King Boulevard and Rancho Drive through Aug. 1. Crews are installing gas lines.
■ U.S. 95 will be restricted between Valley View Boulevard and Rancho Drive through the end of August. Crews are installing foundations for traffic management signs.
■ Ninth Street is closed between Carson Avenue and Main Street through Dec. 31 for sewer work.
■ U.S. Highway 95 will be restricted between Rancho Road and just east of Interstate 15 through January 2018. Crews are building a new flyover ramp for high-occupancy vehicles as part of Project Neon.
■ Sections of Bonneville Avenue, Charleston Boulevard, Grand Central Parkway and Martin Luther King Boulevard will have closed or disrupted lanes surrounding the Spaghetti Bowl as crews work on Project Neon through July 2018.
Resort corridor
■ The Highland Drive onramp to eastbound Desert Inn Road will be closed 5 a.m. to 3:30 p.m. Wednesday and Thursday. Crews are placing decorative rock for erosion control.
Northwest
■ Southbound U.S. Highway 95 will be restricted between Elkhorn and Ann roads from midnight to 5 a.m. Monday. Crews are building a new flyover bridge.
East valley
■ Nellis Boulevard will be restricted between Gowan and Craig roads through Thursday. Crews are completing sewer work.
■ Las Vegas Boulevard will be restricted between Nellis Boulevard and Puebla Street through Thursday. Crews are completing sewer work.
■ U.S. Highway 95 will be reduced to a single lane from 9 p.m. to 5 a.m. nightly through Friday. Crews are repairing a bridge joint and repairing concrete.
■ Warm Springs Road offramp from the eastbound 215 Beltway will be closed through June. Crews are putting finishing touches on a new bridge over the highway.
■ Westbound Ward Springs Road onramp to westbound 215 Beltway will be closed 9 p.m. to 5 a.m. weekdays through the end of June. Crews are putting finishing touches on a new bridge over the highway.
■ Owens Avenue will be restricted between Lamb Boulevard and Lovebird Avenue through Aug. 10. Crews are doing sewer work.
■ Eastern Avenue will be restricted between Flamingo Road and Rochelle Avenue from 9 p.m. to 6 a.m. Sundays through Thursday until Aug. 11. Crews are doing sewer work.
Summerlin
■ Summerlin Parkway's westbound lanes will be restricted between Buffalo Drive and Rampart Boulevard through July. Crews are building a new auxiliary lane and making other improvements.
■ The 13-mile scenic route at Red Rock Canyon National Conservation Area will be repaved in one-mile increments through August.
Gasoline Prices
The average gasoline price Friday in the Las Vegas Valley was $2.64 per gallon. It was $2.71 in Nevada. The national average of $2.35 is down 3 cents from a week ago, up 2 cents from a month ago and down 2 cents from a year ago.
Las Vegas Review-Journal