CES: A huge traffic jam for most locals to avoid
January 3, 2016 - 8:27 am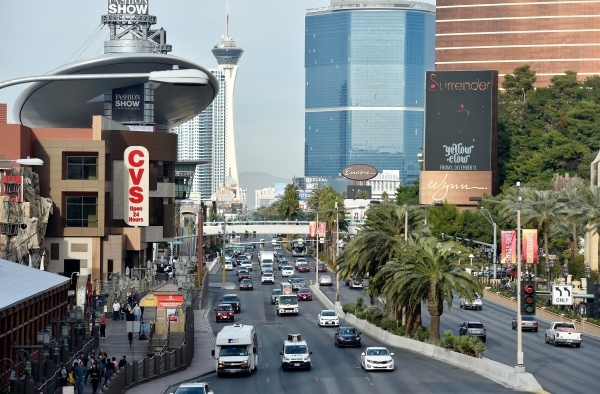 This week, there will be two different kinds of motorists on local streets — those who are trying to get to CES 2016 and those who are trying to stay as far away from it as possible.
Which side of the divide you sit will determine where and when you travel, lest you be sucked into the CES vortex.
Most longtime Las Vegans have gotten past the whining that generally accompanies the arrival of 176,000 conventioneers. The international consumer electronics show is big business and it kicks off a series of spring trade shows and conventions that make our cash registers sing and our economy hum.
So let's break it down.
For those who want to stay away: Remember, CES is a show that isn't open to the public so unless you work in the industry, there's no reason to think you're going to be able to catch a glimpse of the gadgets and gizmos that will soon be on store shelves and that this week will draw the attention of the network morning shows that broadcast from the convention centers.
This year's show officially runs Wednesday through Saturday. You can count on heavy traffic around the Las Vegas Convention Center and the Sands Expo Center leading up to when the show floors open around 9 a.m. and after they close around 6 p.m. (The Wednesday floor opening is at 10; the Saturday closing is at 4.)
While traffic will be pretty heavy most of the day, it'll be worst at those opening and closing hours.
Even though the show officially opens Wednesday, traffic will be no picnic on Monday and Tuesday because thousands will be here early to set up their booths and get their credentials.
In addition, thousands of media representatives have been invited to press conferences and advanced previews on Monday and Tuesday at the Mandalay Bay Convention Center. Count on traffic being heavy along the south Strip those two days.
For those who are planning to go: Don't forget, this is a money-making opportunity for Las Vegas, so you'll see things you don't normally see in Las Vegas — such as paid parking in resort parking garages. In past years, the price has been $20 to $25 a day with no in-and-out privileges.
If you're in town for the show, check into the shuttle buses that will operate between the resorts and the convention venues. They're free. A similar free shuttle operates about every 10 minutes between the convention center and the Sands Expo Center.
Another great idea — use the Las Vegas Monorail, especially if you're staying at any of the properties that have monorail stops: MGM Grand, Paris-Las Vegas, Bally's, Harrah's, the Linq and SLS.
If you want door-to-door service, taxi companies have geared up for this show and will take you from the resort to the front doors of the convention center and Sands Expo.
Several cab companies are working to make the taxi-hailing experience easy with Verifone's Curb smartphone application. The app, available free, enables customers to hail a cab the same way they summon ride-hailing companies like Uber and Lyft.
Another app that's good to have if you're a taxi rider is Bandwagon, which helps bring together riders heading in the same direction. The app matches strangers in a cab line and helps them split the fare.
The new transportation innovation at this year's CES will be Uber and Lyft, the ride-hailing companies that only last summer became licensed and legal in Nevada.
CES organizers have been hyping Uber and even lobbied on its behalf when the company was attempting to establish a foothold in the state.
Because there are expected to be thousands of Uber and Lyft rides during CES, the convention center has established two pickup and drop-off zones. One is in the center's Gold Lot, the parking lot on the northwest corner of Paradise Road and Convention Center Drive, and the other is in a lot just east of the Renaissance Hotel.
Those I-15 cacti
Some people love those decorative sculptures at some highway interchanges. Others view them a waste of money better used on the roads themselves.
Regardless of how you feel, the state philosophy is to dress up interchanges with what amounts to a form of public art. Some Warrior readers, like Joanne, like them well enough to own one:
"Can you tell me where one can purchase the cactus metal sculptures found on Interstate 15 and Cactus Avenue? I love the various pieces of metal art work found along the freeway in Vegas and would love several of these cacti for my yard."
Nevada Department of Transportation spokesman Tony Illia said the department gets compliments all the time.
"We have several compliments and purchase requests from impressed motorists about our creative freeway landscape sculptures. In this instance, P&S Metals Supply & Co., a Las Vegas-based 37-year-old sheet metal fabricator, is responsible for crafting the interchange cacti. The company worked as a specialty supplier to the project's design-build contractor, Las Vegas Paving Corp."
— Questions and comments should be sent to roadwarrior@reviewjournal.com. Please include your phone number. Find the Road Warrior on Twitter: @RJroadwarrior