Charleston curves in Las Vegas reveal old surveying method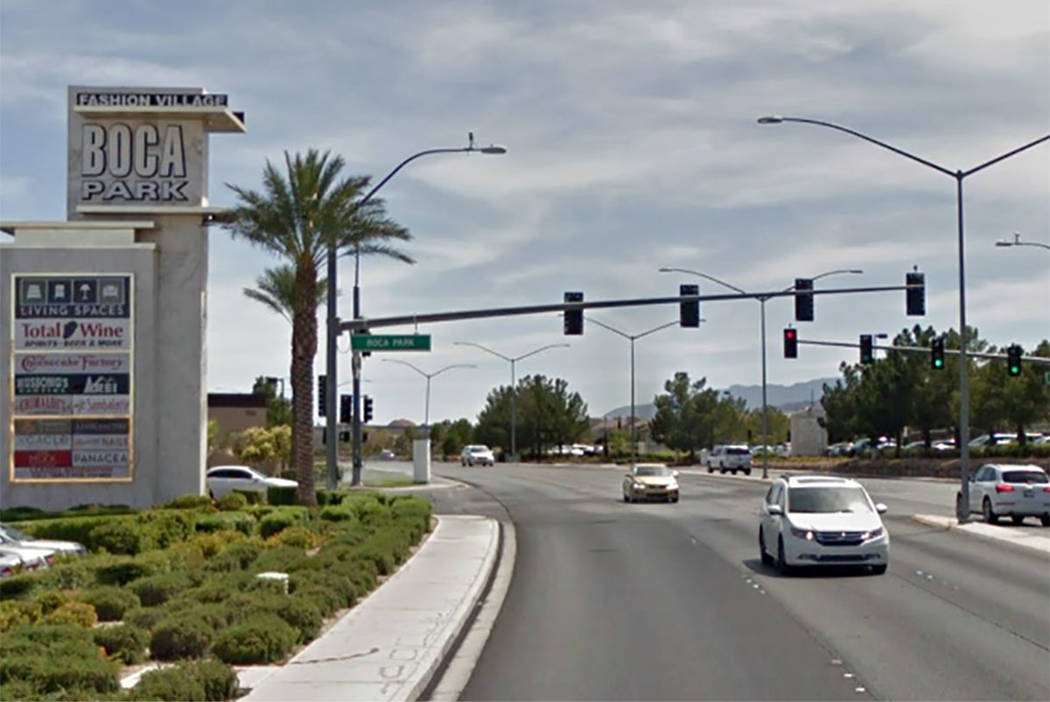 A few streets in Las Vegas have some strange angles or curves that don't make much sense.
For instance, Rampart Boulevard, Durango Drive, Cimarron Road and Buffalo Drive all take an odd jog just north of Charleston Boulevard before straightening back near Alta Drive.
Those strange bends in the road trace back to an old method of surveying land, Las Vegas city spokeswoman Margaret Kurtz said.
Typically, road alignments are based on whether a municipality is able to acquire enough right-of-way to build a street, which is why we see many local streets break up or unexpectedly narrow down to one lane — a common occurrence in newer Las Vegas neighborhoods.
Underground and overhead utility lines also determine the location of some roads, along with local topography. Additionally, preferences by landowners and developers can play a role in how some streets curve, similar to what we see in Summerlin.
The story is different with parts of Charleston, which fall within the Fifth Standard Parallel under the Public Land Survey System, a property measurement method that's been around since 1785, Kurtz said.
"Essentially, some roads jog over at Charleston because a surveyor was asked to measure square, flat land on a round globe," Kurtz said. "Charleston is the point where surveyors make an adjustment for the Earth's curvature."
Rough ramps
Martha from Henderson says the Wagonwheel Drive onramp and offramp at U.S. Highway 95 are "so warped it looks like deep waves" that are hard on her vehicle's tires, and wanted to know when the Nevada Department of Transportation plans to make repairs.
NDOT spokesman Tony Illia said that his bosses are aware of the problem.
Later this year, expect to see maintenance crews grind away the deteriorated and cracked layers of pavement, then replace it with a new asphalt overlay. The work, Illia said, should make for "a smoother, rejuvenated driving surface."
Wire theft left this road dark
Michael from North Las Vegas said the streetlights aren't working on Pecos Road near the VA Hospital, creating a potentially dangerous situation for drivers. Additionally, there are no reflective road markings and the road is riddled with potholes.
Delen Goldberg, a spokeswoman for the city of North Las Vegas, said several streetlights weren't working due to wire theft. The lights should be back on soon, if they aren't already.
Additionally, crews from the city's Public Works Department will take a look at the road striping and other issues to determine whether any maintenance is needed, Goldberg said.
Signal planned
With so much construction along Arroyo Grande Boulevard, Bruce from Henderson wanted to know whether city officials were planning to install a traffic signal at the street's intersection at Wigwam Parkway.
"It's a four-way stop, and around 4 p.m. the traffic is backed up big-time," Bruce said in an email sent to the Road Warrior. "It gets so bad that I've seen cars backed up on Arroyo Grande all the way back to Windmill Parkway."
Henderson city spokeswoman Kathleen Richards said that a traffic signal is definitely planned as part of the ongoing road improvements along Arroyo Grande.
'Intriguing' property
Jana from Las Vegas wanted to know what's inside the fenced area just south of Starr Avenue, between Buffalo Drive and Rainbow Boulevard in the southwest end of the valley.
"There's a huge chain-link fence crowned with razor that looks like a big prison yard," Jana said. "Someone said it's camp for the Federal Emergency Management Agency, but I don't know about that. It is intriguing."
You're about to be let down, Jana.
Clark County spokesman Dan Kulin said the land belongs to the federal Bureau of Land Management, and the surrounding dirt berms help with water drainage.
Southwest signal
Brian from Las Vegas wanted to know when Clark County officials plan to install a traffic signal at Russell Road and Buffalo Drive in the southwest valley. The current four-way stop, he says, sees a lot of traffic during weekday afternoons.
Kulin, the county spokesman, said there are plans to eventually install a signal here, but it was unclear when that might happen.
Questions and comments should be sent to roadwarrior@reviewjournal.com. Please include your phone number. Follow @RJroadwarrior on Twitter.
Road work ahead
Downtown
— Main Street is restricted between Bonneville Avenue and Las Vegas Boulevard through May. Crews are working on a storm drain.
— The D Street onramp to southbound Interstate 15 is closed through mid-July. Crews are working on Project Neon.
— Sections of Bonneville Avenue, Charleston Boulevard, Grand Central Parkway and Martin Luther King Boulevard will have closed or disrupted lanes surrounding the Spaghetti Bowl as crews work on Project Neon through July.
— Ogden Avenue will be restricted between Main Street and City Parkway through mid-October. Crews are making street, sidewalk and lighting improvements.
— The Charleston Boulevard onramps to southbound Interstate 15 are closed until mid-October. Crews are rebuilding the intersection.
— Interstate 15 will be narrowed in both directions between Sahara Avenue and D Street until Nov. 20. Crews are widening the freeway.
— The ramp connecting southbound U.S. Highway 95 to southbound I-15 will be reduced to one lane and detoured through Nov. 20. Crews are widening I-15.
— The ramp linking southbound U.S. 95 to northbound I-15 is closed through Nov. 20. Crews are widening I-15.
— The Martin Luther King Boulevard onramp to southbound U.S. Highway 95 is closed until early 2019. Crews are building a high-occupancy flyover ramp.
— Gass Avenue will be restricted between Las Vegas and Charleston Boulevards through March 2019. Crews are making pedestrians and bicycle improvements.
Northwest
— Both directions of U.S. Highway 95 will be narrowed to a single lane between the 215 Beltway and Durango Drive from 9 p.m. to 5 a.m. nightly through June 5. Crews are building a carpool ramp at Elkhorn Road.
— Both directions of U.S. Highway 95 are narrowed to a single lane between Skye Canyon Park and Paiute drives through July 12. Crews are building a new interchange bridge.
— Buffalo Drive is restricted between Gowan Road and Cheyenne Avenue through July. Crews are upgrading a gas line.
— Tenaya Way and Torrey Pines Drive are restricted between Gowan and Craig roads through July. Crews are upgrading a gas line.
— Gowan Road is restricted between Buffalo and Torrey Pines drives through July. Crews are upgrading a gas line.
— Craig Road is restricted between Torrey Pines Drive and Decatur Boulevard through July. Crews are upgrading a gas line.
— Both directions of U.S. Highway 95 will be narrowed to two lanes at Elkhorn Road through December. Crews are building a new carpool ramp.
Southwest
— Jones Boulevard will be restricted between Tropicana and University avenues through June 29. Crews are doing sewer work.
East valley
— Eastern Avenue is restricted between Flamingo Road and Tompkins Avenue through June 11. Crews are restoring the street.
Henderson
— Center Street is restricted between Burkholder Boulevard and Lake Mead Parkway through June. Crews are making various road improvements.
North Las Vegas
— U.S. Highway 93 is restricted between Interstate 15 and Apex Power Parkway through June. Crews are widening the highway and upgrading an interchange.
— Nellis Boulevard is restricted between Cheyenne Avenue and Las Vegas Boulevard from 6 a.m. to 3:30 p.m. weekdays through July. Crews are installing sewer pipes.
Gasoline prices
The average gasoline price Friday in the Las Vegas Valley was $3.24 per gallon. It was $3.26 in Nevada. The national average of $2.86 is up 5 cents from a week ago, up 19 cents from a month ago and up 52 cents from a year ago.