'Cost constraints' impact interchange
December 31, 2008 - 10:00 pm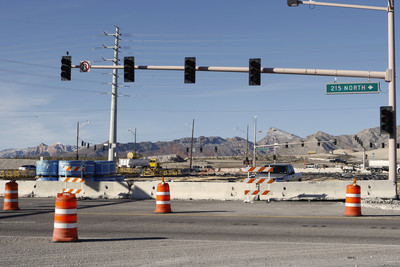 This week readers want to know what the Las Vegas Beltway and Summerlin Parkway interchange will look like when it's done and when Hollywood Boulevard near Sahara Avenue be opened. And the Road Warrior offers some New Year's resolutions.
Erik J. Montville asks: I drive by the Las Vegas Beltway and Summerlin Parkway almost every day, and I'm trying to figure out what this interchange will look like when construction is complete. Will this be a mini-Spaghetti Bowl and allow the westbound Summerlin Parkway drivers to fluidly merge onto the Beltway or will it be a stop-and-go intersection like the new Lake Mead exit?
When this $56.9 million interchange is completed, hopefully by the end of 2009, people driving past Summerlin Parkway on the Las Vegas Beltway will no longer have to stop at traffic signals. But motorists will have to contend with traffic lights when leaving one road for the other.
Because of "cost constraints" the Clark County Public Works Department decided to move forward only with an interim upgrade of that interchange instead of a full freeway-to-freeway system, spokesman Bobby Shelton said.
When the interim system is done, the interchange will be similar to the Lake Mead Boulevard interchange at U.S. Highway 95, which means it will have a cloverleaf type ramp for motorists heading west on Summerlin Parkway to the southbound Beltway. The other onramps and offramps will be typical diamond shaped.
Shelton said the county will construct a full freeway-to-freeway system when the hundreds of millions of dollars needed to do so is obtained.
Of course, who knows when that will be.
The Beltway interchange at Far Hills Avenue, which is a part of the project out there, will be similar to the Lake Mead interchange with the Beltway.
A reader asks: When will Hollywood Boulevard be open from Sahara Avenue to Vegas Valley Drive? The street has been blocked off for months, even though it is paved.
This section of road was constructed by a developer of a nearby property as part of the conditions for that development, Shelton said.
Shelton said that prior to the completion for this section of Hollywood, a conflict with the traffic control plan was discovered. The county and the developer have since worked to revise construction plans to fit with the traffic control plan.
"The construction plan was just recently revised. Once the revised plan is approved, the developer's contractor will then restart work to complete the roadway," Shelton said.
He added that the completion of this section of Hollywood depends on when the work restarts, which will also depend on the weather.
Asphalt can't be put in place with the cold weather we've been experiencing.
So I can't give an exact date. But at least there's some comfort in knowing that the work is on the front burner.
Hit n' Run
I'm sure you all have your own New Year's resolutions picked out. But in case you want to be ambitious I will offer a few suggestions to add to every Las Vegas driver's list.
1. Wear your seat belt.
2. Use the turn signal.
3. Don't drink and drive.
4. Show a little patience. Remember we're all in this together.
5. And don't encourage Britney Spears' comeback. Change the station when her songs come on the radio.
Remember, if you have one too many cocktails tonight a safe trip home is a phone call or bus ride away.
• Designated Drivers Inc. will drive you and your car home for free through Thursday. Call 456-7433.
• AAA's Tipsy Tow program is offering a free five mile tow home from 6 p.m. today to 6 a.m. Thursday. Call 800-222-4357. No AAA membership is needed.
• Citizens Area Transit will be offering free bus rides from 6 p.m. today to 6 p.m. Thursday on all routes.
• Here are the cab phone numbers: A-Cab, 365-1900; Ace Cab, 736-8383; A-North Las Vegas Cab, 643-1041; Checker-Yellow-Star Cab, 873-2000; Deluxe Cab, 568-7700; Desert Cab, 386-9102; Henderson Taxi, 384-2322; Lucky Cab, 732-4400; Nellis Cab, 248-1111; Union Cab, 736-8444; Vegas Western Cab, 736-6121; Virgin Valley Cab, 737-1378; Western Cab, 736-8000; Whittlesea Blue Cab, 384-6111.
Have a safe and Happy New Year.
If you have a question, tip or tirade, call Francis McCabe at (702) 387-2904, or send an e-mail to roadwarrior@ reviewjournal.com. Please include your phone number.
Las Vegas Boulevard, from Sahara Avenue to Russell Road will be closed to traffic beginning about 6 tonight for the annual New Year's Eve celebration on the Strip, Las Vegas police announced. Beginning about 5 p.m. the Interstate 15 onramps and offramps at Tropicana Avenue, Flamingo Road, Spring Mountain Road, as well as the Harmon Avenue overpass will be closed. Frank Sinatra Drive is not a recommended alternative route because of heavy congestion caused by area employees. All closure times are subject to change. A portion of Las Vegas Boulevard and the adjacent sidewalks beginning at Spring Mountain and extending south to the southern end of The Mirage property will be closed to all pedestrian traffic from 8:30 p.m. to about 9:30 p.m. tonight because of a planned motorcycle stunt. The stunt is planned for 9:10 p.m. A second planned motorcycle stunt at the Paris at the same time is not expected to significantly impact pedestrian or vehicular traffic on adjacent sidewalks and roadways. Work to construct a bridge over Summerlin Parkway at Teneya Way will begin Monday. The $7.9 million project includes a half mile of improvements to Teneya Way, from Westcliff Drive to Washington Avenue, as well as other improvements. A 1,350-foot pathway on the north side of Summerlin Parkway also will be constructed to connect Bill Briare Park to the Kellogg-Zaher Sports Complex. The project will take about 10 months to complete. Motorists can expect lane restrictions and temporary road closures on Summerlin Parkway, Tenaya Way and some adjacent side streets during construction. A ground breaking ceremony will take place at 10 a.m. Monday, at 650 Tenaya Way. South Decatur Boulevard under the Las Vegas Beltway will be closed to traffic flow from 9 p.m. to 5 a.m. the following day on Sunday, Monday, Tuesday, Jan. 7 and Jan. 8, the Clark County Public Works Department announced. The closures are needed to accommodate construction crews who will be working to paint the Beltway's widened bridge structures over Decatur Boulevard. Motorists who use this section of Decatur should use alternate routes while the closures are in place. LAS VEGAS REVIEW-JOURNAL