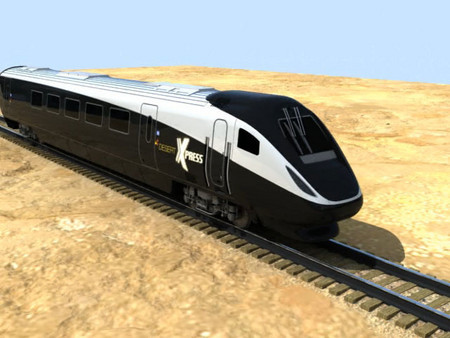 Don't ask why, but whenever the DesertXpress high-speed train proposal in mentioned, the Talking Heads song "Road to Nowhere" comes to mind.
Perhaps it's because the first phase of this train will stretch between Las Vegas and a town a little less known: Victorville, Calif.
Perhaps it's because this is an ideal route only for residents with friends or relatives residing in the women's federal prison camp in Victorville.
The proposal would probably have more support if it offered a quick ride to Orange County or San Diego. But like at least one other transportation project in Southern Nevada, this train stops short. Literally.
Recently, members of the national Public Interest Research Group (PIRG) visited Las Vegas and, along with Rep. Shelley Berkley, emphasized the importance of prying commuters from their vehicles and onto public trains and buses. PIRG's message: "America's car-centered transportation system does an increasingly poor job of getting people where they want to go."
That's why introducing a high-speed train system is the answer, they said.
"We have to instill confidence in people that they will get where they're going," Berkley said. "It has to be safe, cost-effective and it has to work."
Excuse us if we're a community full of skeptics, but we've heard this line before. The Las Vegas Monorail doesn't necessarily get people where they want to go despite early promises that it would.
Neither does the proposed route of the DesertXpress, which seems to have gained steam over the earlier plan to build a Maglev system that would zip riders into Los Angeles at speeds of up to 300 mph. The magnetic-levitation train destined for Los Angeles initially received support, but recently shifted into "The Little Engine That Couldn't" mode after U.S. Sen. Harry Reid said he doubts it can.
Now the conversation is centered around DesertXpress, which, until connecting tracks are built, would take us to Victorville, where we can rent a car to reach our destination. One, this is inconvenient, and two, I don't know about you, but if I'm headed on vacation and not driving, I want a cocktail during the ride. This is not a good idea if you have to rent a car.
Berkley agreed that a Victorville destination probably won't excite Las Vegans. She pointed out that the DesertXpress is one proposal and others — better ones — might surface if Nevada transportation gurus can get their hands on a portion of the $8 billion in stimulus money set aside for high-speed railways.
No matter who steps forward, it's a good bet Las Vegans will remain skeptical. When we think about rail systems, we think about our monorail, which might be considered a flop when it comes to benefiting valley commuters. Early monorail discussions included connecting light-rail lines reaching out to Summerlin and Henderson.
It was supposed to be cost-effective and work, the same expectations Berkley has of the high-speed train. But our first dip into a public rail system is neither. After several route proposals and connector ideas were tossed about, the monorail ended up catering only to Strip properties.
A new generation of rail cynics was born with the monorail pitch. It's hard to forget one-time county commissioner and administrator Bob Broadbent and Co. crowing about the monorail's benefits to his friends on the Clark County Commission.
The scene resembled "The Simpsons" episode when Lyle Lanley prances into Springfield singing and dancing in vaudeville fashion about his monorail proposal. "You know a town with money is a little like a mule with a spinning wheel. No one knows how he got it and danged if he knows how to use it! … Throw up your hands and raise your voice. Monorail! Monorail! Monorail!"
And the response from state and county officials who gave it their stamp of approval was not unlike that of Springfield Mayor Quimby's: "Just tell us your idea and we'll vote for it!"
It's difficult to get hooked on the existing Las Vegas passenger rail system unless you happen to also be hooked on gambling. It's great for casino hopping.
But gambling has a lot to do with Berkley's excitement since we depend on tourists to come here with money to spend. Berkley is convinced once a reliable, efficient high-speed rail is in place, our visitors, who mostly come from Southern California, will opt for the train rather than spend money on gasoline.
"Las Vegas depends on tourism dollars. We need tourists to come here with their dollars," she said. "Let's get them here by high-speed train. Let's get them here with money. We like that."
Berkley acknowledged that the transition into public transportation isn't only about changing motorists' mind-sets.
"You can't talk about getting people out of their cars unless you give them options," she said.
If our monorail delivered us to McCarran International Airport or a high-speed train took us to Los Angeles, we might abandon the car and take advantage of those options. Offering a semi-speedy ride to Victorville? Not so much.
If you have a question, tip or tirade, call Adrienne Packer at (702) 387-2904, or send an e-mail to roadwarrior@review journal.com. Include your phone number.
Time your travel well on Interstate 15 to or from California for the next 10 weeks as road crews are blasting rock on a 12-mile stretch between Nipton and Bailey roads. The interstate will be closed for up to 90 minutes beginning at 10 a.m. on Tuesdays and Thursdays. Motorists are advised to wait in Primm if you are California-bound or Baker if you are headed to Nevada. This is part of a $91 million widening project designed to make the road safer for tractor-trailers. The entire widening project is scheduled to be completed by fall 2010.