Driver, car licenses should match
September 7, 2010 - 11:00 pm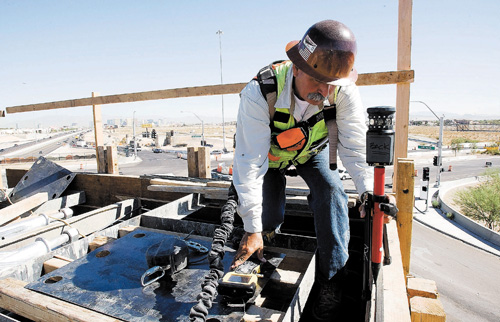 Since the Las Vegas constable launched his Fair Share program to crack down on motorists who move to Nevada but fail to register their vehicles here, we've been asked a handful of questions by residents in unique situations. We'll start off with one from a woman who splits her time between Nevada and Utah.
I have homes in Utah and in Nevada and split my time evenly. I have cars registered in Nevada and Utah and have been pulled over in Nevada for driving my car with Utah plates. If I change my plates to Nevada, I'll get pulled over in Utah. What am I supposed to do?
This is an interesting scenario, but here's the deal straight from the mouth of Nevada Department of Motor Vehicles spokesman Tom Jacobs: "It boils down to residency, and that is expressed by your driver's license."
Your driver's license must match your license plates.
If you live in Utah and work in Nevada, you should have Utah plates and a license to match it.
If you live in Nevada, own a Nevada driver's license and drive vehicles with Nevada plates, Utah authorities should not have a problem. Residency is also determined by where you file your taxes.
Steve wants an update: In June, John asked when a second left-turn lane will be added from the Interstate 15 offramp onto Las Vegas Boulevard. You said it should be in place in the next 30 days. Well, there is no sign of anything being done. I travel to Borders at least once a week and literally every single journey through the aforementioned light, I witness at least one car marking an illegal turn.
The addition of a second left-turn lane toward Town Square is part of a widening project on Las Vegas Boulevard. That project, which includes widening the road from Sunset Road to Silverado Ranch Boulevard, will take about 10 months. But, according to Clark County officials, that light should be done at the outset of the project.
A curious commuter on Interstate 15 asks: What is that massive structure next to the Silverton hotel-casino?
That is the new Blue Diamond Road flyover, which eventually will carry traffic from eastbound Blue Diamond Road onto Interstate 15.
The existing bridge will remain and deliver motorists to two frontage roads that will flank the interstate.
Andrew asks: I live in Mountains Edge, and I was curious about the intersection of Rainbow Boulevard and Blue Diamond Road. I notice that Rainbow south has room for two left turn lanes, but only one is actually being used. It seems that with a few lane reflectors and some paint, both lanes easily could be used, which would free up some pretty long back-ups on Rainbow. Just curious why there is only the one lane and not two.
Good news for you, Andrew. Another lane is on its way. Clark County spokeswoman Jennifer Knight said engineers are working on the design to modify the intersection of Blue Diamond and Rainbow.
The work, which is expected to be completed by the end of the year, will include restriping the lanes and then realigning the traffic signals accordingly.
The reason this wasn't done earlier boils down to unfortunate timing. The county finished improving Rainbow just before the state began the Blue Diamond widening endeavor.
This from KXNT (840 AM, 100.5 FM) listener Steven: When will the Centennial Hills/Las Vegas Beltway interchange be done?
The improvements at the intersection are under way and the work should be finished by the end of November, according to Knight.
And on a related note, several readers have asked: When will the U.S. Highway 95 interchange at the Beltway be complete.
The Nevada Department of Transportation is still in the planning phase, which will likely stretch into next year.
The interchange, which I'm sure is of interest to residents in the northwest, is part of the state's improvements to Highway 95 between Washington Avenue and Kyle Canyon Road.
As far as construction, the transportation division has not specified when work will begin.
Idele and Harvey Kaplan are curious: Please tell us, what is this pedestrian bridge at the Las Vegas Beltway and Town Center Drive? Is this Summerlin's bridge from nowhere to nowhere? We've been watching this "grow" for many weeks. It is just about complete. Who will be using it?
The pedestrian bridge being built over Town Center Drive will ultimately hook up with the Western Beltway Trail, a Clark County pathway that will accommodate bikers and hikers in the northwest.
If you have a question, tip or tirade, call Adrienne Packer at (702) 387-2904, or send an e-mail to roadwarrior@ reviewjournal.com. Include your phone number.
The left lane of Interstate 15 — in both directions — will be closed at Russell Road for the next 45 days.
The westbound Las Vegas Beltway at Interstate 15 and Las Vegas Boulevard will be closed at 9 p.m. Sunday and will reopen at 5 a.m. Monday.
Crews will be in the southbound turn lane of Las Vegas Boulevard at Flamingo Road through Friday. Expect delays from 9 p.m. to 5 a.m. Northbound lanes will remain open.
Expect lane closures at various times on southbound Interstate 15 from mile marker 17 to the California line through October. No construction is scheduled from 5 p.m. Friday to 9 p.m. Sunday.
Traffic in both directions on Blue Diamond Road is being detoured to temporary ramps to Interstate 15 northbound.
NOTE: Northbound access roads leading to McCarran International Airport were closed overnight Tuesday. Airport officials warned the same closure might occur tonight between 7 p.m. and 5 a.m. Drivers trying to access passenger pick-up, zero level or the employee parking garage using the connector tunnel or Russell Road will be redirected toward westbound Tropicana Avenue.
Las Vegas Review-Journal