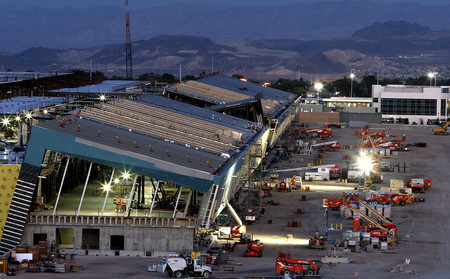 This is sort of a head scratcher: The idea for a monorail was conceived about a decade ago by the late Bob Broadbent, who once was director of the Clark County Department of Aviation. In that position, it would seem, one might realize the importance of providing public transportation from a super busy airport to a crazy popular tourist destination.
Same goes for Curtis Myles, former aviation manager and now president of the Las Vegas Monorail.
I'm still learning about this transportation thing, so color me nuts if this seems like an unfair slam, but shouldn't these aviation experts have made this route a priority before laying down four miles of track mostly along the backside of Strip resorts?
I'm no financial guru either — trust me, payday eve I feel like a budget pro if I have two dollars in the bank — but wouldn't the monorail's ridership and revenue be significantly higher if tourists could zip from McCarran International Airport to a hotel-casino?
I'm also no fool. Anyone who has lived in this town long enough realizes cab companies' influence over politicians is enough to dissuade any elected official from pitching a project as risky as public transportation from the airport.
I posed this proposition to a former elected official, asking whether cabbies' pocketbooks might be more important than providing convenient transportation for tourists. You know, those goofy people who keep our economy plugging, however sluggishly, along.
"You know how politicians are. All they care about is being re-elected. They're not going to step on toes," said the former politico, who asked not to be named for fear of facing the wrath of former colleagues and the cab industry. "There would absolutely be a backlash. This is a large group of people who vote. Our town is based on juice and influence and friendships."
You don't say.
Back in the day, when the monorail route was discussed, the cab owners were a powerful group with a ton of money to throw at elected officials. But that was then and this is now, right? Now monorail representatives say if they file for Chapter 11 bankruptcy and if they emerge from their financial woes, they will expand the monorail another four miles to the airport.
What you'd be doing to the cab companies, the politico said, is "taking away their bread and butter."
"It won't ever happen."
What?
But that is what the monorail people are telling us, that this train finally will benefit the community, airport passengers and the monorail itself. It will do more than line the pockets of company executives.
I mean, once the new Terminal 3 is built, the airport will be able to handle 53 million passengers arriving and departing annually. Even if a fraction of those travelers used the monorail, its current annual ridership of about 8 million would increase significantly.
Bruce Woodbury, who was on the Clark County Commission when the monorail was approved and now sits as a chairman on the company's board of directors, agrees the monorail is a political hot potato. He recalls that when the project was first floated, there was more opposition from resort owners than cab companies. Resorts not along the route — the west side of the Strip — argued they would be at an unfair disadvantage.
The cabbies were not as vocal, perhaps because it was clear the first phase wouldn't reach the airport.
"When the monorail is in a position to start talking about expanding to the airport, the taxicab companies need to be one of the first to be brought into the planning," Woodbury said.
Who knows whether tourists would ride the monorail at $5 a pop, when four passengers could take a cab for the same amount and not bother with lugging their suitcases through casinos. Woodbury said the monorail isn't built to handle luggage. Apparently, it comes with enough baggage of its own.
If you have a question, tip or tirade, call Adrienne Packer at 702-387-2904, or send an e-mail to roadwarrior@reviewjournal .com. Please include your phone number.
Continue to expect disruptions on Oakey Boulevard between Valley View Boulevard and Rancho Drive. It might be best to avoid the intersection because of unexpected closures for installation of a drainage system.
Industrial Road is reduced to one lane in each direction at Interstate 15 throughout the month.
The Interstate 15 southbound exit to Lake Mead Boulevard will be closed Thursday through Dec. 24. The Lake Mead Boulevard onramp to I-15 north also will be closed through Dec. 24. The Interstate 15 southbound exit to Lake Mead Boulevard will be closed Thursday through Dec. 24. The Lake Mead Boulevard onramp to I-15 north also will be closed through Dec. 24. Lake Mead is closed at I-15.
Lane closures will be in effect Sunday through Thursday on Cheyenne Avenue between U.S. Highway 95 and Nellis Boulevard. Construction hours are between 9 p.m. and 5 a.m.
Las Vegas Review-Journal