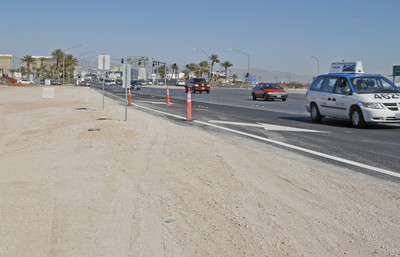 This week readers want to know whether there are any plans to relieve a bottleneck at Las Vegas Boulevard South and the Las Vegas Beltway, when construction at Jones Boulevard and Harmon Avenue will wrap up, and the decibel level of car horns. And the Road Warrior learns a lesson about old-timey crooners.
Ritch Richards wants to know whether there are any plans to widen Las Vegas Boulevard South, just south of the Las Vegas Beltway.
Heading toward the Beltway, Las Vegas Boulevard narrows from three to two lanes in each direction, Richards wrote in an e-mail.
The good news is that Clark County officials know there is a problem and even have two projects planned for the area, including one from Sunset Road to Serene Avenue and the other from Serene to St. Rose Parkway.
The bad news is that neither project is funded nor even being designed. Bobby Shelton, spokesman for the county's public works department, said optimistic estimates for when the projects will start is two or three years.
Both projects are supposed to be federally funded, so nothing can be done until the Federal Highway Administration comes through with the cash.
Fred Jones wants to know what is up with the work being done at Jones Boulevard and Harmon Avenue and when it will be finished.
Linda Olguin, a permit inspector with the Nevada Department of Transportation, told me they are replacing a 12-inch sewer main with a 48-inch sewer main for some senior housing in the area. Apparently folks living there are getting a healthy amount of fiber in their diet.
The work, sanctioned by the Clark County Water Reclamation District, was supposed to be completed in August. But there was a shutdown at the site because the dirt found under the pavement was as loose as dust and did not hold up well.
They've figured out the problem and gotten the ground shored up, Linda said. The work on Jones at Harmon should finish in about two weeks.
But work will then continue further up Harmon, Olguin said.
The Transportation Department issued the permit for the job because they control that portion of the road. The county will issue the permits for the next round of work, on Harmon. When that work will be finished isn't clear yet.
Boyce Gitzen Sr. asks about the decibel level of the average automobile horn.
The Center for Disease Control says the decibel level for a car horn is 115, which is on par with sand-blasting or an Iron Maiden concert. You shouldn't be exposed to it for more than 15 minutes.
Gitzen's question caused me to wonder why he wanted to know. So I asked.
Gitzen was kind enough to respond. He thinks that if he installs a louder automobile horn, he can "toot" at all those people who drive with their foot on the brake while gabbing on their cell phones, and force them out of the fast lane.
I wouldn't run out and buy that new horn just yet. Nevada Revised Statute 484.607 states that while motor vehicles must have a warning device, "the horn or other warning device must not emit an unreasonably loud or harsh sound or a whistle."
Hit 'n' Run: If any readers were wondering where I was born and raised, you probably could have figured it out by catching my faux pas in Sunday's column.
I referred to "Perry Cuomo," not Perry Como. The latter being the correct spelling of the singer's name.
As one reader asked: "Who the heck is Perry 'Cuomo?' Mario's singing brother?"
Mario Cuomo was the governor of New York when I was growing up there.
My apologies to Mr. Como's fans.
Contact reporter Francis McCabe at fmccabe@reviewjournal.com or (702) 387-2904.
ROAD WARRIORMORE COLUMNSDiscuss this column in the eForums!
The Nevada Department of Transportation announced the following work on U.S. Highway 95: U.S. 95 southbound between the Lake Mead Boulevard offramp and Lake Mead onramp will be reduced to one lane from 3 a.m. Thursday through 11:30 p.m. Friday for paving. Motorists who take U.S. 95 south, north of Lake Mead, should find an alternate route. The westbound onramp from Lake Mead Boulevard to U.S. 95 southbound will be closed from 6 a.m. Thursday through 11:30 p.m. Friday for paving. Motorists are advised to use onramps at Rainbow Boulevard. Fort Apache Road at Sahara Avenue will experience disruptions through Jan. 29 because of work on power lines, the city of Las Vegas announced. The work is taking place at night. Sewer work on Nellis Boulevard, between Craig Road and Sahara, will continue through the end of November, according to the city. Paving and sidewalk construction on Shadow Lane at Charleston Boulevard is expected to wrap up on Nov. 15, according to the city. Paving being done on Torrey Pines Drive, between Sahara and U.S. 95, should be finished on Nov. 16, the city said.