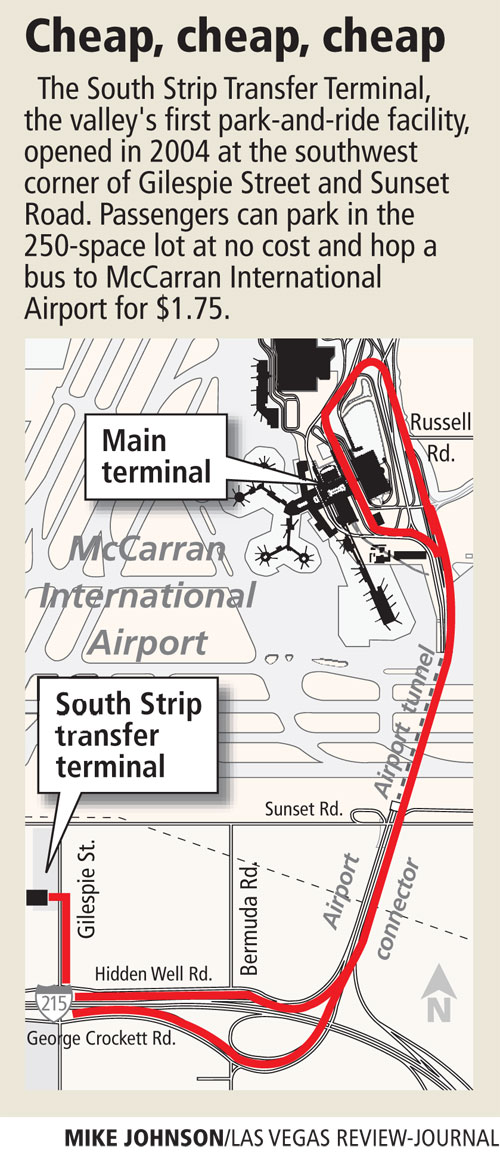 Like many Las Vegas commuters, I fly frequently and dream of the day when public transportation provides a simple, convenient and timely ride to McCarran International Airport.
If you are in the same boat, or plane, or whatever, then you will share the excitement felt when the folks at the Regional Transportation Commission explained that this already exists.
On top of that, travelers can park for free, even if they're taking off for a monthlong European vacation.
This airport route is one of the transportation agency's newer attempts to persuade motorists to hop on a bus rather than further crowd the airport's already over-occupied parking lots.
I was a sucker for the sales pitch and rushed to try it out, even if it was to be a hypothetical run.
My "flight" was scheduled to depart at 4:30 p.m. on a Wednesday, which meant leaving the house at 2 p.m.
Driving to the airport and parking would probably would have put me through security and at the gate by 3 p.m. A responsible traveler arrives at the gate an hour before the flight departs.
I parked at the South Strip Transfer Terminal on Gilespie Street at Sunset Road.
A one-way ticket to the airport cost $1.75, and the next bus, the 109 North, was scheduled to depart at 2:43 p.m. It should have arrived at the airport curb by 2:55 p.m. On weekdays, the buses leave every half hour.
While sweltering in the heat on the platform, I met Tim. He rides the bus often.
When asked to compare Las Vegas's public transportation system to other cities', he offered this: "Public transportation in America sucks."
He pointed out that major cities in Europe and Asia provide convenient, timely trains that take passengers right to the doorsteps of the airport. I told him I was excited to park for free and take the bus to McCarran.
"The monorail would be nicer, but in this town there are too many political issues and it's too expensive," Tim said. "We just have to deal with what we have."
That sounded fine until the temperature hit 104 and the clock hit 3 p.m. Still, no bus. It arrived a couple minutes later and delivered its passengers to the airport at 3:17 p.m. This bus is not a shuttle and therefore luggage space is limited. Free parking is nice — and there are more than 250 spaces — but this route didn't seem all that alluring.
If I had carry-on baggage only, everything would have been fine and I would have made the flight easily, even if the security line was longer than normal.
If I had baggage to check, and there was any sort of line at both the counter and security, I probably would have been sweating it.
I brought my experience up with the RTC's Tracy Bower, who assured me that this bus should be — and normally is — on time. She often rides the bus to the airport and has never had an experience like mine. To be fair, I did it once; she has done it many times.
Bower explained that the route is most convenient on a trip when travelers are not carrying a ton of luggage, since riders are responsible for lugging it on and storing it in front of them. Taking up an extra seat might mean paying another $1.75.
In the end, travelers must ask themselves whether taking an earlier bus and spending more time in the airport is worth the $56 in savings had they parked in the economy lot for a week.
I'm no Negative Nancy but in my case, the experience not only made me long for my car, it left questions about whether the RTC's campaign to push commuters out of their cars and onto buses will succeed.
Last week, the agency broke ground on a new terminal on Bonneville Avenue downtown.
Rep. Shelley Berkley, D-Nev., described the facility as the "icing on the cake" when it comes to the transportation agency's efforts over the years.
By the end of next year, ACE buses should be zipping along freeway express lanes and moving freely around downtown on nicely landscaped, designated pathways.
If all goes well, commuters will use their personal vehicles to reach park-and-ride lots, then hop the bus to get to work.
That's how it works in other cities.
A Park-and-Ride center is under way at Centennial Hills, which will allow residents to ride an express bus straight into downtown.
Construction on another center on Westcliff Drive at Durango Drive will begin next year.
An express lane will also link downtown to Henderson using Boulder Highway.
The pitch is the bus system will be cost-efficient and quick. But in order for it to work, it must be dependable.
If passengers are forced to wait for their bus in the summer heat, it's a good bet they will scramble back to the comfort of their personal vehicles.
After my brief experience, I feel compelled to apologize to the environment and folks at the RTC: When I returned from the airport, I did not hug a tree. I hugged my car.
If you have a question, tip or tirade, call Adrienne Packer at (702) 387-2904, or send an e-mail to roadwarrior@review journal.com. Include your phone number.
In honor of Labor Day, crews will cease construction and alleviate the headaches on Flamingo Road, for a night. No work will be done on Sunday night, but it will continue from 9 p.m. until 6 a.m. all next week. Lane reductions on Flamingo and Las Vegas Boulevard will be in place during the construction hours.
Traffic on Las Vegas Boulevard will be reduced to two lanes in both directions beginning about 1,000 feet from the Flamingo intersection. Eastbound lanes on Flamingo at Las Vegas Boulevard also will be restricted. Overnight construction will continue on Flamingo between Audrie Street and Koval Lane.
Traffic control devices related to McCarran International Airport's utility project along Tropicana Avenue have been removed west of Koval. Those east of Koval will be temporarily removed for the weekend, but expect them to return on Tuesday.
Work on the Tenaya Way overpass at Summerlin Parkway continues, meaning the U.S. 95 southbound ramp to Summerlin Parkway west will remain closed.
Carey Avenue between Losee Road and Donna Street will be closed for the next five months.
On Interstate 15 between Craig Road and•the Spaghetti Bowl,•motorists should be prepared for unexpected lane shifts as various lanes will be closed in each direction tonight through Friday. The closures will occur between 9 p.m. and 5 a.m.
Sticking with Interstate 15, here is some good news: Three lanes are now open north of Cheyenne Avenue.
LAS VEGAS REVIEW-JOURNAL