Hockey fans glide to the game on Golden Knights Express
October 29, 2017 - 6:09 pm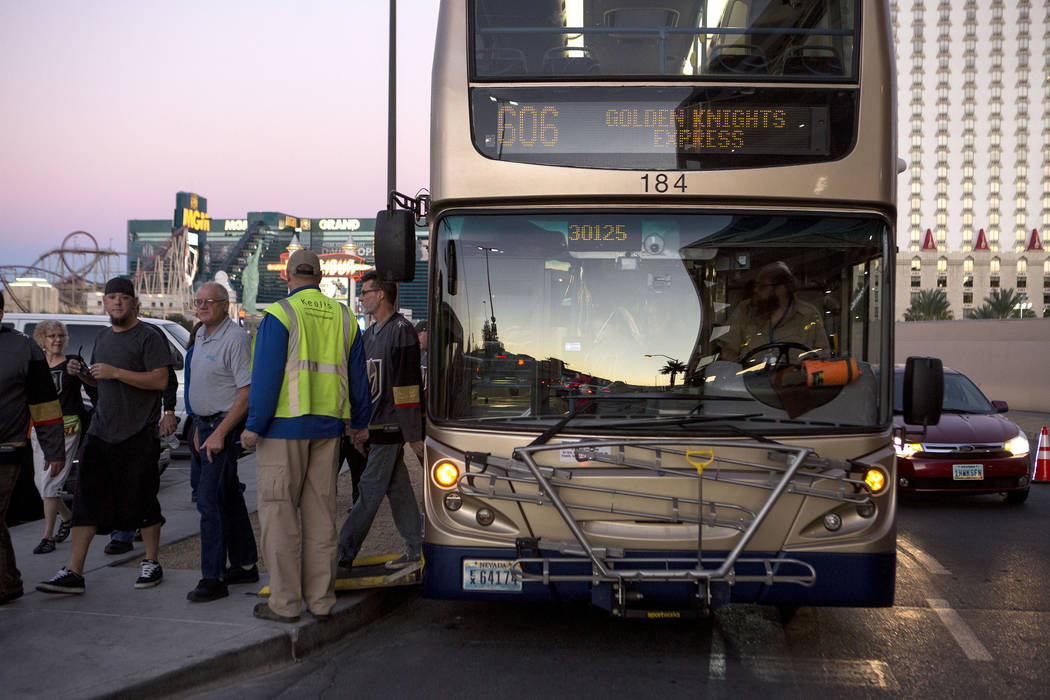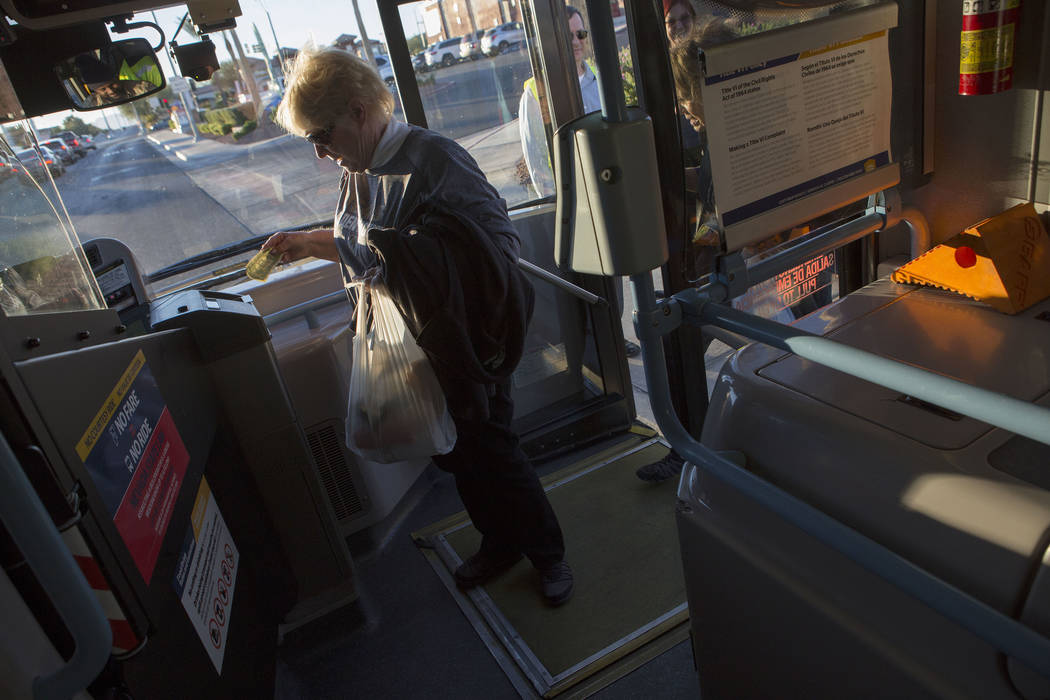 Anticipation built during a recent bus ride from P.T.'s Ranch in Henderson to T-Mobile Arena.
Wearing a Vegas Golden Knights jersey, Suzanne Buchman wondered last Tuesday whether the NHL's newest hockey team could beat the heavily favored Chicago Blackhawks. Or at least keep up.
Rather than dealing with the stress of driving in evening commuter traffic, Buchman excitedly chatted about the game with her friend, Caryn Dibble, while riding the new Golden Knights Express.
The bus service, launched during preseason, offers rides from four pickup locations in the Las Vegas Valley for $2 each way.
"Uber and Lyft were going to charge way too much money, and there's no way we're going to drive to the Strip and pay those crazy parking fees," said Buchman, a Las Vegas resident with season tickets to the Golden Knights.
"We've been using the bus from the beginning," Buchman said. "Honestly, I'm impressed."
The Golden Knights teamed up with the Regional Transportation Commission of Southern Nevada to develop four nonstop routes serving areas with the largest number of season ticket holders.
Just over 200 riders usually board the Golden Knights Express buses each way, but the system could carry five times that number, said Jacob Simmons, the RTC's senior transit operations planner.
Growth potential
The RTC will cover the $156,000 operational cost to run the special bus routes during the NHL season, Simmons said. In turn, the Golden Knights will provide $156,000 worth of advertising and marketing to promote RTC transit services through digital display boards, media campaigns, ticket giveaways and the team's website.
"It's still new, but I think our ridership will grow as people learn that the service exists," Simmons said during a ride last week with the Road Warrior.
Some of the double-decked buses are wrapped in black and gold vinyl bearing the Golden Knights logo, images of a few players and the "Vegas Strong" motto.
At $4 roundtrip, the bus ride cuts the stress of driving through traffic while avoiding parking fees that top out at $25 for the MGM Resorts International-owned hotels surrounding T-Mobile Arena.
"I like that you don't have to worry about getting in and out of there because the driver takes care of it," Henderson resident Mike Anderson, a season ticket holder, said while getting off the bus. "All of the people on board were excited to go to the game, so it was just a fun time."
Free parking will be available at each of the pickup locations: the J.W. Marriott Las Vegas in Summerlin; P.T.'s Ranch in Henderson; Born and Raised sports bar in the southwest valley; and the Centennial Hills Transit Center in the northwest valley.
Passengers are dropped off at the northwest corner of the Excalibur parking garage, next to a designated ride-share stop for game days. From there, hockey fans take a 10 minute walk along Frank Sinatra Drive to access the arena.
Buses make three trips on each route at varying times before the game. Headed back, each route departs 20, 30 and 40 minutes after the game. More information is available at rtcsnv.com.
The Golden Knights are on the road for the next couple of weeks, but local should give the bus a try the next time the team plays at home Nov. 10 against the Winnipeg Jets.
Advisory signal
Al from Las Vegas feels that a 30 mph speed advisory sign is a little too slow for the St. Rose Parkway exit from southbound Interstate 15.
"If someone even slowed to 45 mph, they would probably get run over from behind," Al wrote in an email to the Road Warrior. "This is an unsafe, ridiculously slow speed for a long, straight, high-speed exit."
As you noted, Al, the yellow sign is advisory — not mandatory.
"It's cautionary for tractor-trailer and recreational travel," said Tony Illia, a spokesman for the Nevada Department of Transportation, which determines speed limits based on what at least 85 percent of the traffic travels through any specific corridor.
Not-so-glamorous Hollywood
Alvida has lived on the east end of the valley for nearly 30 years and says the roads in her neighborhood are in dire need of repair — particularly along Hollywood Boulevard, between Lake Mead and Charleston boulevards.
"I am 80 years old, and I want to know if I will see improvements to Hollywood Boulevard during my lifetime," Alvida said.
Southwest Gas Corp. recently had a project in that area, but Clark County officials are planning to rebuild that stretch of Hollywood early next year, county spokesman Dan Kulin said.
Questions and comments should be sent to roadwarrior@reviewjournal.com. Please include your phone number. Find @RJroadwarrior on Twitter.
Road work ahead
Downtown
— Washington Avenue is restricted between Rainbow and Decatur boulevards from 7 a.m. to 4 p.m. weekdays through first week of December. Crews are laying new pavement and adding medians.
— Main Street is restricted between Fremont Street and Ogden Avenue through Dec. 20. Crews are demolishing a building.
— Ninth Street is closed between Carson and Main streets through Dec. 31. Crews are installing water and sewer lines.
— U.S. Highway 95 is restricted between Rancho Road and just east of Interstate 15 through January 2018. Crews are building a new flyover ramp for high-occupancy vehicles as part of Project Neon.
— The Martin Luther King Boulevard onramp to northbound Interstate 15 is closed through January 2018. Crews are building a carpool ramp.
— The ramp connecting southbound U.S. Highway 95 to northbound Interstate 15 is closed through January 2018. Crews are building a carpool ramp.
— Main Street is restricted between Bonneville Avenue and Las Vegas Boulevard through May 2018. Crews are working on a storm drain.
— Sections of Bonneville Avenue, Charleston Boulevard, Grand Central Parkway and Martin Luther King Boulevard will have closed or disrupted lanes surrounding the Spaghetti Bowl as crews work on Project Neon through July 2018.
Northwest
— Grand Teton Drive is restricted between El Capitan Way and Buffalo Drive from 7 a.m. to 4 p.m. weekdays through early January. Crews are making road improvements.
Henderson
— Wigwam Parkway will be intermittently closed in both directions at Gibson Road through the end of December. Crews are installing a new traffic signal and making sidewalk improvements.
— Center Street is restricted between Burkholder Boulevard and Lake Mead Parkway through June 2018. Crews are making various road improvements.
North Las Vegas
— Nellis Boulevard is restricted between Cheyenne Avenue and Las Vegas Boulevard from 6 a.m. to 3:30 p.m. weekdays through July 2018. Crews are installing sewer pipes.
Gasoline prices
The average gasoline price Friday in the Las Vegas Valley was $2.65 per gallon. It was $2.70 in Nevada. The national average of $2.46 is up 1 cent from a week ago, down 10 cents from a month ago and up 24 cents from a year ago.
Las Vegas Review-Journal