Howard Hughes Parkway extension near Strip could be dicey situation
Updated July 10, 2023 - 4:07 pm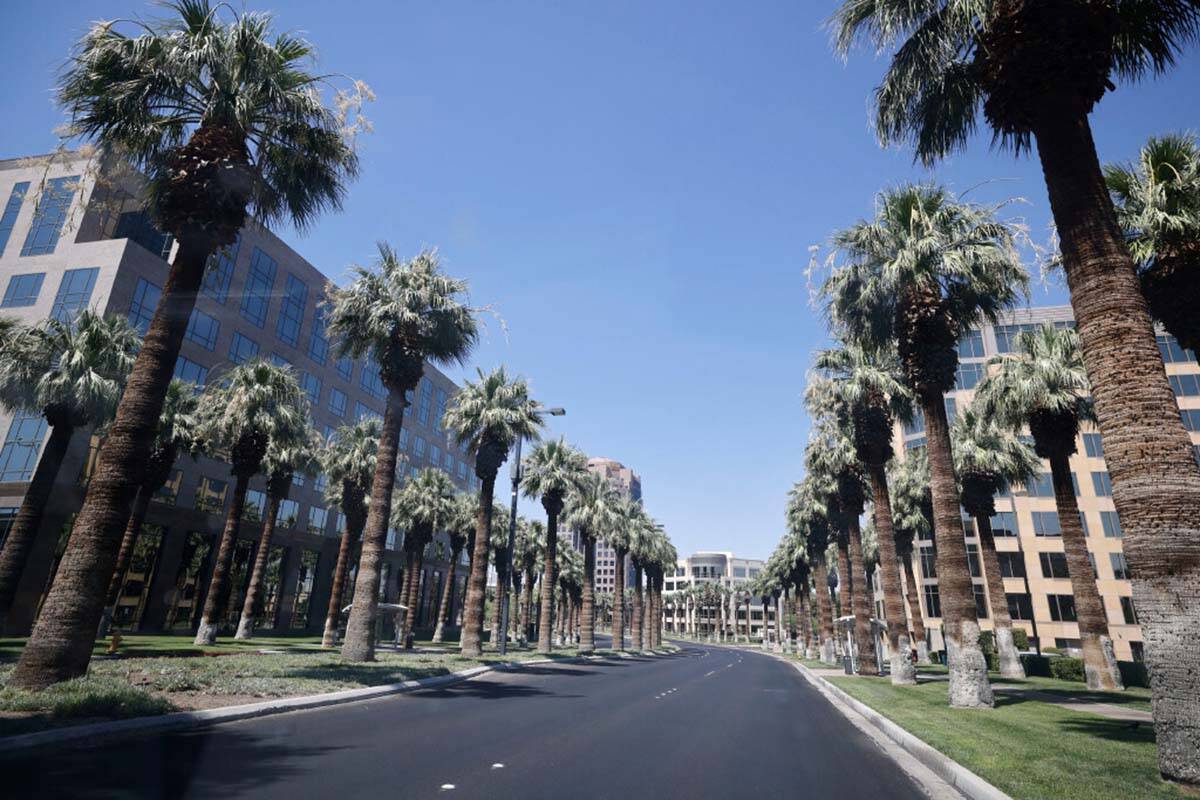 A potential road extension near the resort corridor could provide another north-south movement point between Flamingo Road and Tropicana Avenue, but to make that happen Clark County has indicated it may consider invoking eminent domain.
Howard Hughes Parkway now runs between Sands Avenue and Flamingo Road, mainly through the Hughes Center complex that features a mix of commercial, office, residential and restaurant spaces.
The road would run north-south between existing north-south streets, Paradise Road and Koval Lane.
The county is working with some property owners who could be potentially affected to get their thoughts and minimize issues that could arise with this new alignment.
Eminent domain is the right of a government agency to take ownership of private property for public use with compensation to the property owner.
The potential expansion was identified in the county's 2015 Transportation Investment Plan, noting the benefits and challenges the expansion would create.
The benefits included increased options for local traffic circulation; enhancement of the area, making it more attractive to redevelopment; and improvements to pedestrian movement in the area. The lone challenge was noted to be acquiring the right of way needed to connect the fragmented streets, which "could be difficult and time-consuming," the report stated.
The project's justification noted in the report was that it would create a fine-grained pattern of city blocks, like other major cities, and relieve some of the traffic seen on existing nearby north-south roads, adding capacity to the resort corridor and to Harry Reid International Airport.
Although it would be a relatively short extension, it would open up a new access point for multiple points of interest that are in varying stages of development. Formula One's paddock building, the MSG Sphere and the Oakland Athletics' planned 30,000-seat ballpark at the Tropicana would all be in the vicinity of various stretches of Howard Hughes Parkway.
Clark County added a condition in its agreement with F1 parent company Liberty Media when plans were approved for the now-under-construction $500 million paddock property, that Liberty Media wouldn't impede the project, should it move forward.
"CPPW has a condition on the F1 paddock property zoning that would require F1 to dedicate right of way if the Board (of Clark County Commissioners) approves the Howard Hughes alignment design and the project moves forward," Clark County spokeswoman Jennifer Cooper said in an email.
Howard Hughes Parkway was highlighted in the A's transportation plan presented to state lawmakers that led to the team's public financing deal.
"Clark County Public Works (CCPW) has been working on a preliminary-design for Howard Hughes Parkway alignment from Tropicana to Flamingo, and evaluating the feasibility to have another north-south street that would connect Tropicana to Sands Ave.," Cooper said in an email. "As part of this evaluation process, CCPW held a public meeting on December 13th of 2021, and is working with some property owners who could potentially be affected to get their thoughts and minimize issues that could arise with this new alignment."
A portion of the extension would cut through the parking lot of the Tuscany hotel on Flamingo, and one of the property owners the county has already been in discussions with is Tuscany owner Brett Heers.
"Unfortunately I wasn't aware of it when I purchased the hotel in 2008," Heers told the Review-Journal. "I wasn't aware of it until I was going to put a maintenance building on the southeast corner (of the parking lot) and went into planning and they said, 'You can't do that, there's a road going there.'"
At first the county asked Heers if he would just hand the land over to them without compensation, but he said wasn't going to lose a portion of his land without it being worth it.
"No, that's not going to happen," Heers said.
"I have a requirement for a certain number of parking stalls for the number of rooms for that size casino or that sized convention," he said. "You can't take it unless you come back and put a parking structure in to replace those spaces."
Heers also indicated he would want to be compensated for the fair market value of whatever land would be used for the road extension.
Although it was part of the A's stadium plan presented to state lawmakers, Heers said he hasn't had conversations with the county regarding the Howard Hughes extension in about a year.
The Platinum Club, a pair of apartment complexes located off Harmon Avenue, and a portion of 42 acres of land owned by UNLV at Tropicana, also would be affected by the potential expansion of Howard Hughes Parkway.
Despite the minor headaches the extension would cause leading up to it being carried out, Heers said he sees a benefit to the project if it comes to fruition.
"All of a sudden the back of our property, that has essentially been a dead zone … all of a sudden if that comes through, that's going to be like Paradise Road," he said. "It's going to be a huge access point to Sands and now the Sphere, it would be a big deal."
Heers also noted he knows "a lot of people that would be very unhappy, including everybody in that business park and people that live in Park Towers, because that is going to become a major thoroughfare."
That said, Heers did note that he would see the benefit of increased traffic passing by his property.